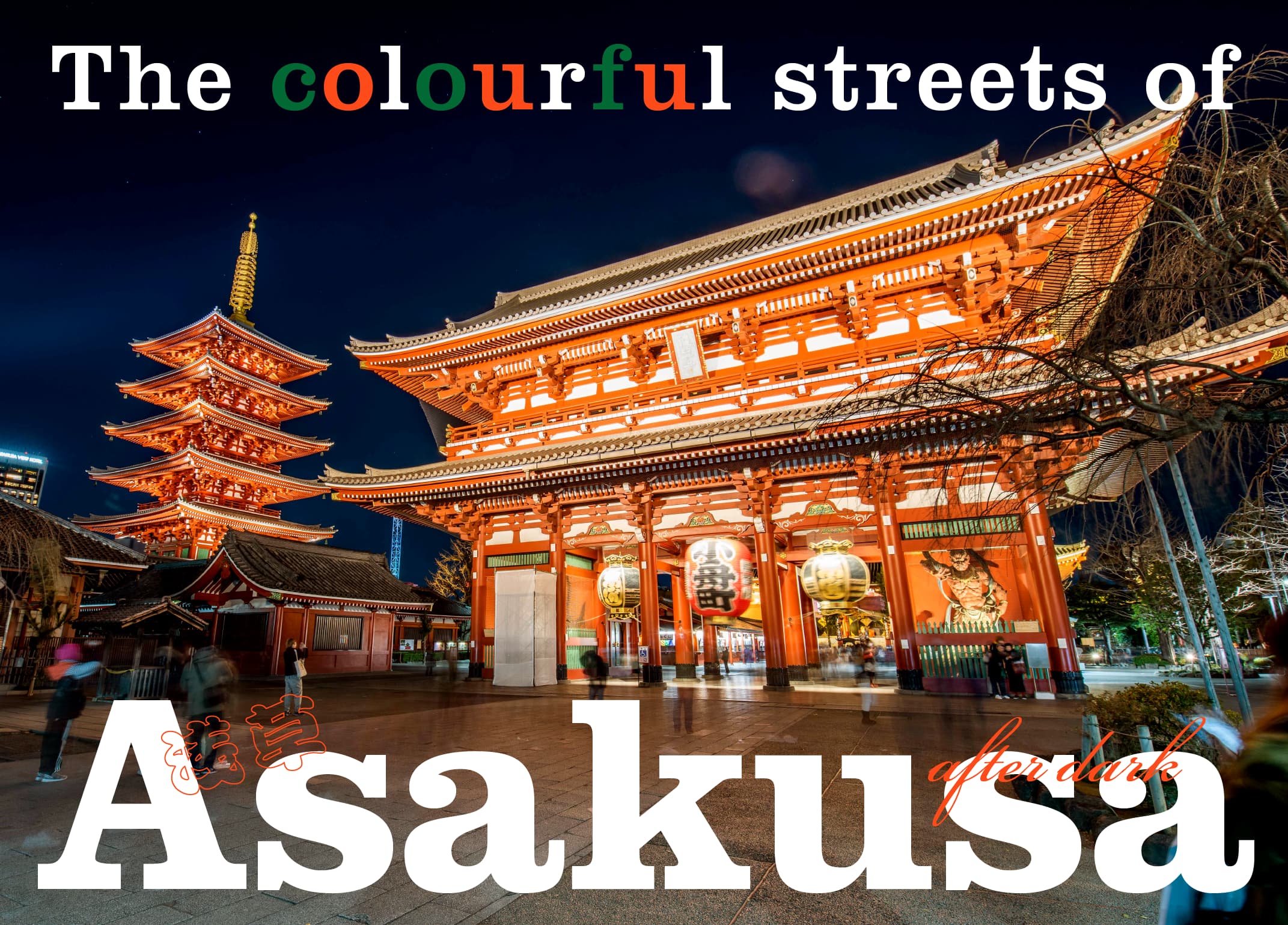 Feature -
2019-01-24
The colourful streets of Asakusa after dark
Area Guide
Asakusa is one of the must-see stops for most first-time visitors to Tokyo. Thanks to the famous Senso-ji temple – probably the most important of its kind in the entire Kanto region – no guide to Tokyo would be complete without a section about this part of town. But if busloads of selfie-wielding tourists and crowds so dense that walking becomes difficult isn't your thing, we suggest that you head here once the sun has set.
The streets surrounding Senso-ji are well worth exploring even after dark. Sure, a large portion of the shops around the temple close early – some already at 5pm although many are open until 6 or 7. But fear not, because there are still plenty of things to do here at night.

For a start, we recommend that you head to the Senso-ji temple grounds. This is, after all, the most visited sightseeing spot in all of Asakusa. And while the main temple building itself closes its massive wooden doors rather early, the impressive temple grounds are always open and welcoming visitors. Most of the buildings at the temple grounds are beautifully lit up at night (until 11pm), making Senso-ji a popular spot for night photography – Just don't forget to bring a tripod!

One thing worth trying out if you need some spiritual guidance is to have your fortune told. The stands where you can buy O-mikuji, a sort of Japanese fortune telling notes, are also open until late at night, as these are entirely automated – Just insert a 100-yen coin in the coin slot, draw a wooden stick with a number written on it, and pick a note for from the drawer with the corresponding number.

Once you've finished enjoying the quiet night vibes at the temple, we recommend that you explore some of the nearby shopping streets. Asakusa is particularly known for the large number of shops specializing in traditional Japanese handicrafts such as geta-shoes, fans and yukata, and even at night there will most likely be a handful of shops where you can find this type of products. If everything else fails, there's also a massive shop belonging to the discount chain Don Quijote located in Asakusa – and this one is open for 24 hours every day of the year.

The main restaurant street in Asakusa is often referred to as "Hoppy Dori" or "Hoppy Street". Hoppy is a non-alcoholic beverage that is often mixed with shochu and consumed as a substitute for beer, often at low-budget izakayas and standing bars. This street used to be full of cheap and cosy izakayas where primarily local people used to gather. But with the recent boom in tourism the atmosphere and crowd have changed somewhat. That being said, there are still cosy places with reasonable prices to be found, but if you're looking for a somewhat more genuine experience you might be better of exploring some of the nearby back-alleys instead. One thing worth noting however, is that many of the restaurants here are not as comfortable communicating in English as they are on Hoppy Dori. In fact, you might even come across some places with notes on the door saying that they only serve Japanese speaking customers as they are unable to communicate in English. So, if you want an authentic local Asakusa experience, it might be a good idea to bring a Japanese speaking friend if possible. If you don't have any, perhaps you can find some on Hoppy Dori first!

Asakusa is generally not a place associated with wild nightlife that goes on until the first train starts rolling again in the morning, but there are in fact many bars that do serve up drinks until late. While many of these are overpriced snack bars. But look well enough and you can also find venues offering DJ-nights or live music performances. If you are into jazz and swing, we recommend that you visit the Asakusa branch of HUB, the omnipresent chain of drinking joints inspired by British pubs. The Asakusa venue differs in that they offer live Jazz performances almost every night in exchange for a modest table charge, usually between 1000-2000 JPY.
Tags