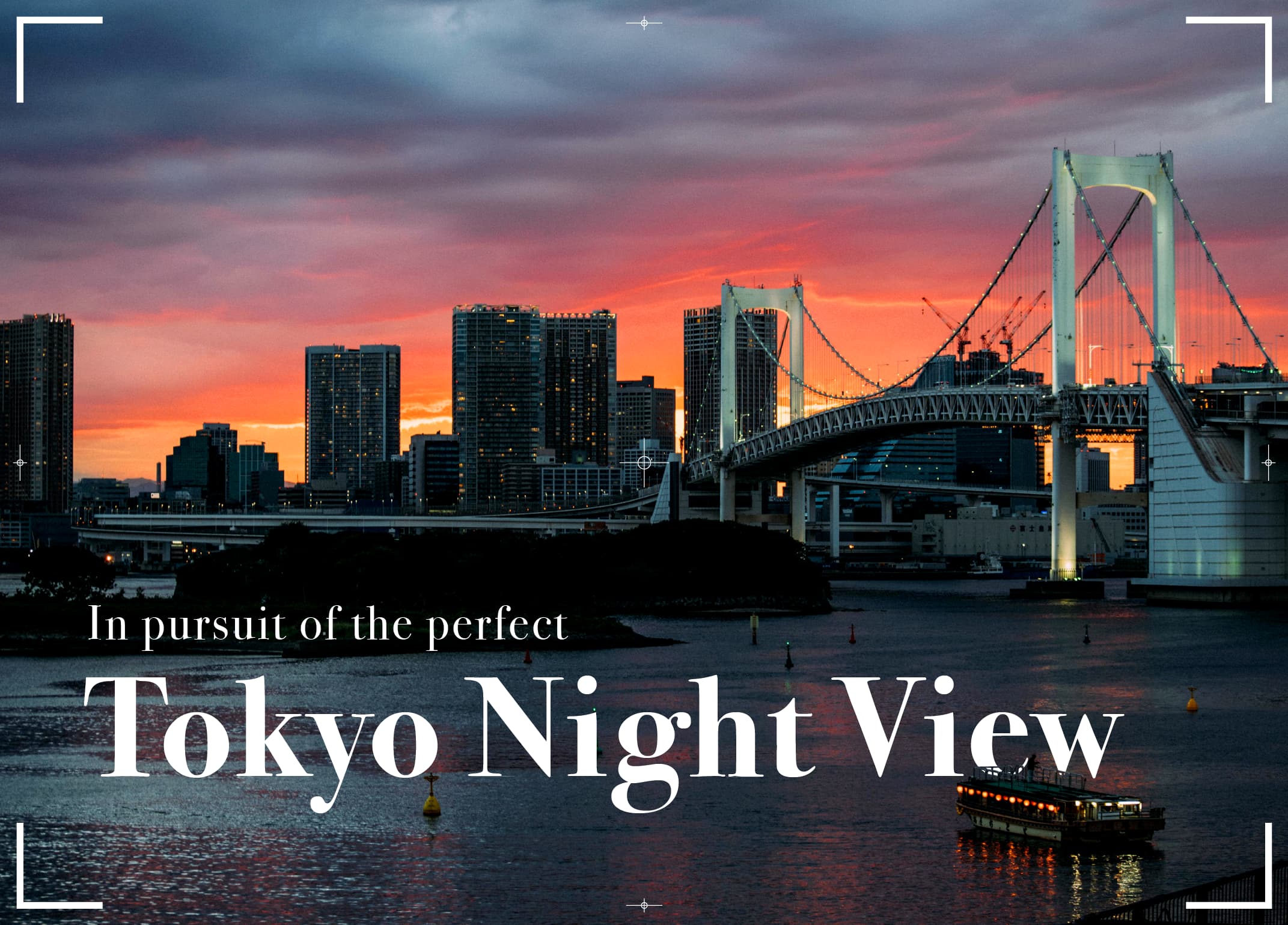 Feature -
2019-01-24
In pursuit of the perfect Tokyo Night View
Area Guide
Tokyo has arguably one of the most impressive night skylines in the world, and chances are that the view of the larges city in the world lit up by millions of lights will leave a lasting impression on your retina. There are, however, many ways to enjoy this impressive view. Here are some of our favourites.
1. From a luxury hotel room or bar

Undoubtedly the most classic option in this list, but it's there for a reason. Few things beat the experience of sipping on a good cocktail while watching the sky slowly turn from blue to black and the explosion of lights far down below. A few of our favourite hotel bars and lounges that offers great night views of Tokyo are: Park Hyatt and Keio Plaza in Shinjuku, Prince Gallery Hotel in Kioicho/Akasaka and Prince Park Tower in Shiba Park, where you will also get Tokyo Tower as your nearest neighbour.

2. From a bathtub

Several of the hotels in Tokyo also offers rooms and suites where the bathtub offers the beforementioned views too. Order some bubbles and treat yourself and your special someone to an unforgettable experience.

3. From a boat cruising in Tokyo Bay

Several companies offer night cruises in Tokyo bay. Either via a smaller Japanese style "Yakatabune" – a wooden tour boat, or more traditional cruise ships that offers a variety of dining and entertainment options. Looking at the skyline from the lower angle that the boat offers, allows for a different yet equally enjoyable experience.

4. From a world-class contemporary art museum

Mori Art Museum in Roppongi is an impressive world-class contemporary art museum worthy of a visit for its exhibitions alone. But as extra icing on the cake, this museum is located on the 53rd floor of one of the highest skyscrapers in town. Combined with the generous opening hours (until 22:00) it makes for a great way enjoy art to the backdrop of the Tokyo skyline. If you want to focus only on the latter, we recommend a visit to the open-air observation deck on top of the museum. Once a year the event "Roppongi art night" takes place. During the night of the event the museum is open all night, until 06:00 the following morning.

5. From a pedestrian bridge

Some of the most iconic night views from Tokyo that are often shared on Social Media are taken from far more humble locations than glitzy sky bars or fancy hotel suites. In fact, there are two bridges that particularly stand out thanks to their views. One of these is the pedestrian bridge that spans Ome-Kaido, located on the north-western side of Shinjuku Station. From there, you get a great view of all the Neon Signs of Shinjuku, framed by the constant flow of trains from the world's biggest train station. Another iconic night view is the one of the high-rise residential apartment blocks on Ishikawajima, reflected in the water. These apartment blocks are located in the riverfront area of Chuo Ward, and the most iconic photographs are taken from Eitai bridge that spans Sumida River.

6. From an artificial island

Odaiba, the artificial island famous for the giant Gundam statue and for housing one of the few beaches in central Tokyo, also gives you a great view of the Tokyo Skyline. Its particularly beautiful around sunset, as the geography of the islands makes for great views of the setting sun behind Tokyo's wall of skyscrapers. There are many restaurants and cafes in Decks, the waterfront shopping mall on the island, where you can enjoy the view from the comfort of a climate-controlled room.

7. From a helicopter

If you really want to experience the night view from above, nothing beats a helicopter ride. There are various companies offering this service, with prices that start from approx. 20 000 JPY for a 30-minute ride per person if you join a group ride take off from locations in the waterfront area of Tokyo or nearby Chiba. Some companies offer private tours as well but prepare to pay significantly more for those. Due to legal requirements, no company is legally allowed to offer tours that finishes later than 20:45.
Tags