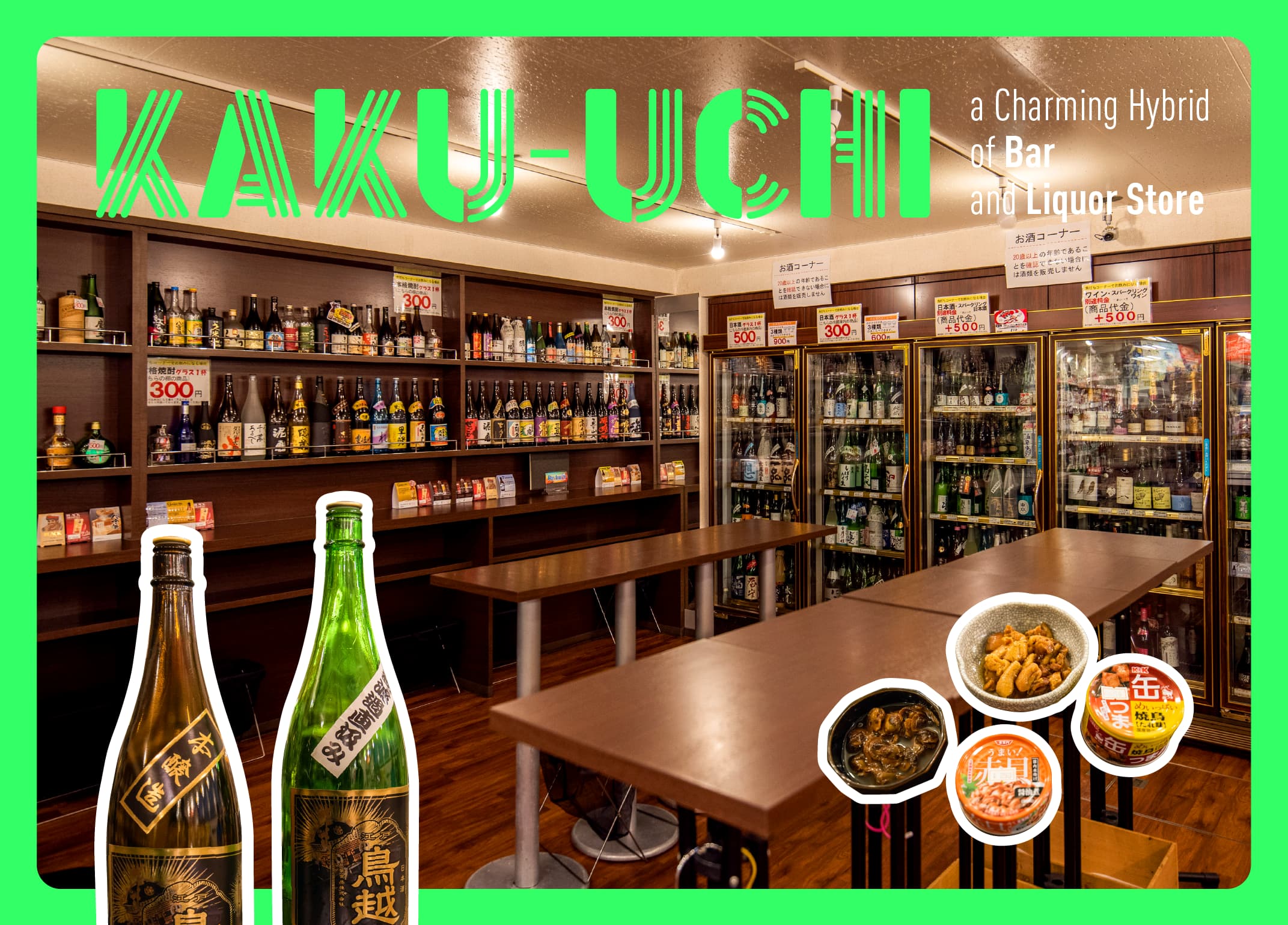 Feature -
2019-02-12
Kaku-uchi – a Charming Hybrid of Bar and Liquor Store
Culture
Izakaya's and standing bars are commonplace in Japan. But if you really want to experience a local drinking joint, we recommend that you keep your eyes open for a "Kaku-uchi", liquor shops that does double duty and also serves as bars.
Kaku-uchi are somewhat niche establishments that, while they do have a solid following of people that can't think of a better place to drink, are also somewhat unknown to a large portion of the Japanese public. Try telling a Japanese friend that you want to visit a Kaku-uchi sometime, and chances are that that they will have no idea about what you're talking about.

So, what are those places? The simple explanation is that they primarily serve as liquor shops, meaning that they have the adequate permit to let customers buy bottles of alcohol and bring them for consumption at home. But they also offer a few tables where customers can consume the beverages on-site. While there are many different kinds of Kaku-uchi, ranging from shops specializing in high-end sake and imported wines to simple local liquor stores where canned chu-hi is the most sought for item, the spectrum tend to skew towards the latter -- You are more likely to find a kaku-uchi at an old showa-era shopping street than in the heart of a recently developed shopping mall (although, the latter is not completely out of the question).

The atmosphere is often very local and homely, don't get surprised if many of the patrons are long-time regular visitors that has developed a strong bond with the owner. And by the way, you shouldn't get surprised if the owner is old enough to be your grandparent either. However, thanks to a recent surge in interest for Sake by a younger generation of Japanese, the clientele is often made up of refreshing mix of people that mingle with each other across generation gaps. The mix of people and homely feeling is one of the reasons why we enjoy those shops so much, the atmosphere tend to be warm and friendly, and after a few cups of sake people are often more than willing to strike up conversations that turns strangers into newfound friends.

Another strong point that makes Kaku-uchi the drinking establishment of choice for many people is the simple fact that the prices here tend to be lower than at full-blown bars. While it may seem somewhat odd that the owners can sell drinks for as little as 250 yen a pop, remember that this is in a way just another way of promoting their products. Chances are big that customers may find a new favorite drink and bring a bottle or two of it back home.

Many Kaku-uchi also have a selection of simple foods that goes well with the drinks. While they rarely have a full kitchen where they can prepare advanced dishes, they instead focus on fast foods that are simple to prepare, like Yakisoba, Oden and pickles. One particularly quirky detail that you might stumble across is that many shops also carry a wide range of canned foods, that are simply heated and served as they are, sometimes you even eat them directly from the can!

Three Kaku-uchi in three different styles worth trying:

Kimijimaya (Ebisu)

Kimijimaya has an impressive history dating back to 1892, when the first store was opened in Yokohama. The Ebisu branch boasts an impressive selection of sake from all over the country. If you want something to nibble on, the selection (but not the prices) skews more towards the high-end, as most of the foods are provided by nearby Ebisu restaurants. Despite this, a mere 500 yen will give you a tasting set consisting of three different kinds.

Futaba (Kuramae/Shin-okachimachi)

A local shop with simple charm that dates back to the Showa Era. Shortly after their opening they had to suspend the kaku-uchi service, citing new and stricter hygiene regulations enacted during the post-war era. A few years ago, however, they recently sorted out the paperwork and could once again start allowing in-house drinking. The shop has a wide range of Sake but specializes in products from breweries in the Kanto region. They also offer various events in the shop, such as fortune-telling nights, where patrons can pay 1000 yen for a palm reading and a strong drink to go with it. Presumably to help accept what the future holds in store for them.

Echigoya Honten (Yanaka)

Located on Yanaka Ginza, the main shopping street in the cozy residential neighborhood of Yanaka. The owner is a charming lady that happily strikes up a conversation with bystanders convincing them to sit down in front of the shop while enjoying a drink. A great spot to charge up and relax before exploring all the other good spots this area has to offer.
Tags