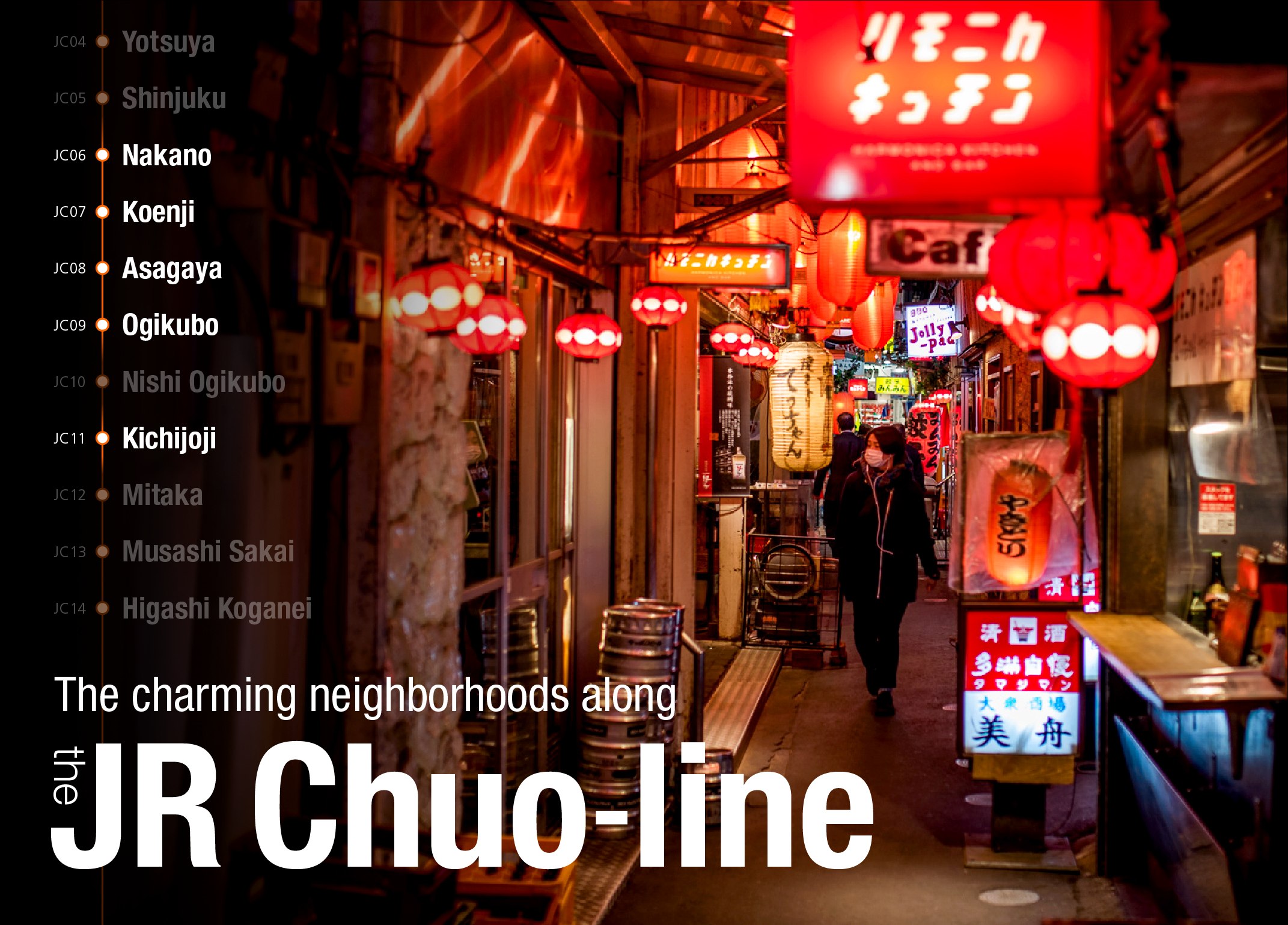 Feature -
2019-03-13
The charming neighborhoods along the JR Chuo-line
Area Guide
The JR Chuo-line connects some of the best nightlife districts in town with the city center. If you want to experience a local slice of the Tokyo nightlife, we recommend that you top-up your travel card and head to the western parts of town.
Central Tokyo has an abundance of neighborhoods with a vibrant nightlife. Everything from the wild party hubs like Roppongi and Shibuya, and more laid-back areas where cozy izakaya's and bars are more prevalent, like Kagurazaka and Ebisu. If you want to experience a more local and laid-back vibe, however, we highly recommend that you explore the western neighborhoods along the JR Chuo-line.

The JR Chuo-Line is one of the major train lines in the greater Tokyo area, connecting some of the biggest suburbs in eastern Tokyo to the city center. In fact, the Chuo-Line is also one of the longest train lines in Japan, connecting the capital with Nagoya, passing through six different prefectures along the way.

But the subject of this article is not as far-fetched. Rather than venturing to a different prefecture, we will introduce some of the stops on the Chuo-Line located just west of Shinjuku, as this part of Tokyo is home to some of a several charming neighborhoods where you can experience a local and homey atmosphere, with a surprisingly large number of things to see, do, eat and drink.

Nakano

First off, only one stop from the massive transportation hub that is Shinjuku, you'll find Nakano, not only the name of this station but also the entire ward that it is situated in. This part is primarily famous thanks to Nakano Broadway, a shopping mall well known among Otaku, thanks to the many shops specializing in Manga, Videogames and vintage toys and figures. Next to Nakano Broadway you will find a network of narrow alleys full of small restaurants, snack bars, izakaya and even a craft beer brewery.

On the opposite side of the station, you will find a handful of similar streets as well, but where the shops are somewhat more modern and appealing to a younger clientele. One can easily live in the area for ages without ever managing to experience all that this neighborhood has to offer.

Koenji

Koenji was recently called "Tokyo's Coolest Neighborhood" by an influential British newspaper, and for good reasons. Here you'll find a myriad of vintage shops, chic bars and perhaps one of Tokyo's smallest boutique hotels - one that despite only having two rooms also manages to cram in a coffee shop and a DJ space in its crammed premises. The area also houses a disproportionately large number of live venues, and a big percentage of the clientele at the yakitori restaurants next to the train tracks is made up of local musicians and other creative types.

But Koenji is not only for hipsters - explore the shopping street connecting JR Koenji Station to Shin-Koenji Station on the Tokyo Metro Marunouchi Line and you'll see that the crowd here consist of a fairly high ratio of young families as well.

Asagaya

Next stop is Asagaya, an area where the average age is somewhat higher and the ambience a bit more laid back. At the Pearl Center, a shopping street that begins just in front JR Asagaya Station, you can find many small and local shops that helps giving this district the feeling of being in a much smaller city.

But at night, we recommend exploring Star Road, the shopping street located just north of the station, or Ichiban Gai on the East side of the station. Here, you'll find a large number of bars, restaurants and Izakaya's that will give you a great chance to mingle with the eclectic crowd that calls this part of Tokyo their home

If you are into Jazz, you should make sure to head here in the last weekend of October, when the district houses one of the biggest jazz festivals in Tokyo, the Asagaya Jazz Streets Festival, with more than 70 local venues participating.

Ogikubo

Ogikubo is an area that often gets overlooked in favor of its neighbors - both Kichijoji to the west and Asagaya and Koenji to the east tend to attract a larger percentage of international visitors. But if you are into delicious and cheap street food and quirky shops with a somewhat bohemian vibe, you'd be wise to make a stop here.

We especially recommend that you stop by Yanagi Koji Street, a narrow and picturesque alleyway next to Nishi-Ogikubo Station (south side) lined with cozy hole-in-the-wall style restaurants and drinking joints.

Kichijoji

Kichijoji has seems to keep nabbing one of the top spots in any ranking regarding the most desirable areas to live in Tokyo. And for good reason - here you will find enough things to see and do that you rarely would feel like you need to venture into the central parts of Tokyo, but if you do, Shinjuku is just a mere 15 minutes away.

At night too, the area is a veritable treasure trove filled with cool bars and restaurants serving everything from greasy street-food to fine dining. A great place to start is Harmonica Yokocho, a maze-like Showa-era drinking area, where you can bar-hop without having to spend a fortune. We would be surprised if you manage to spend the evening here without getting acquainted with some friendly locals.
Tags