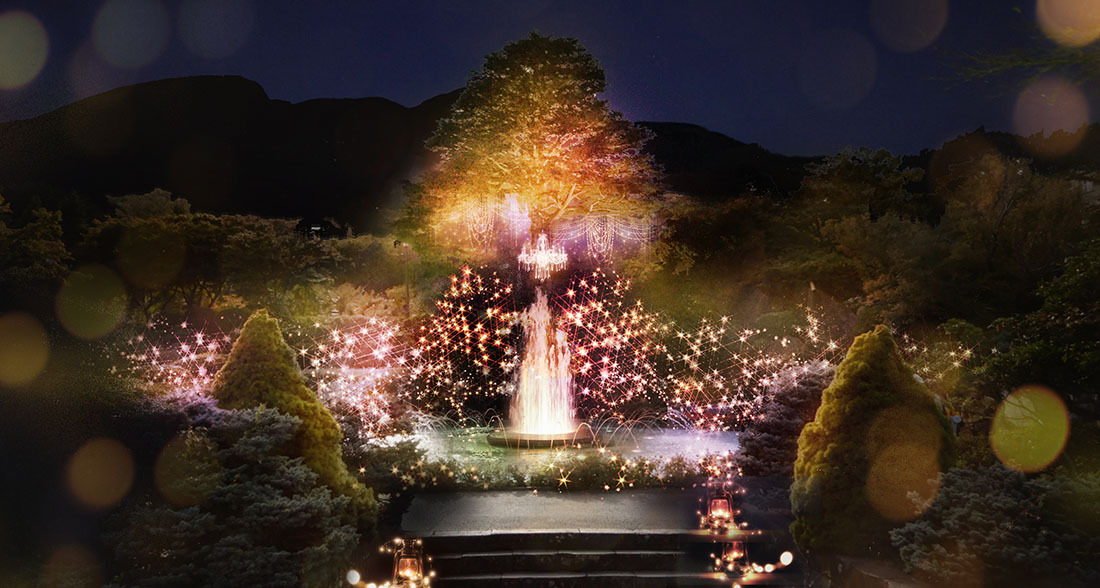 Topics -
2019-03-08
Presenting a new event to boost nighttime tourism in Hakone: "Spring Night Garden: A Magical Night Concert"
Area Guide
Hakone Gora Park will be holding the "Spring Night Garden: A Magical Night Concert" from February 23 (Sat.) to April 21, 2019 (Sun.).
With the coming of spring as its theme, it creates a fantastical space at six locations in the park using illumination, music, and video, so that visitors can enjoy a nighttime stroll through the park.
Isshikido Saro's Exclusive Night Menu

At Isshikido Saro, a sandwich shop inside the park, they sell an exclusive night menu featuring hot drinks and light meals.
The selection features hot damask rose juice, a popular drink among women with a rose fragrance, as well as hot chocolate, beer, and light meals including pizza turnovers and pork soup.

• Sale Period
February 23 (Sat.) - April 21, 2019 (Sun.)

• Sale Location
Isshikido Saro inside Hakone Gora Park

• Product Information
Hot Rose Jam Wine: ¥600
Hot Damask Rose Juice: ¥500
Hot Chocolate: ¥450
Canned Beer: ¥450
Crispy Potatoes: ¥400
Pizza Turnover: ¥550
Pork Soup: ¥400, and more
*Prices include tax

About the Spring Night Garden

Hakone Gora Park is a historic park opened in 1914, and it was the first French garden in Japan. On August 1, 2013, it was designated a national registered monument by the Agency for Cultural Affairs.
In this event, Creative Director Sayaka Takeuchi (nora.agency), previously involved with flower-themed art exhibitions, the Las Vegas kabuki production "Kabuki Lion", and the Nijo Castle Cherry Blossom Festival, depicts themes of the coming of spring throughout the park, from its slumber to its awakening, featuring illuminated fountains plus music and video productions using projection mapping.

■Details

• Event Location
Hakone Gora Park

• Access
5 min. from Hakone Tozan Line Gora Station on foot
1 min. from Hakone Tozan Cable Car Koen-Shimo Station on foot *Extended service is provided on weekends and holidays.
There is free shuttle bus service from the Hakone Kowakien Yunessun parking lot (paid parking) on weekends and holidays.
(For the service timetable, please check the Yoru Hakone website (http://yoru-hakone.jp).

• Event Time
17:30-20:30 (admissions close at 20:00)

• Special Nighttime Park Admission Fee
Adults: ¥800 (¥500 for Hakone Freepass or Tokotoko Ticket holders)
Free for elementary school age and under *Standard Park Admission: Adults: ¥550 (Normally, park admission is free for Hakone Freepass or Tokotoko Ticket holders)

• Advance Tickets
Adults: ¥700
Please purchase tickets on the 7 Ticket website (http://7ticket.jp) using the multifunction copier at 7-Eleven locations.
*Cannot be used with other discount coupons.

• Contact
Contact Information for the Event Period [Hakone Gora Park: 0460-82-2825]

■For details on the event please check our website below.
Web Address: http://yoru-hakone.jp


■Official Instagram Account Like and Follow Campaign

From February 23 (Sat.) - March 10, (Sun.), everyone who follows Yoru Hakone's official Instagram account (@yoruhakone.official) and Likes an applicable post will be entered into a random drawing to be one of 50 pairs (100 people) to win free invitations to the Spring Night Garden.
The announcement of the drawing results will be made when the invitation tickets are sent out in late March.
Tags