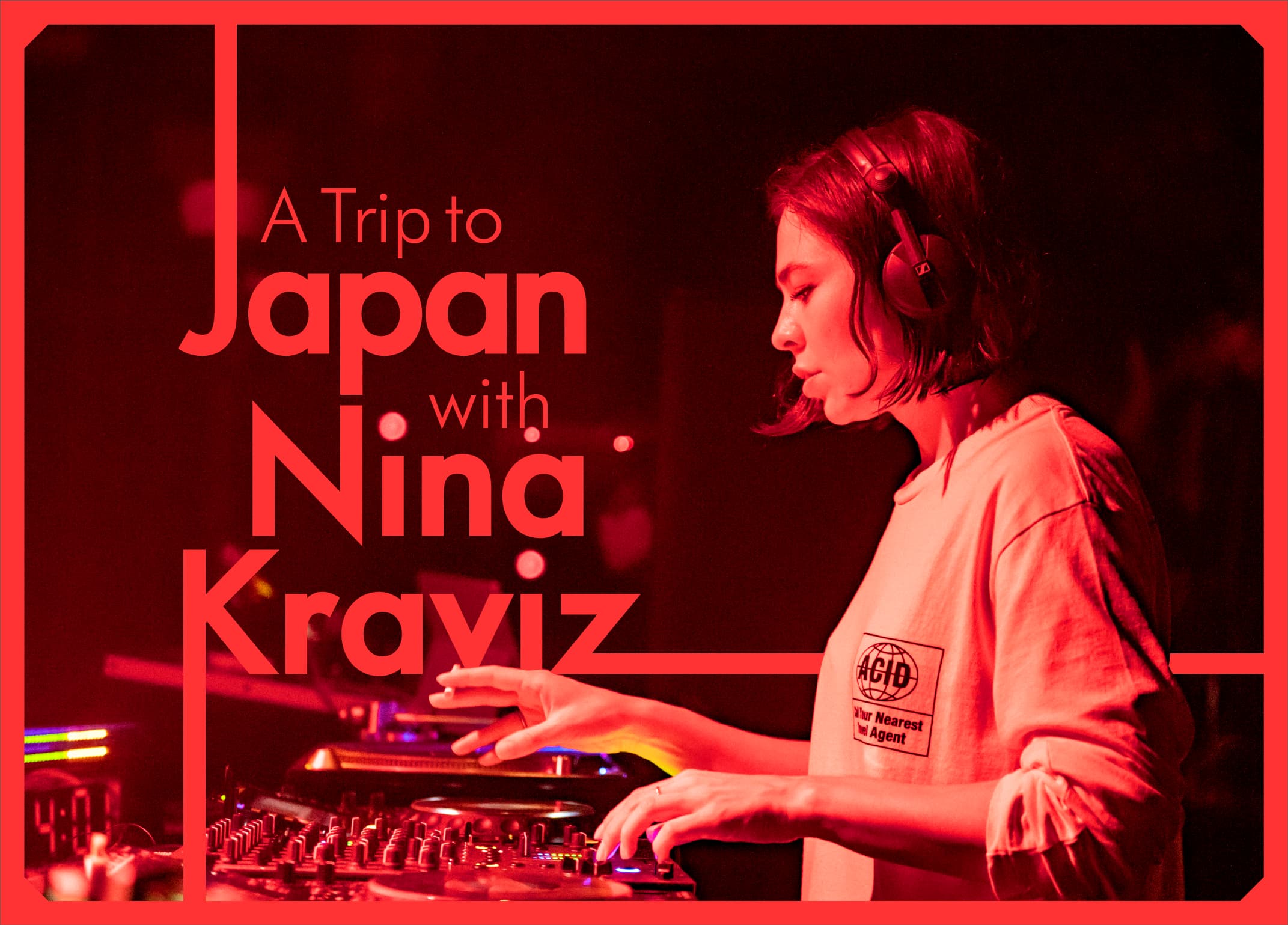 Feature -
2019-03-31
A Trip to Japan with Nina Kraviz
Music
Producer, DJ, and label owner, Nina Kraviz tells us she can't imagine her artistic existence without her experiences in Japan. Read on to find out what the Russian house giant has to say about Japanese culture both in and outside of nightclubs.
Mixmag: We've been told that you are fond of Japan. Can you tell us a little about that?

Nina: I don't think I can count how many times I have visited Japan. I love the culture of Japan, but I think it's a lot more than that. Japanese culture is part of my artistic experience. I can't imagine what I would be like if I had never performed in Japan. I've done so many tours with Hitomi production. I was really lucky to have toured some of the small cities that I would have never gone to otherwise. Small, 100 to 150 capacity clubs... in Hamamatsu and in Asahikawa... you know? These were all very, very special experiences. Japan's appreciation of electronic music - especially house music - is well known.
Japan is also a key player in the record industry. I was lucky enough to have special Japanese editions made for my releases. One album from 2012 had a special edition in Japan and the following EP 'Mr. Jones' had one as well. Most electronic music equipment is made in Japan, too. So, as an electronic music artist, you can't ignore Japan. Even if I tried it would be impossible.

M: Could you share with us some of the things that you like about Japan?

N: I really like the way discipline is viewed in Japan. I appreciate the philosophical difference between Europe and Japan. My stressed European mind relaxes when I'm in Japan, in a way. People here are different... everyone seems to be doing their best, giving themselves to whatever they are doing 100%. And they are very proud of their work, you know? It seems there is a great deal of appreciation for having the opportunity to do something for somebody. I think it has to do with being proud of their country, too.
The history of the record industry in Japan is beautiful as well. If you look at the '60s, '70s, '80s… the versions of the vinyl released in Japan are such high fidelity. My father buys a lot of old Japanese records, which has influenced me greatly. There's a normal record, and then there's the Japanese edition.

M: Why do you think the artists do a Japanese version?

N: Because everything in Japan has to be edited for the Japanese people to understand. Language-wise, there aren't many people that speak English... English is an alien language, so everything needs to be translated.
To give you an example, you know I have a label? I also have a sub-label. It's called Galaxiid. It has nothing to do with galaxies; it comes from a fish that is called Galaxiidae. трип (pronounced "trip") is dedicated more or less to dance music - though there is some non-dance music as well. Galaxiid is where I am able to present music free of genre restrictions. Anything from rock to ambient, electronica... anything I want. The first release was "Species of Fishes" by a Russian music pioneer in the 90s also called Species of Fishes. The second release from the sub-label was a record by Solar X. Again, a Russian pioneer from the 90s. He has released a few albums, but they were never released on vinyl so I decided to re-release them. I collaborated with legendary Japanese artist Keiichi Tanaami, who is an 83-year-old psychedelic artist. I was honored to work with him. Naohiro Ukawa who is the creator of Dommune and a very important figure in the Tokyo music scene and I have known each other for some time. After shows at Dommune, we'll get a few drinks and talk and exchange ideas... And he has given me many great ideas. I told him about my new label and what I was thinking, and he showed me some art by Keiichi Tanaami, and I was blown away... and he introduced me to Tanaami-san. I played music at his exhibition in Moscow. I did a live set for his short film and, in exchange, he said I can use his artwork.
Everything released in Japan has an "obi" strip on it, showing the price and other information. We decided to keep the obi from the Japanese release of the Solar X album as a tradition. I love this because I know how Japanese editions look with the original cover and the obi strip. There is also a booklet inside, everything in Japanese. It feels completely different, and people are so serious about it. I love that they are so beautiful. There is this traditional element. I'm really proud of this project. I also like Japanese avant-garde art and music.

Also, in Japan, you can go to a club in some remote area and they'll have the most amazing sound system. The owners are so serious about how the club should look and how the system should sound. I really respect this. The world is changing and there is a stark contrast between the rest of the world and Japan. When it comes to the club experience, Japan is very special. Some words that come to mind are dedication, appreciation, focus... you know? So... why do we have to make Japanese editions? Because the culture is so different and isolated... and so many traditions are preserved... which is amazing. Anyway, I think it's really amazing to have a Japanese edition because it's so different and special.



M: What is your impression of the nightlife in Japan?

N: The Japanese club scene is very intimate. The scene has shrunk, I think, and you could say that it's small, but I'd rather think of it as intimate. Condensed, high-quality energy. Club culture is dying everywhere in the world. Festivals are taking over. And the festival-goers aren't looking for 6-hour long sets. They want (she imitates the sound of festival main stage peak time music). People don't want to explore every corner of one artist's artistic experience. Japan is a perfect place if you still want that. Intimacy. House has a lot of support in Japan, also. I don't know anywhere else in the world where you can experience house music like this. You will get an appreciation for your music here that you won't get anywhere else. It's quite unique. And Japan is not all about Tokyo. There are so many cities, and when you visit those cities you will see how much appreciation you get as an artist. People want to get to the core of the art, whereas the culture today, in general, can be pretty superficial.

M: If you could go anywhere and do anything, where would you go to tonight?

N: I would spend at least two hours doing acupuncture and shiatsu (massage). I have an absolutely amazing therapist here. Really fantastic. For me, it's the best thing after work. I mean, everybody knows that food in Japan is unbelievable. I'm trying to avoid cliche topics that everybody already knows about. So, having said that, I also like record stores in Japan. Japan is still a good place for records. Every city has something incredible to offer, just walking the streets is sublime. The only thing I plan when I plan a trip to Japan is the shiatsu. I'm already imagining it when I'm on the plane - about how great it's going to feel. But basically... taking a train, or walking or just listening to the language... Japanese is so musical. The fact that everything is in a different language means that there is no information around you. You're isolated in a way. You are in a different zone. This zone is very nice and I really like it. It's like the "music of Japan". I love to spend time here. Just live in a ryokan... I have before but I would like to come back and do it again. Basically, experiencing life in Japan is great. You can just get lost in the city... And the shiatsu!

M: What can we expect from you in 2019?

N: I'm working on my new album which I hope to release this year. I'm also preparing for my Coachella show. It's going to be a little bit different from most of my music, with visuals, etc. It's my third year so I have to prepare something different and interesting. Combine my own music with non-dance music. So I have a lot of work to do and I am taking a little bit of time off so that I can focus on that. I'm also releasing new stuff on трип, and some more great releases coming from Galaxiid. It's going to be a year filled with music.
Tags