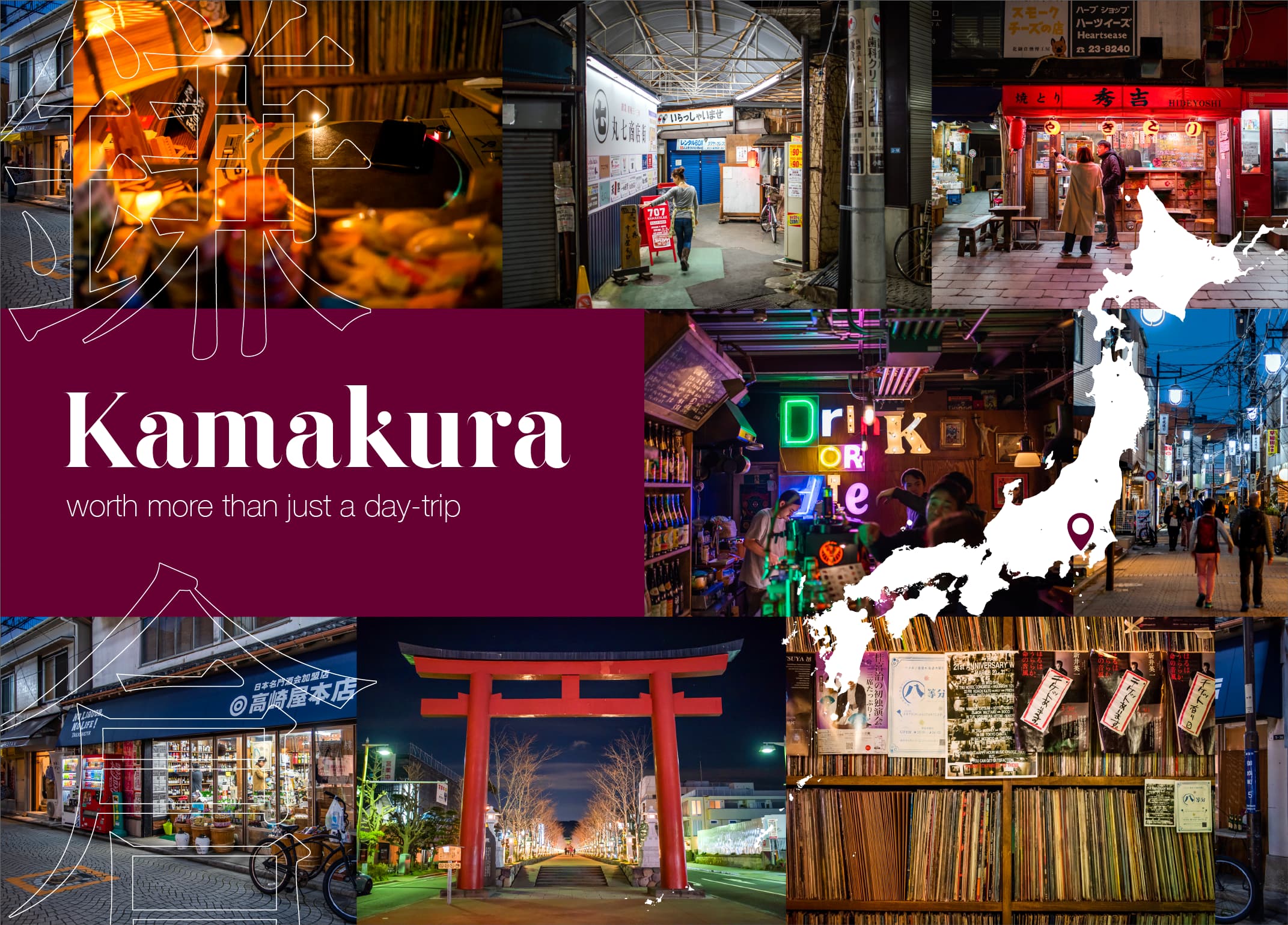 Feature -
2019-03-23
Kamakura - worth more than just a day-trip
Area Guide
Kamakura is one of the most popular day-trip destinations in the Greater Tokyo Area. While the towns many temples and shrines make it a worthwhile destination during the daytime, the city indeed shows its best side once the sun has set.
Kamakura, home to roughly 180000 people, was once the capital of Japan. Today it is still a city of cultural significance, and every day thousands of visitors come here to visit its many beautiful shrines and temples, or to take a dip in the sea (Kamakura houses some of the beaches that are closest in proximity from Tokyo).

The boom in tourists visiting Japan has unfortunately led to some parts of the city being almost overrun by tourists though, causing traffic jams, overcrowding of public transportation as well as plenty of frustration to its residents.

But visit at night, and the town will be a completely different experience. The last chartered tour-buses tend to leave shortly after sunset. And around the same time, the streets tend to be completely devoid of selfie-stick wielding tourists dressed in rental kimonos too. And once all the crowds are gone, you should be able to experience a much cosier and welcoming warmth from this city, that has a surprisingly vivid nightlife scene. Here's how we like to spend a night in this charming city.

Takasaki-ya

A great place to start is Takasaki-ya, a liquor store located on Onari-Dori, the shopping street that begins on the west side of Kamakura Station. It's a classic Kaku-uchi, where a somewhat hidden side-entrance will take you to a tiny drinking space that only can accommodate half a dozen or so people before getting uncomfortably crowded. Here, you can enjoy a wide variety of beers and sake, for surprisingly low prices. If you are craving something to nibble on, they sell hard-boiled eggs for 80 yen apiece too.

The Bank

Back in 1927, this building was erected by Kamakura Branch. Recently, it was renovated and turn into what is perhaps the most stylish bar in Kamakura today. If you like to sip on strong cocktails while listening to low-key jazz, this place is difficult to beat.

Drink a go-go

This bar is one of the most recent additions to the Kamakura nightlife scene, opened in December 2017. But it seems to have already earned itself a solid crowd of faithful regular customers. Here, the music varies from Punk to Ska, with a fair share of indie-hits from the '80s and '90s thrown into the mix. If the friendly owner doesn't win you over, perhaps his impressive record collection will. Cheap drinks and a decent menu of snacks like tacos and fried cheese too.

Hideyoshi

This Yakitori-shop is located next to the Kamakura Farmers Market and is an excellent option if you want to nibble on light food while socialising with the local crowd, the number of seats is limited, which means that you will most likely have to rub shoulders with your neighbours. Fortunately, the atmosphere is friendly and warm, the prices reasonable, and the food is very delicious as well!

Marusichi Shoutengai

This old covered shopping street from the Showa Era houses a handful of restaurants, yakitori stands, a meat shop and some izakaya where the ambience is very warm and cosy. The Yakitori-shop, in particular, is a popular watering hole that attracts a surprisingly international crowd on the weekends.

Tsurugaoka Hachimangu

If you make it to Kamakura at night, we recommend that you also take the time to stroll along the main street that leads up to Tsurugaoka Hachimangu, the most well-known shrine in Kamakura. While this street can be extremely crowded during the daytime, it is an entirely different experience at night, when it's more or less devoid of people, and instead gives you an excellent opportunity to enjoy the tasteful light decorations.
Tags