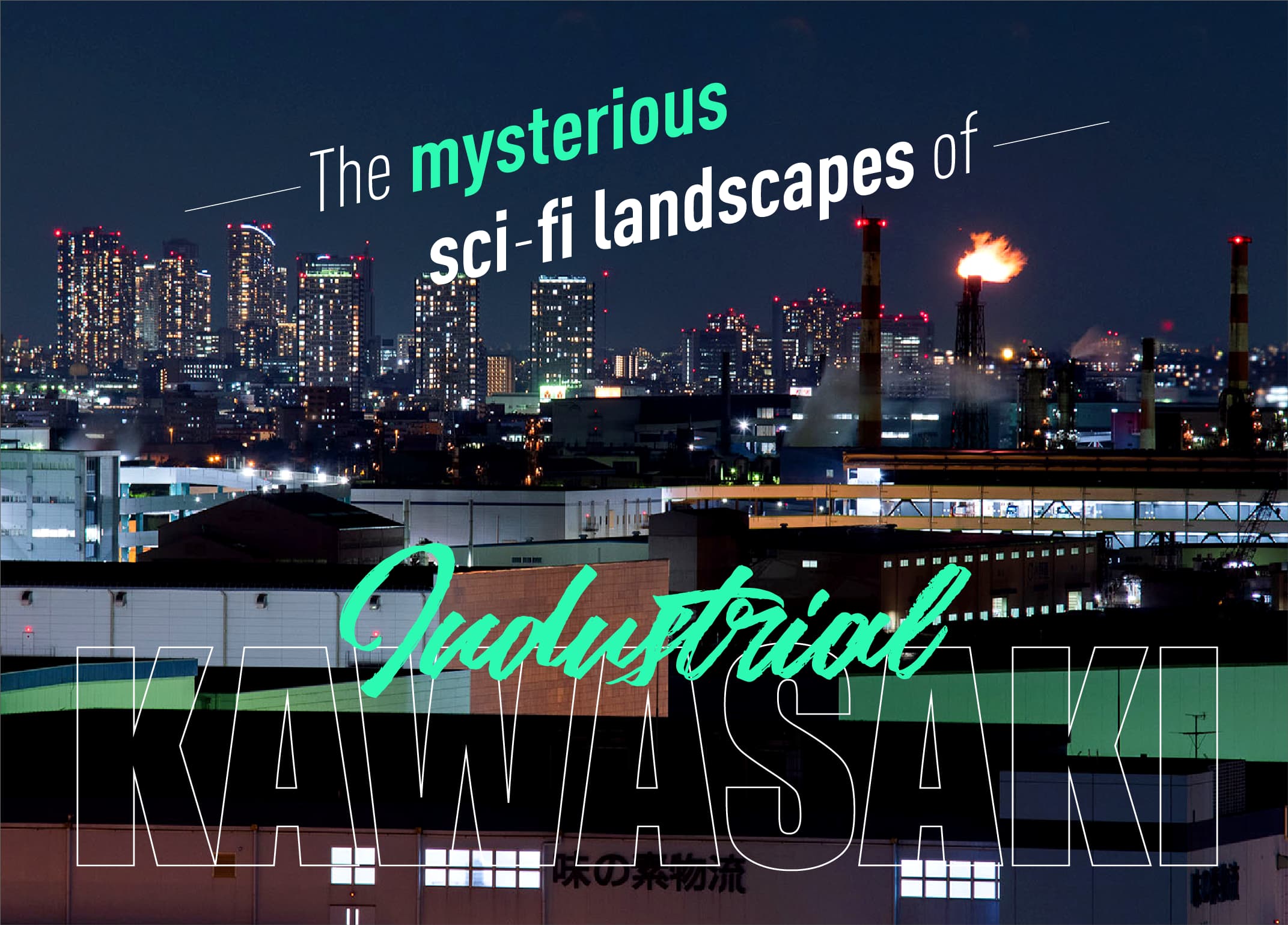 Feature -
2019-04-10
The mysterious sci-fi landscapes of Industrial Kawasaki
Area Guide
The Keihin Industrial Area is located a short trip from the Japanese capital, and a must-see for anyone who gets excited by futuristic landscapes filled with massive factories that look as if they could be from a dystopian sci-fi movie.
On the northwestern shore of the Tokyo Bay, not far from Haneda Airport, one of the most significant industrial zones in Japan is located. This area extends all the way from Tokyo down south through Kawasaki and Yokohama and is well worth a visit for anyone who is appealed by the idea of being surrounded by massive factories, fire and smoke.
Once Tokyo became an economic powerhouse, starting in the years after World War 2, the country had massive demand for land that could house all the factories needed to power this growth. As the Tokyo area was the centre of this economic power, most of the factories required to be located at a convenient distance from the capital. In hindsight, one could perhaps argue that dotting the shoreline with massive heavy industries such as steel mills, oil refineries and other manufacturing plants was not the best idea, but the government of the time obviously thought it was.

While some of the worst polluting industries has now been moved slightly further away from the capital, to neighbouring Chiba and Ibaraki prefectures, for example, the industrial zone in eastern Kawasaki is still in use and highly active 24/7.
Surprisingly, the industrial area has also turned into something of a tourist attraction in recent years. It is even highlighted as one of the must-see destinations on the official Kawasaki City website (http://www.k-kankou.jp/travelkawasaki/industrial-tourism/) and several of the industrial facilities also house small museums and showrooms where curious visitors can get a better understanding of what's being produced in these impressive facilities.

But when things get really interesting around here is at night, when the entire area turns into something more akin of a dystopian Sci-Fi movie. For as far as the eye can see, you are surrounded by giant warehouses and massive constructions of steel that are lit up in moody colours, and where countless chimneys spew out smoke and fire.
One way of experience this is via a night cruise, that will take you to some of the most scenic spots. There are also bus tours organized by Hato Bus that departs from Tokyo Station. If you prefer a bit more flexibility though, or if you are a photographer who needs a steady ground for your tripod, you might be pleased to hear that the industrial zone is surprisingly accessible even if you decide to go here on your own.

If possible, we do recommend that you go by car, as the distances are longer than you might think (the entire area covers close to 5 million square meters). It is, however, also possible to get here by bus from JR Kawasaki Station. By taking either bus #5 or #7 bound for the island of Higashi Ogishima.
An excellent place to start is at Kawasaki Marien, a high-rise building with an observation deck on the top floor from which you can get a birds-eye view of the entire industrial zone and plan the rest of your adventures in it. The observation deck close at 9pm and is free of charge.
From there, we recommend that you head over to the Highashi Ogishima Park, located about 10 minutes away on foot. From there, you will get a great view of some of the most impressive factories reflected in the waters of Tokyo Bay.

Another spot worth stopping at is Chidoricho, an island sandwiched in between Higashi Ogishima and the mainland, that also houses several impressive factories – including a few photogenic ones that you can really get close to. On the south edge of the island, there's also a small waterfront park with an observation deck that also gives you some excellent views of this mysterious coastline.
Tags