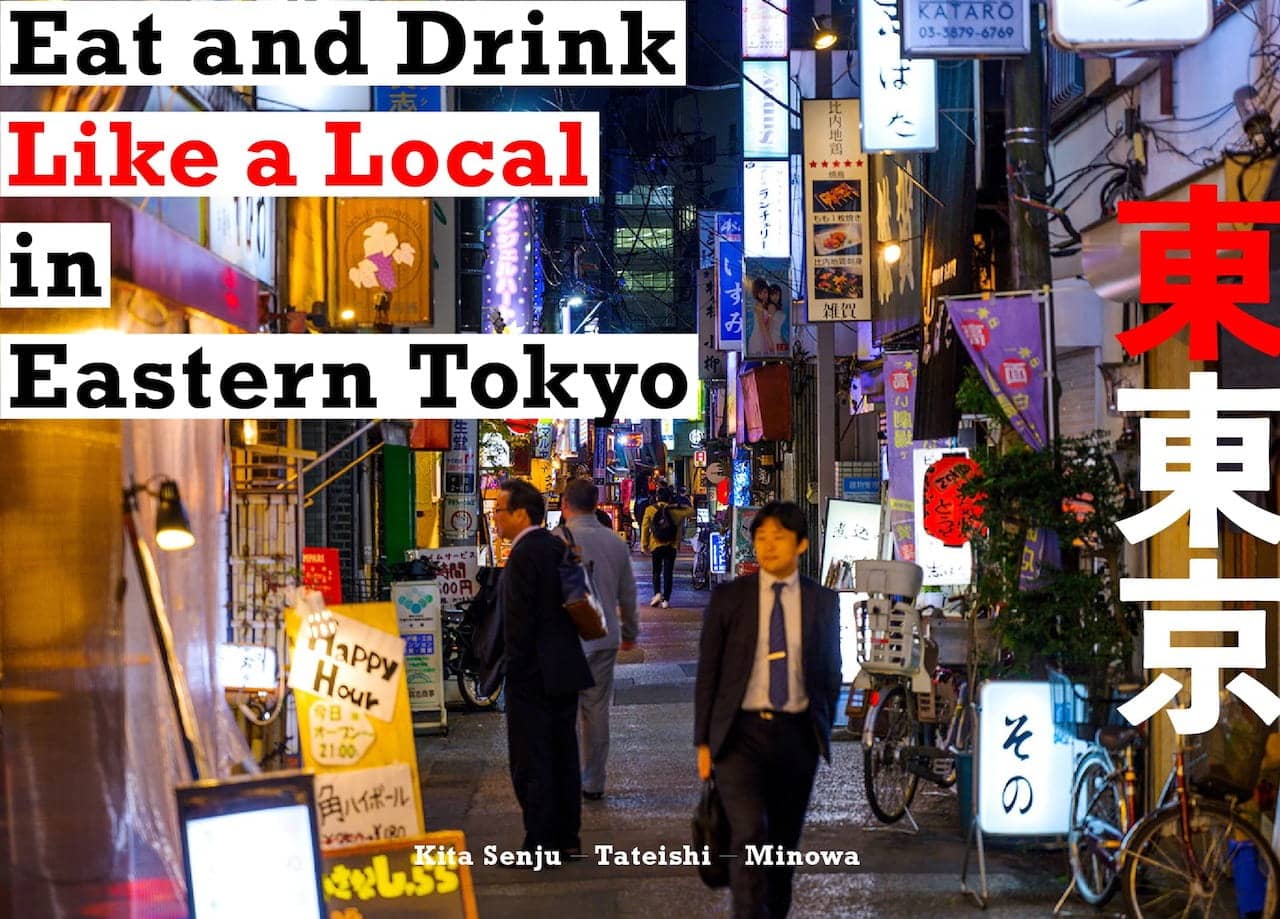 Feature -
2019-05-13
Eat and Drink Like a Local in Eastern Tokyo
Area Guide
One part of Tokyo that often slips under many people's radar, regardless of if they are first time visitors or long-term residents of this city, is the Eastern parts of the city. But for those willing to venture a little bit further than Asakusa, several lesser known but charming neighbourhoods await.
If you are the kind of person who enjoys eating and drinking with locals rather than tourists, and also one who appreciate typical Japanese working-class neighbourhoods, we recommend a trip to this relatively unknown part of Tokyo. Around here, the shopping streets have barely changed since the Showa-era, and it's an excellent choice for anyone willing to experience a different, somewhat slower side of Tokyo.

Kita Senju

A good place to start your adventure, as well as the most accessible spot in this article, is Kita Senju, the terminal station of Tokyo Metros Hibiya line, as well as one of the last stops on the Chiyoda Line. Kita-Senju is also serviced by the JR Joban Line, Tobu Skytree Line and Tsukuba Express, so getting there shouldn't be too much of a problem.

Right next to the west side of the station, you will find an area with several narrow streets lined with charming bars, somewhat akin to a slightly bigger version of Shinjuku's Golden Gai. The shops here are a blend of the regular salarymen favourites such as Yakitori stands, cheap izakayas and shops specializing in pork innards.

A few blocks further to the west, you'll find a few cosy traditional shopping streets, where plenty of stores that are open until late, selling everything from bubble tea to snacks and sweets.

Tateishi

Tateishi, located in Katsushika-ku, one of the easternmost wards of Tokyo, is another area well worth a visit. Getting here is slightly more complicated though, as the only line servicing the local station is the relatively minor Keisei Oshiage Line. The trip from Oshiage Station takes a mere 9 minutes though, so it's not really too much of a hassle.

The main attraction in Tateishi is the old shopping area on the south side of the station. Here, you'll find a large number of shops specializing in fried snacks as well as a restaurant that according to the locals we talked to serves some of the best beef stew in the city. While we didn't try it for ourselves at the time of our visit, the line in front of the shop surely looked convincing.

Just one block east of Tateishi station, you will also find a narrow alley called Nonbei Yokocho (yep, just like the one in Shibuya) lined with a few dozen shops where the locals meet up for drinks and chats with old friends.

If you want a good sense of what the local parts of Tokyo was like about 50 years ago or so, we highly recommend that you make a stop in Tateishi, few other areas give you the feeling of that time has been standing still, as this little pocket of concentrated Showa-era atmosphere in Tokyo.

Minowa

The area around Minowa station, as well as neighbouring Minami-Senju, has seen quite a significant shift in demographics in the last decade. This part of Tokyo, sometimes still referred to by its old name, "Sanya", used to be a Japanese version of a slum, with impoverished residents and a relatively high crime rate.

While these attributes are still clearly visible, the area has seen a significant increase in cheap hotels and hostels primarily catering to budget travellers from abroad, and consequently an increase in other facilities catering to the same demographic has popped up.

But, around here you will still find tons of cheap eateries and drinking establishments where local workers rub their shoulders with an increasing number of curious travellers.

Minowa is also home to Joyful Minowa, one of the biggest and oldest "shotengai" covered shopping streets in Tokyo, with countless shops serving food so cheap that you might have a hard time believing your eyes. We recommend that you take your time exploring the surrounding streets as well, as that's where you will find some of the most local and genuine shops around here.

Next to the shopping street, you will also find the terminal station for the Toden Arakawa Line, a streetcar connecting many of the residential areas in northern Tokyo. It is perhaps the most charming means of transportation and the only remaining tram line in the Japanese capital. Since 2017 efforts are being made to rebrand this line to "Tokyo Sakura Tram".
Tags