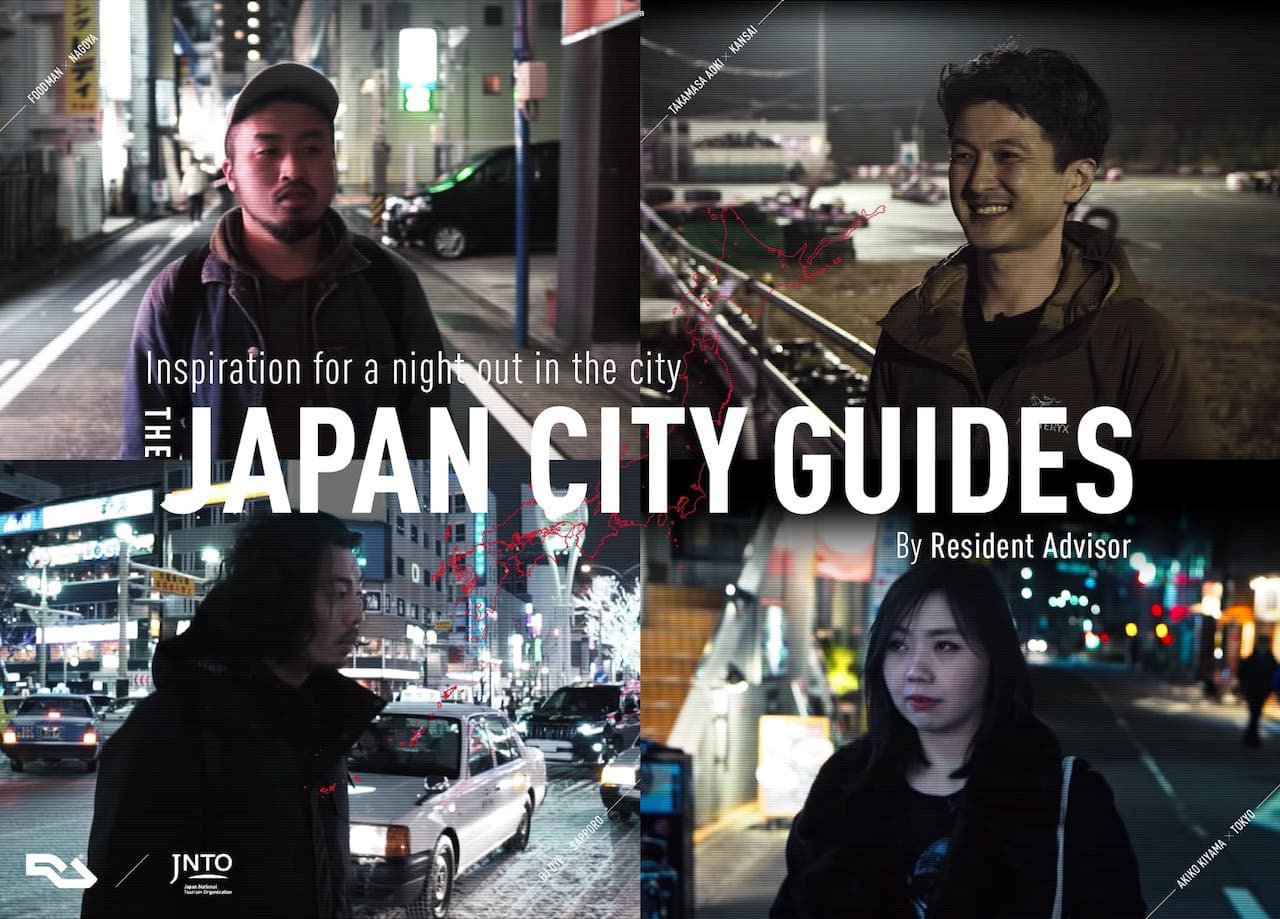 Feature -
2019-06-19
Inspiration for a night out in the city: The Japan City Guides by Resident Advisor
Music
A series of films by Resident Advisor explore the night culture of Japan through the eyes of four artists residing in four urban areas - Kyoto/Osaka, Nagoya, Sapporo, and Tokyo. The guides take us on a personal tour of food, music, and spots to hang out and enjoy the night, with interviews of their favorite bar and shop owners.
■SAPPORO
DJ DYE of the hip-hop group Tha Blue Herb shows us the city of Sapporo, which he describes as just the right size. Spice No Ana Mujina is a cozy izakaya serving spicy food and drinks, and is located in a quiet residential area; many people discover Mujina through word of mouth. Waltz is a bar that attracts many musicians, as well as foreign visitors as it is open well after the clubs closes. Salon Tareme is a favorite bar of DJ DYE that introduced him to new genres of music. It hosts techno lives as well as karaoke parties, and makes their original daily calendar with inspirational quotes for each day - from the (drunk) local patrons of the bars. Provo is a bar but is also a culture spot that hosts parties, movies, and other events where people get together. He takes us last to SappoLodge, a guest house and bar, run by two brothers. Although it a guest house, locals come here for a drink. The warm wooden interior is based on the concept of a mountain house in the city, and is the perfect setting for the locals and staying guests to mingle and mix.

■TOKYO
Akiko Kiyama was born in Tokyo and is a prominent figure as a techno artist. Follow her steps and you will find yourself in Tokyo's deepest musical spots: Waltz, Spincoaster, Oath, and Lion. Waltz is a shop located in Nakameguro that sells cassette tapes and vinyl records carefully selected by the owner. Spincoaster is a bar in Yoyogi equipped with two high-end speakers for high-resolution and analogue music. They have a collection of vinyl records, but you are welcomed to bring your own. Oath is a club in Shibuya that plays techno with over 70 chandeliers hanging above your head. Lion, also in Shibuya, is a cafe where you can immerse yourself in classical music.

■NAGOYA
Foodman takes us to his hometown, Nagoya, and neighboring Okazaki. Rita is where he calls an "alternative art space" that hosts music events as well as exhibitions. Club JB's is a soul-bar-turned-club that's been around for 23 years. Club Mago - playing techno and house music - is also a long running club that is operated together with the neighboring Vio. Mei, the owner of the two clubs, follows through with her love of dance music and provides a set to create excellent sound quality.
Foodman takes a 30 minute drive to Okazaki, where he visits Love - an apparel shop, record store, and a bar. The many of the clothes sold here are designed by musical artists. Hikari no Lounge, also in Okazaki, is an underground music venue/bar where fans travel from across Japan to visit.

■KANSAI
Aoki Takamasa is an electronic musician and producer born in Osaka. His choices reflect the unique culture of the two cities of Osaka and Kyoto. In the energetic city of Osaka, he takes us to where he gets his inspiration for music: Compufunk, Critters Pizza, Circus, Infinity Circuit. In Kyoto, he visits SOTO and Y gion.

Compufunk is a record shop and bar with a studio, where Aoki calls it as his "playground". Critters Pizza holds parties with the ambition to spread techno music. Circus another place where people go to enjoy techno and dance. At the Infinity Circuit, Aoki analyzes that karting is similar to DJ-ing - as it requires you to keep your cool under an exciting situation. SOTO, in Kyoto, is a bar that is "just the right size" and hosts DJ events. Y gion rents out spaces for art and music, but also produces their own events.
Tags