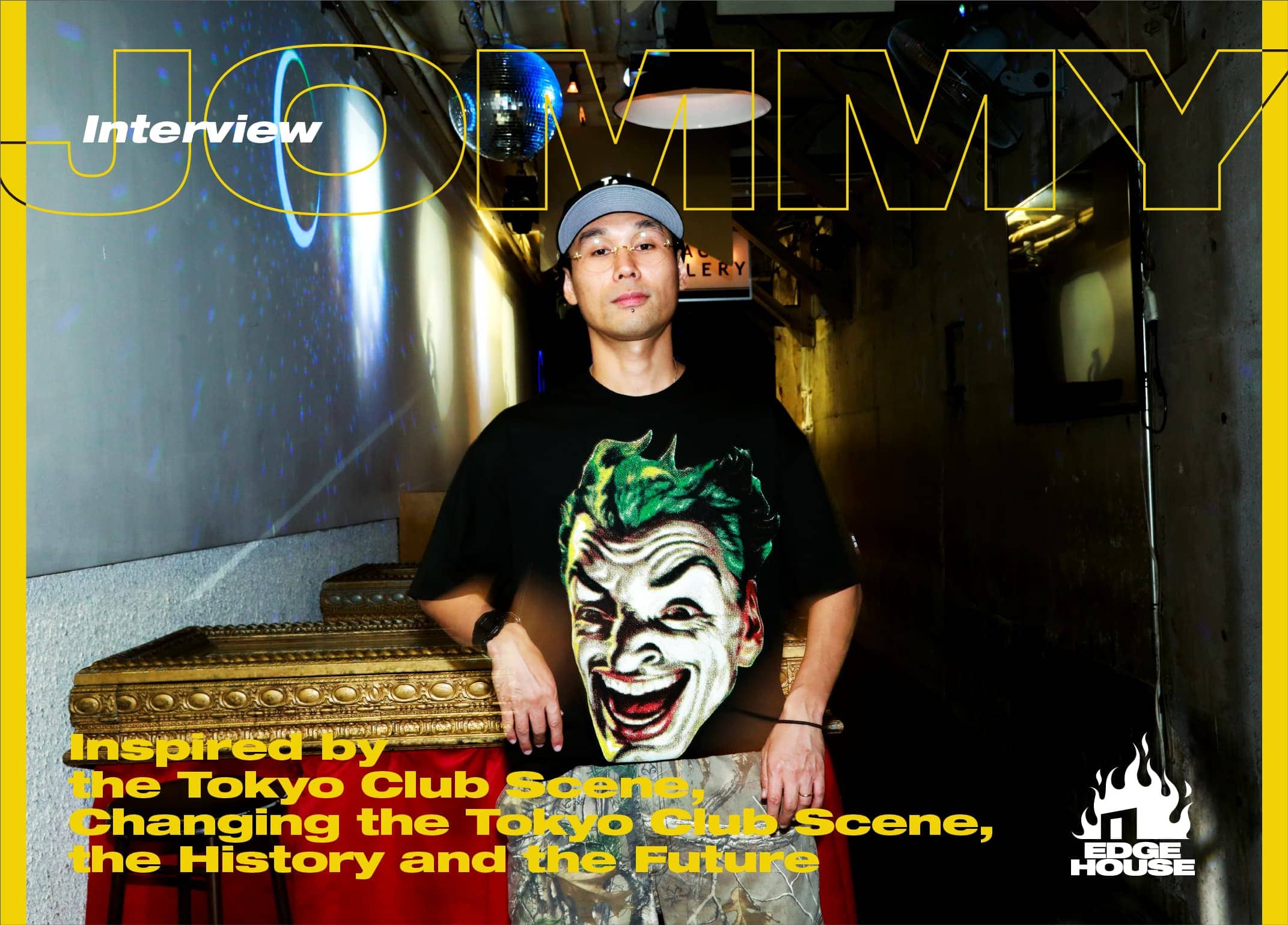 Feature -
2019-10-15
Inspired by the Tokyo Club Scene, Changing the Tokyo Club Scene, the History and the Future of JOMMY
Music
The inspiration he received from a random party in Tokyo back in the early 90s is what led JOMMY to where he stands today, he recounts. JOMMY has constantly put forward innovative ideas, -through dancing, through fashion, and through approaching the Tokyo club scene as a popular player today. Since the beginning of this year, JOMMY has organized a new tech-house oriented party called the EDGE HOUSE every Saturday and has also performed as one of the resident DJs. We asked JOMMY, at the forefront of the club scene, about his history of partying and what he is working on in the nightlife scene today.
- How did you get into the night scene in the first place?


JOMMYY (hereinafter, J): I went to a party called Cooley High at a club called END MAX in Roppongi when I was 14 or 15 ― that was the beginning. It was 1992. The scene in Tokyo was changing from disco to nightclub, and experiencing that transition eventually changed me as well. An ordinary kid stumbled across a nightclub and was shocked by the music, fashion, and the people he met there. I had a vague idea that I wanted to throw myself into a world where I can feel the culture.


- So, you started dancing?

J: We were able to experience the early era of Japanese street dancing at Cooley High parties, so my dancing life started with some of my older friends. I was still a student, but street dancing was at the center of my life ― I was particularly passionate about dancing at nightclubs. There were things and people at nightclubs that I couldn't get on the streets. Back then, Roppongi was the center of the night scene, so I was in Roppongi from Monday to Friday, of course on Saturdays, and sometimes also on Sundays. I would also go to clubs in Nishiazabu (a district adjacent to Roppongi) such as YELLOW and JUICE.

- How do you think clubbing has changed from the late 90s to the 2000s?


J: I was interested in US cultures like hip hop and street dancing back in the 90s. However, after BOOBBY - my dance mentor - returned from Europe, he gave me a lot of information towards the end of the 90s and the beginning of the 2000s. I started listening to a wider range of music, became interested in European music and fashion, and started enjoying techno, trance, progressive house, two-step garage, and the like. My playground changed from Roppongi and Nishiazabu to the Liquidroom in Shinjuku and outdoor rave events. Different playground means different friends, and that was the era that became the basis of music and fashion for what I do today.


- You also work in the fashion industry; I believe you were approaching the scene from an angle that links fashion and music, when French electro became popular in the late 2000s.


J: I was shocked by French electro back in 2006 or 2007. I was already working at 55DSL at the time, so my entrance was from the world of fashion. But the DEXPISTOLS guys (DJ DARUMA & DJ MAAR), hardcore hip hop kingpin KANGO, and other people in the brand/fashion business were all paying attention to the electro scene, and a truly borderless mash-up style was simultaneously gaining popularity all over the world. In Tokyo, Le Baron de Paris opened in Aoyama, and it was those times when the link between the fashion world, music lovers, and members of various new communities developed. I think Le Baron was essential to the Tokyo club scene at the time.

- You also started DJ-ing at the time. What styles interested you?


J: Dancing was a major influence on me. My passion for dancing gradually cooled down as I grew older, and I started putting that energy into DJ-ing instead of dancing. It goes without saying, but music is so important to dancing. I used to dig a lot of music that I wanted to dance to ― so I was already deeply immersed in music at the beginning of my DJ career, and the transition from dancer to DJ was a smooth one.


- I feel that nighttime in Tokyo and its club scene was sexier back in the 90s. Do you agree?


J: I think it's still sexy, but I do agree that it used to be sexier. I mean, the club scene was mostly for outcasts, so… (laugh). I think the scene has become more accessible, which can be a good thing and a bad thing.

- Is that one of the reasons you started EDGE HOUSE from February? What kind of party are you aiming to create?


J: With European tech-house at its core, we want to introduce our original new flavor of tech-house, incorporating techno, disco, etc. as well. I think tech-house has been regarded as being a bit stoic ― our version of tech-house is more colorful. We want EDGE HOUSE to be more of a fun party than an underground event. I've been interested in the European and US tech-house scenes for the past two years, and I think that the scene still has room to grow quite a bit. DARUMA had similar thoughts at the same time, and I was approached to see if I wanted to work with him in creating something new for VISION in 2019. That's how EDGE HOUSE was born.


- You dropped a party on the nights of Tokyo.

J: We want to deliver the same quality as the best clubs in the world. I really feel obligated to get the message out to the world, that there is a party called EDGE HOUSE in Tokyo before 2020. I want people to think - Tokyo, therefore EDGE HOUSE. I want it to be a party that everyone visiting Tokyo wants to go to - or that every DJ wants to DJ. If this party succeeds, I think the DJs and the crowd can work on many more fun projects in the future.


- Last question; what do you want to see happening in the Tokyo night scene?

J: Personally, my life was enriched because I met the night scene. My only hope is that I can offer the same life-changing experience to many people through EDGE HOUSE.

JOMMY's recommended parties and clubs

<1>
EDGE HOUSE at SOUND MUSEUM OF VISION
Address:Shintaisou Bld B1F, 2-10-7 Dougenzaka, Shibuya-ku, Tokyo JAPAN
Tel:81(0)3-5728-2824
http://www.vision-tokyo.com

Resident DJs DARUMA and JOMMY rock the crowd every Saturday at Shibuya's mega-club SOUND MUSEUM VISION. Introducing an original, new style of tech-house, summoning big names from overseas ― the trippy and unique decor and visuals, along with the music, will surely take you to a new world.

<2>
BAR BRIDGE
Address:Shibuya Park Side Bld 10F, 1-25-6 Shibuya, Shibuya-Ku, Tokyo JAPAN,
Tel:81(0)3-6427-6568
http://bridge-shibuya.com

A popular DJ bar in Shibuya where JOMMY performs every 1st and 3rd Monday. You can expect to hear a wider variety of genres, suitable for weekday nights. It's on the 10th floor, so you can catch a beautiful view of the world-famous Shibuya Crossing while chilling and enjoying some good music with drinks.

<3>
MITSUKI
Address:Nagashima Bld B1F, 1-22-12 Dougenzaka, Shibuya-Ku, Tokyo JAPAN
Tel:81(0)3-6455-0140


A DJ bar that just opened this summer in Shibuya. Many members of the fashion, music, and art industries gather, and you can catch some of the most popular DJs in the culture scene performing here. World-class art director YOSHIROTTEN is in charge of the interior design.
Tags