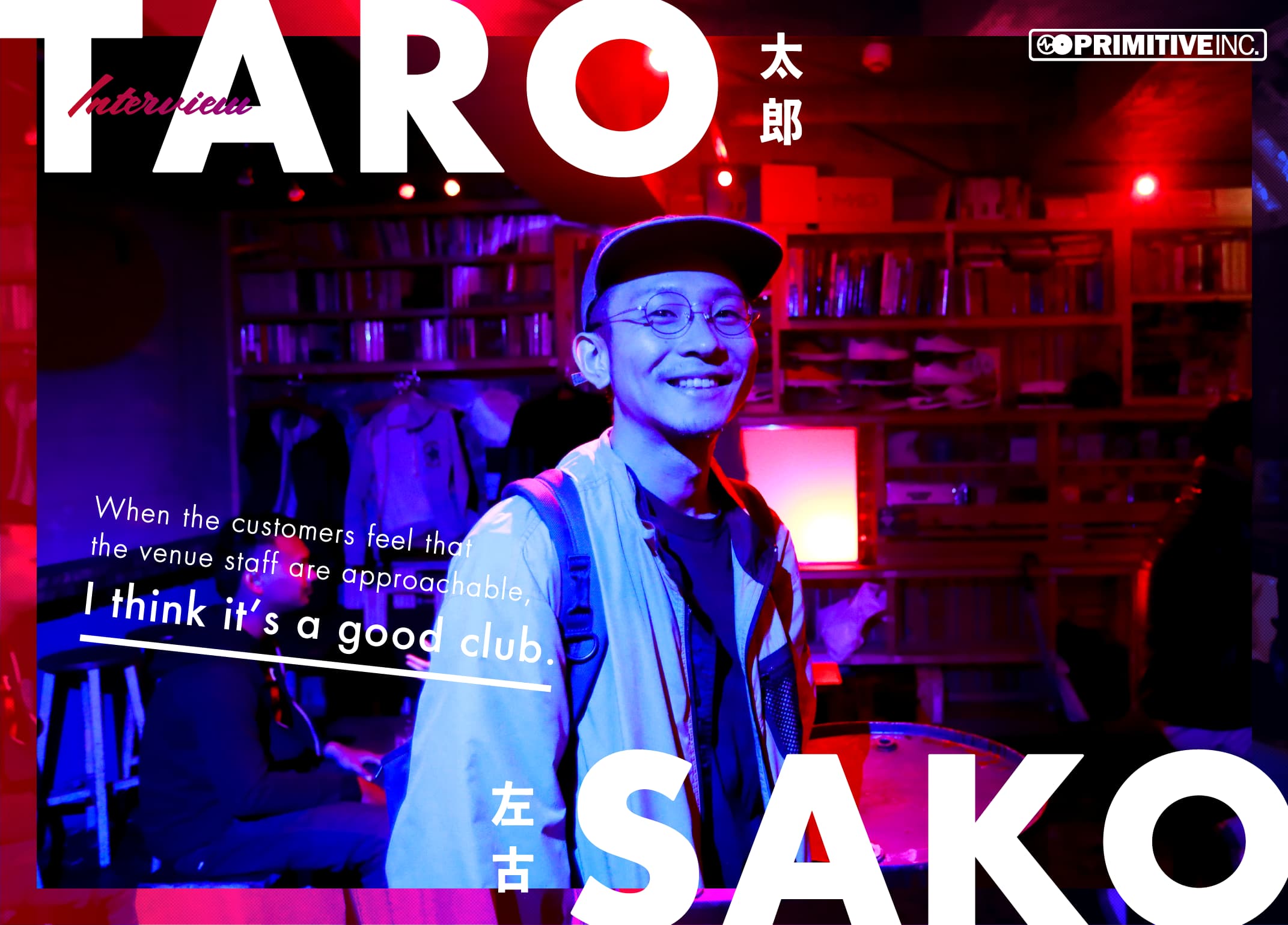 Feature -
2019-11-09
"When the customers feel that the venue staff are approachable, I think it's a good club." Taro Sako (PRIMITIVE INC.)
Area Guide
PRIMITIVE INC. is a production that has invited several international DJs to Japan and organized numerous fantastic parties, such as Masters at Work in Shinkiba ageHa on 11/17 (Sunday). Taro Sako is one of the younger key figures energetically working for PRIMITIVE INC. Taro is a DJ based in the current club scene. As such, he will be introducing us to some of his favorite small venues in Tokyo. They are not too underground; they have a distinct Tokyo-local vibe, and they attract many music lovers that are looking to hang out. A key factor is that "the customers feel that the venue staff are approachable." So, first-time visitors to Tokyo can count on the members of the staff, who are skilled in the art of clubbing, to help you enjoy your night out in Tokyo like a pro.
—Tell us a little bit about your job.

Taro: I work at a production called PRIMITIVE INC., which mainly handles dance-music related events. For example, we organize the "MASTERS AT WORK in JAPAN" events at ageHa, we do planning for the annual house music festival "Body & Soul," and we coordinate Japan tours for popular artists like Daniel Wang and Mark Farina. We are in charge of booking management for Hiroshi Watanabe, aka KAITO and Kaoru Inoue. I personally love music and DJing, mainly at small venues.

—I know that you've played baseball since you were a kid; how did you end up in the night scene?

T: I always enjoyed music. So, I liked the radio, and I was always listening to it. At home, instead of watching TV while eating, we would listen to the radio. When I would ask what song was playing, my dad knew the name of the track most of the time. We would listen to Tatsuro Yamashita's Sunday show "Sunday Songbook." Naturally, my love for music grew, and I started looking for more.

―What was the music that influenced you to start clubbing?

T: The first influences that made me who I am today were Earth, Wind & Fire, Kool & The Gang, and the like. I'm from Kanazawa city of Ishikawa prefecture, and I used to only listen to hip hop. Because I'm from a rural area, the only culture was street culture, and hence hip hop. When I was going to school, I would go to a CD/book store alone and dig into their selection, but my only source of information was the radio. The FM stations in Ishikawa were power-playing dancehall and hip hop, so that was another big influence. I moved to Tokyo for college and joined a baseball team, but since there were only a few that went to clubs, I would go to AIR and WOMB alone. I started listening to drum 'n' bass and house, and enjoyed going to parties like "06" and "Drum & Bass Sessions." I danced like crazy, alone, all night, and then my muscles would be aching, but I would play baseball, and mahjong (laugh).

-Why small venues?

T: After graduating from college, I moved back to Ishikawa to work. My friend from high school had just started a party at "Zu-Bar," and he invited me to play there. I worked at a bank, and some of my co-workers also liked house - Paradise Garage type house. So, we agreed to do a party together. Because that person had already been organizing parties at "Solfa," I got the opportunity to play there as well. After a while, I quit my job and returned to Tokyo, and kept going to more and more small venues via my friends. My circle of friends originated around there.

―How did you pick the four venues you will be introducing today?

T: They've been good to me, and they are excellent clubs for first-time club-goers in Tokyo. A common feature among the four clubs is that the venue staff are very approachable. It's nice to see the customers enjoying a conversation with the staff. Ideally, it would give first-time visitors from abroad the impression that everyone is welcoming and communicative.

―Yes. It's instant relief when you know you can communicate with the people there when you enter a venue for the first time in a foreign country.

T: Indeed. Another good thing about small venues is that they are always doing something. They also try to maintain a certain quality in terms of music. For instance, "OATH," where you can mainly enjoy four on the floor type music, all the DJs are seasoned so you can have a great time any day of the week. I have a regular party there on the second Tuesday of each month, and at OATH, I mainly play four on the floor as well. The crowd is a mixture of Japanese and international visitors.

―What do you think about nightlife in Japan?

T: Some say that fewer DJs are emerging from the younger generations, but that isn't true. I think many talented newcomers are entering the scene. Another fascinating feature of small venues is that you get to discover this new talent in the rough. Many teams throw parties at special locations other than clubs, and there are many motivated young members of the scene. Some say that the "old times were so good," but I think it's great that there are also many people that want to create a special experience that is only possible now. Even if you can't spend much, there are plenty of places where you can go and enjoy good music as long as you have 1,000 yen.

―What do you expect from the future nightlife scene in Japan?

T: If you're curious or interested, please check out the scene. There is something for everyone.

▷Recommended by Taro Sako

solfa
Address: Oak Bld B1F, 1-20-5 Aobadai, Meguro-Ku, Tokyo Japan
Tel: +81(0)3-623-9051
www.nakameguro-solfa.com

This club is located in Nakameguro, a popular and stylish district of Tokyo with plenty of stores, cafes, art, and restaurants. Various genres are played, and their DJ lineup features all types from newcomers to veterans and occasionally international DJs. It is also known for its close relationship with the beat-music wizard RAS G who recently passed away. This is the venue that lit Taro on fire, who is now a Tokyo nightlife expert.

Aoyama Hachi
Adress: Aoyama Bldg, 2F-4F, 4-5-9, Shibuya, Shibuya-Ku, Tokyo Japan
Tel: +81(0)3-5766-4887
https://aoyama-hachi.net

"There are three floors, and the building has a funny shape. The DJs are skilled, so many of the customers are also music lovers." A 10-minute walk from Shibuya Station or Omotesando Station, the club located on Roppongi-dori with a distinctly underground atmosphere, is one venue that is loved by DJs - DJs from all around Japan come to play various genres at this club. Each floor has a different mood and makes you want to stay for a long time.

OATH
Address: B1F, 1-6-5, Dogenzaka, Shibuya-Ku, Tokyo Japan
Tel: +81(0)3-3461-1225
https://www.djbar-oath.com

A popular DJ bar in Tokyo featuring a charming interior that is delightful and odd at the same time. The venue moved from Aoyama to the location of the former TRUMP ROOM in 2018 and has upped its game. Many of the DJs are veterans, and Taro, who has a regular party at the venue every second Tuesday of the month, testifies that "there are many international visitors" in the crowd. Open every day. Go early or late to have a great time.

ZU-BAR
Adress: B1 1-6-3 Dogenzaka Shibuya-ku Tokyo Japan
Tel: +81(0)3-6712-5050
http://www.zubar.jp

The original location was a former fashion-related warehouse small space turned into a DJ bar by a liquor-loving owner on the spur of the moment. In no time, it became one of the leading underground DJ bars where all the drinkers and music lovers of Tokyo gather. After relocating to Shibuya, the dance floor got bigger with more room to relax, but the chaotic atmosphere remains the same. According to Taro, "you can play just about anything here (laugh)." On weekdays, they serve Taiwanese bowls (chicken/pork) during lunch hours.

PRIMITIVE INC. 13th Anniversary
MASTERS AT WORK in JAPAN ‒ Our Time Is Comming -

DATE : 2019.Nov 17th START:14 : 00 ~21 : 00
VENUE : ageHa @ STUDIO COAST
ADRESS:2-1-10 Shinkiba, Koto-Ku, Tokyo JAPAN
TICKET : ADV Category 4 : 5,500Yen / Group Ticket 2 (5 Persons):24,000Yen -Limited- / U-23 Ticket 2 : 3,500Yen / VIP Pass Category 2 : 7,500Yen
DAY:Door ¥6,500 / U-23 ¥4,000
INFO : www.mawinjapan.comDJ's:MASTERS AT WORK(Louie Vega & Kenny Dope), Lightes by Ariel, CAPTAIN VINYL(DJ NORI & MURO), Kan Takagi, Kaoru Inoue, CYK, okadada, Dazzle Drums etc...
Tags