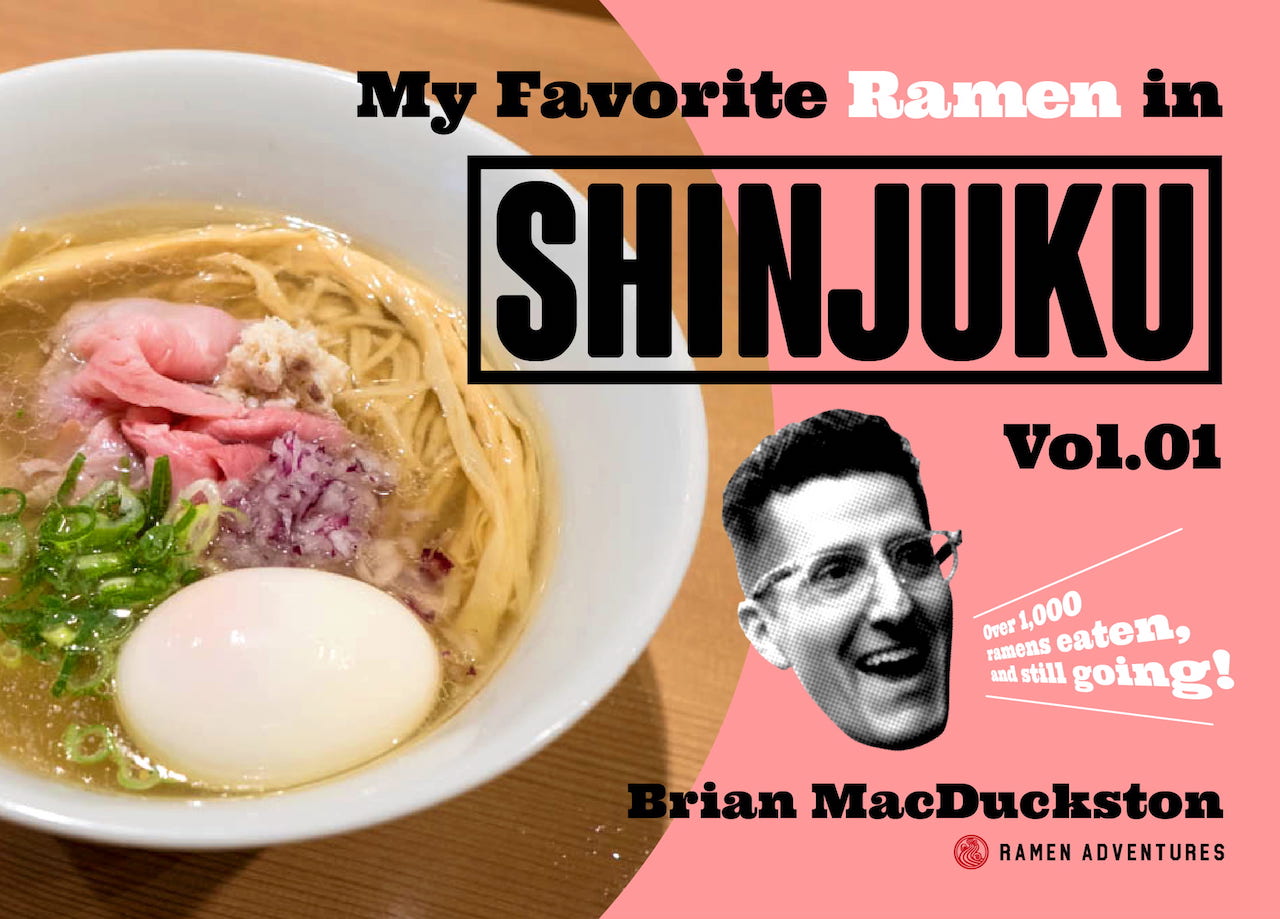 Feature -
2019-11-28
My Favorite Ramen in Shinjuku
Food & Drink
This series is sent by Brian who loves Japanese ramen. He always share his recommended ramen on YouTube and blogs, but he also introduced them to NOCTIVE. This time, we will feature Shinjuku, the best downtown area in Tokyo. Enjoy Kabukicho, Golden Gai, deep Tokyo and ramen. Such a trip may be good.
Shinjuku covers much of Tokyo's west side, with skyscrapers, parks, and universities all within its borders. When it comes to nightlife, though, Kabukicho reins king. Gone are the days of Kabukicho being seen as the most dangerous neighborhood in the capital. You'll still find shady bars and adults-only establishments, but the giant Godzilla statue in the middle of the red light district is a sign that Tokyo's entertainment district has something for everyone. It's no surprise that Kabukicho and the surrounding areas have more ramen shops than most other districts in Tokyo. The area also has a style of ramen for anyone, from light, refined styles to thicker, heavier fare.

Ramen Nagi

Take a walk down the alleys of Golen Gai, Shinjuku's famous collection of tiny bars, and you'll see the line for Nagi. This second floor ramen shop has been around since 2008, making it one of Shinjuku's most legendary shops. The style is niboshi soup simmered with dried baby sardines. Niboshi soup is rich, fishy, and a little bitter. It's also the perfect food to eat before or after a night of heavy drinking.

The most popular bowl at Nagi is the Unbelievable Niboshi Ramen (すごい!煮干ラーメン). Over 20 different kinds of dried fish are used to give this one a signature flavor. This bowl is no joke; if you don't like fish you definitely won't like the ramen here. Niboshi is full of healthy Omega-3 fish oils, something that has been shown to help with alcohol abuse. And while you wait in line for a bowl at Nagi (there is always a line), you're bound to see quite a bit of alcohol abuse. A good plan for this one is to bar hop to a couple of spots in the neighborhood, have a bowl of ramen at Nagi, and continue your drinking afterwords. Of course, Nagi is open 24 hours, so many people opt to drink until 5 am and have a bowl of ramen before heading home as Nagi's niboshi ramen is known as a hangover cure.

2Chome Tsukemen Gachi

When Gachi opened in Shinjuku's Ni-Chome district, it was only the second shop in the MENSHO group of ramen shops. Since then, MENSHO has opened half a dozen more shops around Tokyo and a few shops overseas. Like all of their shops, Gachi's ramen is in a class of its own. This time around, they serve up a heavy tori paitan tsukemen, noodles served on the side of a creamy chicken broth. Ni-Chome is also Tokyo's famous gay district, full of bars and clubs. You can expect to see a lot of boozing in the area. The tsukemen here fits in perfectly with their liberal use of fried toppings, the love of drinkers everywhere.

Gachi's bowls come in normal (ノーマル) and deluxe (DX). Normal is nice, with noodles and soup only, but the one to order is the deluxe. Toppings include fried menma bamboo shoots and a big serving of their original GFC Gachi fried chicken. Dip the noodles in the soup, dip the chicken in the soup, and cover the whole thing with lemon. The whole experience is pure junk food. You can even have a draft beer or highball with your meal if you can't manage to stop drinking for the time being.

Ramen Hosenka

Many ramen shops in Shinjuku, especially in Kabukicho, tend towards the more intense side. People want fat-heavy ramen after drinking. It's simply what people crave. Hosenka, on the other hand, is light and refined. Light and refined is a bit of a trend in recent years, with premium ingredients bringing subtle flavors and deeper levels of umami than your average bowl of ramen. Hosenka chooses to enhance their soup with kinmedai, a premium fish that is more at home in an upscale izakaya or expensive sushi shop. They take left-over bones from the fishmonger, bones that would normally be thrown out, and cook them down in their broth. The end product has a clean taste with soft flavors of roasted fish.

The menu here is simple. Ramen, ramen with an egg, and ramen with extra chashu pork. Go for the egg, as they use a brand called "maximum thick egg." This particular brand's eggs feature yolk with a deep orange color and a strong flavor to match. Paired with the shop's delicious soup and quality toppings, the whole package at Hosenka is one of the best in Kabukicho.

Ramen Jiro Shinjuku-Kabukicho

Ramen Jiro is a Japanese institution. The original shop in the Mita area of Tokyo gave birth to dozens of shops directly in the Jiro family and hundreds of shops the are considered Jiro-style or Jiro-inspired. Fans of the style are lovingly referred to as Jirorians. Many Jirorians consider Jiro as a completely different food category; Jiro isn't ramen, Jiro is Jiro.

So what exactly is Jiro? The noodles are thick and plentiful. While an average bowl of ramen in Tokyo has 120 grams of noodles, most Jiro bowls give you 200. Keep this in mind, if you order anything larger than normal you had better know what you are getting into. The soup is pure pig. It's almost addictive, but probably something your doctor would advise against. The toppings are no joke either. Jiro's chashu is thick-cut, thicker than the pork at most other ramen shops. The rest of the toppings are where Jiro makes a name for themselves. You'll be asked, a few moments before your bowl is served, if you want garlic. This is actually code for you to reply with your choice of free toppings. Jiro ramen includes vegetables (mostly moyashi bean sprouts and cabbage), raw garlic, and seabura pork back fat. Some branches of Jiro also have raw ginger or hot spice. When you are asked for your garlic order, respond with your level of each free topping. Don't hesitate, the staff can be impatient with customers who are wasting their time. Replying simply with "zenbu futsu" will get you a normal level of everything. "Nashi" means to leave it out, and "mashi" means extra. "Mashi mashi" is for extremists only. Observe the customer who orders "yasai mashi mashi" as this is a sight to behold, a mountain of vegetables towering over the bowl. A word of warning, ordering extra and then not finishing it is a very bad show of manners. Another word of warning, you will stink of garlic after eating at Ramen Jiro.
If you fall in love with this bowl, it is good to note that there is another Jiro branch on the other side of the station (7-5-5 Nishishinjuku). It's in the ramen-heavy neighborhood of West Shinjuku's 7th district and is worth a try for Jirorians.
Tags