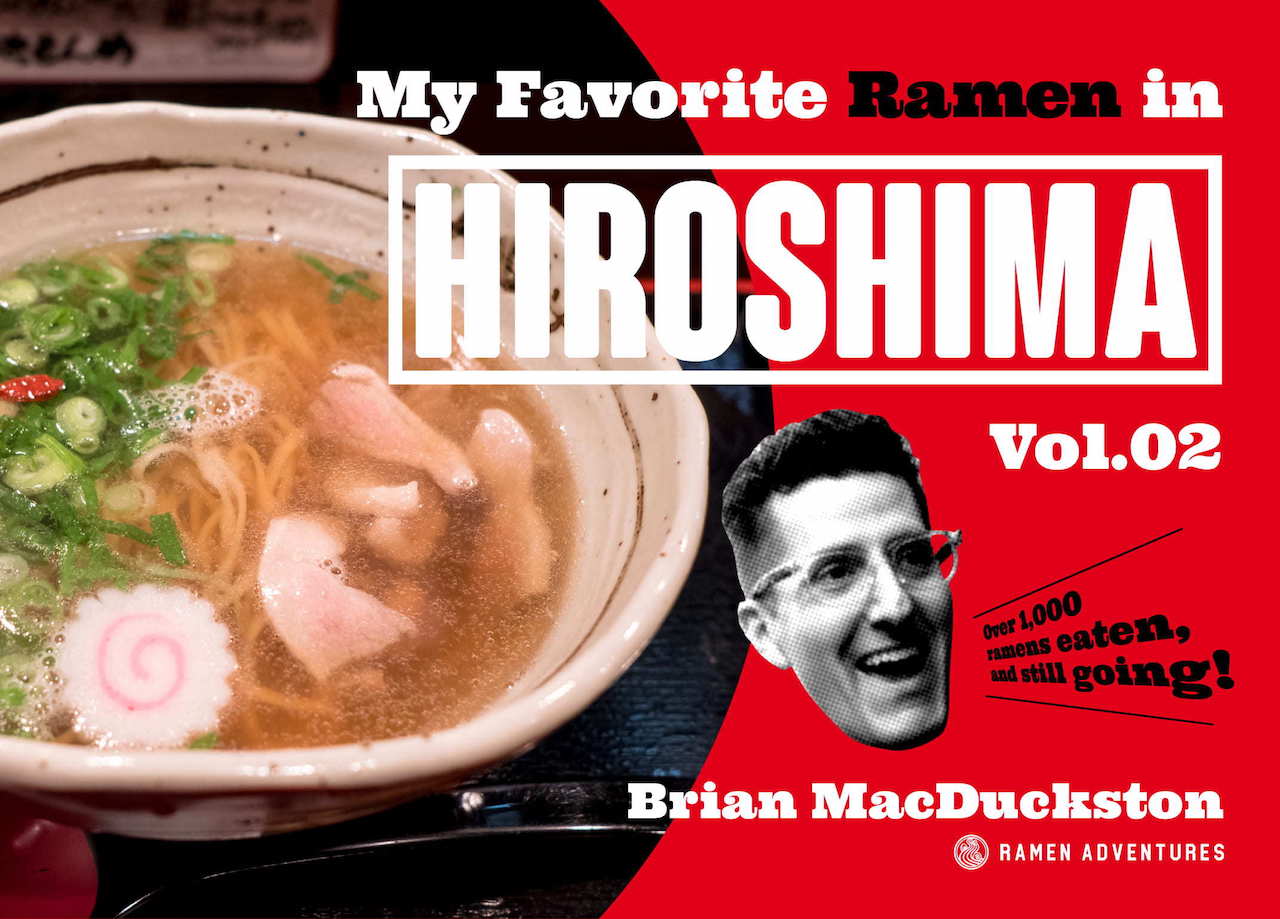 Feature -
2019-12-15
My Favorite Ramen in Hiroshima
Food & Drink
Brian MacDuckston of Ramen Adventure brings to you exclusive articles for Noctive. He goes for the BEST ramens out there, and have eaten over 1,000 bows! This time, he will report ramens in Hiroshima.
Hiroshima has been one of Japan's premier tourist destination for decades. Many people just pop in for the day from Kyoto or Osaka, see the Peace Memorial, take a quick boat to Miyajima to see the floating tori gate, and head back to where they came from. Those in the know, however, spend a night or two sampling the area's food and nightlife scene. Hiroshima-style okonomiyaki layered with udon noodles, red bean filled momijimanju, and locally grown oysters prevail in tourism brochures. Though these are all great, the area's ramen scene is thriving.

Hanaichimonme

The Yagenbori red light district is full of bars, brothels, and neon. Whether or not that is your thing, it is nonetheless an interesting place to walk around in the evening. The ramen shop Hanaichimonme is in the heart of the Yagenbori night district. In true night fashion, the shop opens at 9:00 pm, staying open until around 4:00 am. In a very different fashion, they serve ramen on the opposite end of the spectrum as the normal spicy Hiroshima styles. Hanaichimonme uses a strong duck soup flavored with soy sauce for their bowl. Most people consider heavy tonkotsu to be a good post-drinks style, but this salty duck one could be even better. Go fo the shinasoba or the equally popular tsukemen, and if you have room, check the ura menu on the back of their menu card, a secret menu with mini rice bowls to match your ramen.

Take note that this is a popular shop, and the lineup is actually on the second floor. Head up and wait to be called down. The waiting area is sparse, with guys from all walks of life smoking cigarettes in silence as they wait for their ramen number to be called.

Musashibo

In recent years, soupless tantanmen is all the rage in Hiroshima. Thin noodles, ground pork stir fry, and a lot of hot and numbing spices. In general, the spice levels are much lower than the dishes relative, Chinese dandanmien. Chinese dandanmien uses a lof of red chile and a lot of Chinese Sezuan peppercorn. Where Japanese style tantanmen shines is their use of local sansho peppercorn. Japanese green sansho tens to be more aromatic. Here at Musashibo, they offer three kinds of peppercorn on the countertop. Brown wakasansho (若山椒) has a bitter taste. Red akasansho (赤山椒) has a bit of heat to it. Green aosansho (青山椒) is all aroma and numbing power. Be very careful how much you add to your ramen. If you can handle the heat, go with the DEATH version of their bowl for added spice, otherwise the normal should be fine.

Musashibo is one of many soupless tantanmen shops around the city. If you are a big fan of this style, ask at the train station's tourism office for an official Hiroshima soupless tantanmen map, and go on a journey to find the city's best.

Keima and Wakabatei

Hiroshima, like many cities in Japan, boasts its own original ramen style. In the case of Hiroshima, that style is a spicy, cold tsukemen. Thin, straight noodles are served chilled and topped with crisp cabbage, freshly sliced green onion, and cold slices of pork shoulder. This is polar opposite to the soup; Hishoshima tsukemen is an explosive broth covered in spicy rayu. There is some small relief from the layer of toasted sesame and cold noodles but, depending on the level of heat you choose, this one is a face-melter. First-time customers should go with level three or so. Level five and things start to pick up. Only real fans of heat should approach level ten. But while most restaurants with a spice scale stop at ten, most Hiroshima shops go up to a scalding 100. This insane level of spice will often get you a special plaque on the wall memorializing your feat for all future customers to see.

Although Keima serves Hiroshima tsukemen, you wouldn't be wrong calling it a bar. First of all, it is located in the heart of the Yagenbori nightlife part of town. Second of all, it opened from 6pm until around 2:30am. Bar hours for sure. Thirdly, they are known for their homemade citrus cocktails; lemons from the Seto Naikai area and kabosu from Oita are used to make their original sour drinks. Despite being a bar, the food is excellent. The owner prides himself on the tsukemen. Different soy sauces are blended together, including traditional soy sauce from Shodoshima, an island in the Seto Inland Sea. The ramen is free of any MSG or chemical seasonings, so even though you are probably drinking yourself silly around this shop, at least your noodles are healthy.

Wakabatei has more of an old school vibe. Handwritten signs cover the walls, and customers who broke the spice-level 100 barrier have their names on bright yellow signs that cover most of the store. Any space not covered with these memorialized spice fiends is in red, dedicated to the local Hiroshima Carps baseball team.

The main draw may be the two old ladies running the shop. They are friendly, crass, and a delight to talk to. This shop is a bit on the south side of town, but it is worth the detour for an excellent bowl.

Tsutafuji

Onomichi on the west side of Hiroshima Prefecture is a welcome retreat from the busy streets of Hiroshima proper. Apart from the many temples in the area, Onomichi boasts its own style of ramen. Soy sauce ramen with big chunks of seabura pork back fat. The small town has dozens of local shops, with Tsutafuji being one of the most well known. Expect a wait any time they are open for business.

Tsutafuji's rough style is a great hangover food. Some people will party in Hiroshima through the night, sleep on the train to Onomichi in the morning, and slurp at this legendary shop before returning home. Instead of returning home, take the ropeway up the mountain, and walk down through the maze of alleys dubbed Cat Alley (猫の細道). There are a few dozen wild cats here, as well as many cat statues, cat art, and even a cat museum.
Tags