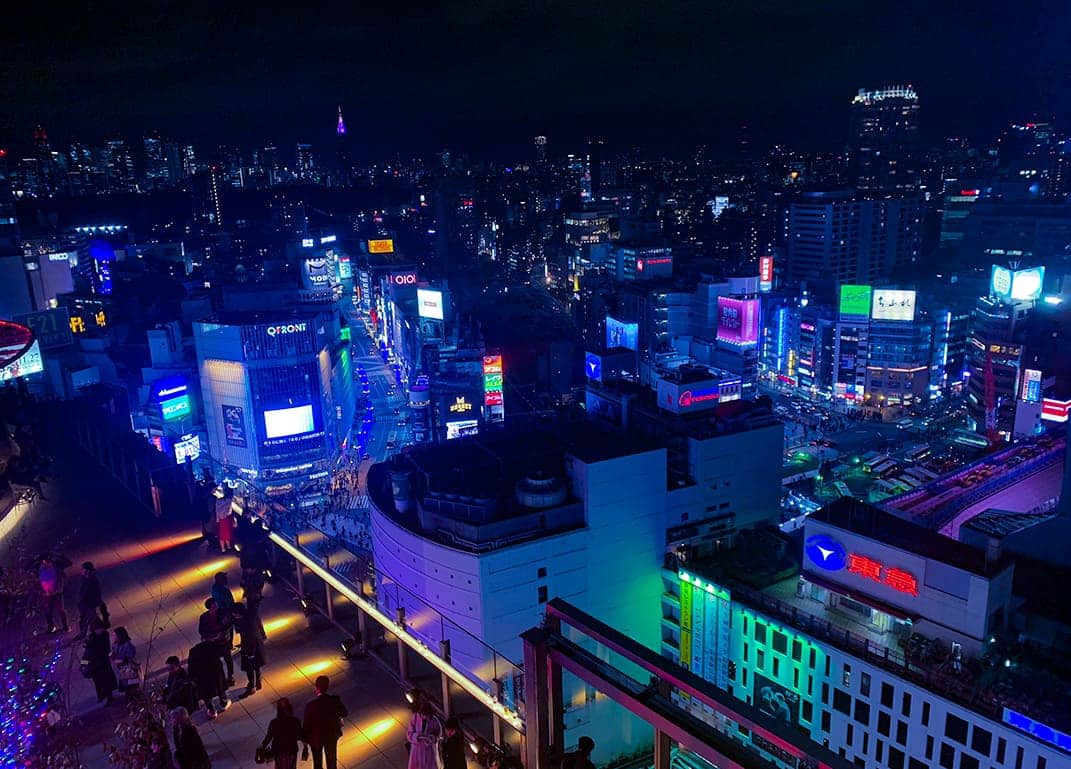 News -
2019-12-09
A new must-visit spot in Shibuya! Enjoy the Tokyo night view at CÉ LA VI TOKYO
Food & Drink
CÉ LA VI at Marina Bay Sands makes its first appearance in Japan at Tokyu Plaza Shibuya. A member of the NOCTIVE staff paid a visit to see it firsthand. They cover how to get there from Shibuya Station and share recommended photo spots! A Tokyo night view you can enjoy from multiple angles. Delicious drinks. Music in the air. How would you like to enjoy an evening in Japan a little on the luxurious side?
CÉ LA VI TOKYO opened on December 5th. I went to the opening party just before.
If you traveled here, but are not sure how best to enjoy Japan's nightlife, I hope you read this article and use it as a reference for nightlife in Shibuya and Tokyo.

First, I will cover how to get to CÉ LA VI TOKYO.
CÉ LA VI TOKYO is located in Tokyu Plaza Shibuya, which is right outside of Shibuya Station.
That said, stations in Japan are complicated, so you might end up leaving through the wrong exit and get lost!
Be sure that you leave the station through the West Exit.

Leaving maze-like Shibuya Station through the West Exit, you will see the Shibuya Chuo-gai gate across the way on the other side of the bus rotary.

The entrance to Tokyu Plaza Shibuya is right next to this gate.
Take the escalator up, and there will be elevators on the right. You can easily get to CÉ LA VI TOKYO on the 17th and 18th floors.

The surprising thing when you arrive at CÉ LA VI TOKYO is the sense of space and luxury.
Passing the bar counter at the entrance, it connects to an outdoor lounge.
It was decorated for the event on this day, but there are plenty of tables, and atmosphere seems relaxing.

The extent of the night view you can see from this floor is surprisingly wide.
Shibuya is famous for Shibuya Crossing. Have you ever seen a video of a huge number of people all crossing at once? Yes, that's the place. You often see foreigners shooting movies there.

These are highly recommended spots for taking photos looking down on that scramble intersection from above.

One is a spot all the way at the back of this photo next to the glass railing on the right side. Alternatively, there is a spot that is also all the way in the back of the sky bar at the top of the photo. You can take the best photos of the scramble intersection below from one of these two spots.
Incidentally, the circular shape of the sky bar is based on Marina Bay Sands.

So, how does a photo taken from these spots look?
Here is an example photo.

The intersection fits neatly into the frame.
There are many people on Shibuya's streets, and there are not many buildings that let you go up to the roof.
You might enjoy taking your time looking down on the streets from this spot.
I may be Japanese, but I had never actually seen this intersection from above, so this was a rare opportunity. I want visitors from overseas to see this view too!

After enjoying the night view awhile, I took the central stairs to the 18th floor.

This area also has a super relaxing atmosphere, with sofas arranged in the center.
At the back of the DJ booth there are Japanese bonsai trees. Behind the bonsai trees, you can see another, different view. (Be careful not to enter any dangerous areas!)

The stage is decorated with Japanese paintings.

The opening event was held on this day, so they had a kabuki show.

When I was done looking at the 18th floor, I discovered a staircase leading further up.
At the top, there were more seats, and at the back there were private rooms and hammocks available.

*The hammocks are next to this. Sorry for not getting any photos of the hammocks!

This is actually the most special photo spot at CÉ LA VI TOKYO.
You can scan the QR code provided and use the cameras installed above to take a selfie with the Shibuya scenery. Naturally, you can download the photo you took on the spot.
You can also post them on social media right away! They will make a perfect memento of your trip.

Unfortunately, I cannot show off the actual photo I took.
But that's OK! Look for this sign. This spot with the sign is the selfie spot.
See that light shining? That is the camera.

CÉ LA VI TOKYO is a new spot you will want to be sure to visit.
If you have visited CÉ LA VI in another country, it might be fun to compare them. Enjoy Japan's one and only CÉ LA VI to your heart's content!

[Details]
CÉ LA VI TOKYO
Location: 17th and 18th floors of Tokyu Plaza Shibuya inside Shibuya Fukuras
Address: 1-2-3 Dogenzaka, Shibuya-ku, Tokyo

This was a super brief introduction, but did CÉ LA VI TOKYO pique your interest?
In addition to the evening, they appear to have a superb multiple course lunch, so it is a place you can enjoy any time.
By the way, the food is mostly Asian. It is all fantastic, and very sophisticated.

This article also covers CÉ LA VI TOKYO, so check it out.
https://noctive.jp/article/NTT-nt-0316-en

Dogenzaka and Shibuya Center-gai are also located nearby. A major feature of the Shibuya area is how easy it is to head to a different spot to have fun. There are lots of nightclubs and izakaya, so it might be good for going on a pub crawl.
Tags