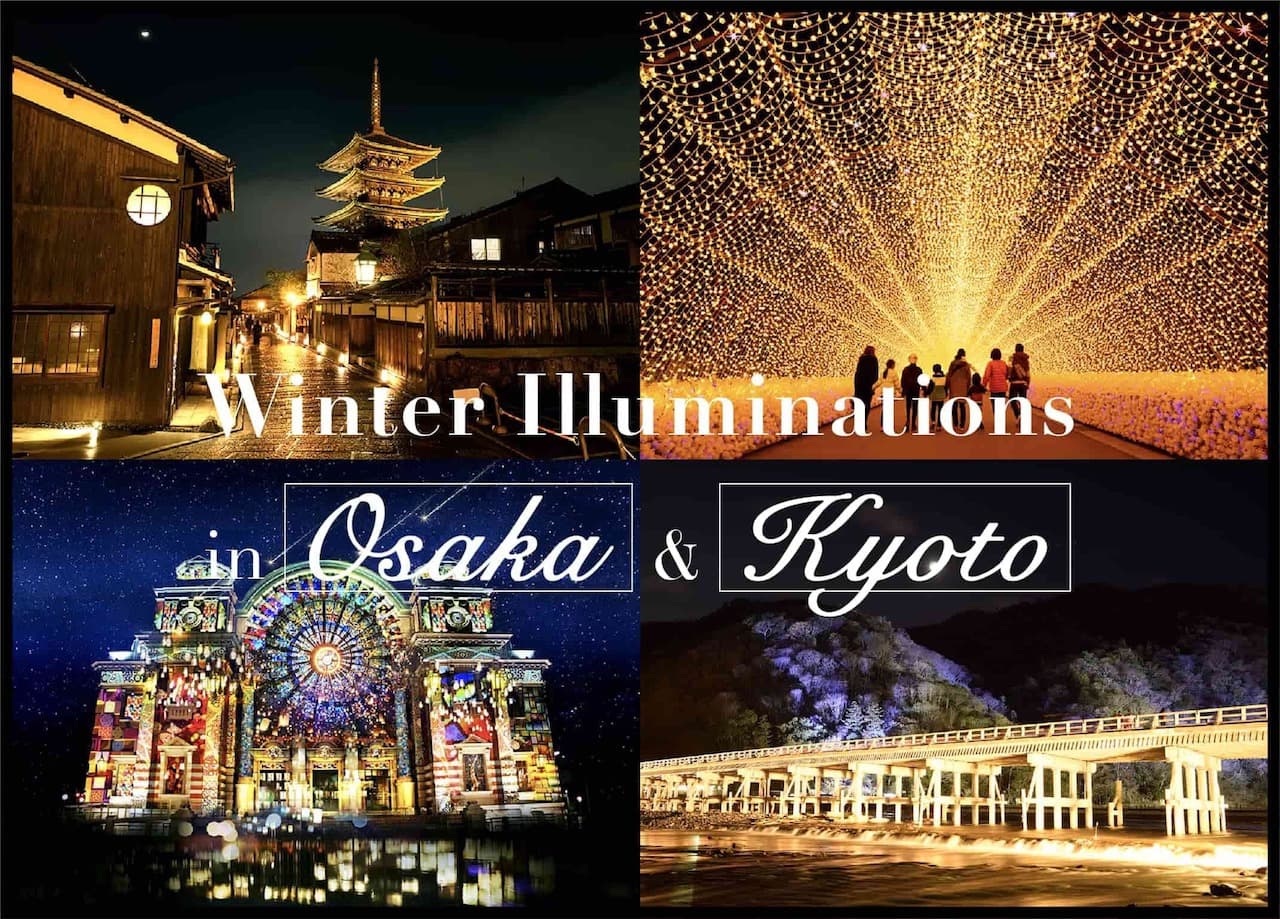 Feature -
2019-12-14
Winter Illuminations in Osaka
Activity
Osaka is now a popular area as good as Tokyo. You can have various local gourmets such as takoyaki and skewered cutlet, or go shopping in Shinsaibashi and Umeda, that has a different atmosphere from the downtown area of Tokyo. In this article, we summarized the illumination of the Osaka area introduced in NOCTIVE. It also includes Kyoto, which is easily accessible from Osaka, and Mie illuminations. Enjoy the unique atmosphere of western Japan!
Festival of the lights in Osaka 2019

Illuminations are held at various spots in Osaka as "Festival of the lights in Osaka".

You can enjoy "Mido-suji Illumination 2019" at Osaka's symbol street "Mido-suji", where the section from Umeda to Namba can be illuminated. The others are light art works using the walls of Osaka City Central Public Hall, or light utilizing the waterside landscape of Nakanoshima, such as various illumination programs are held.

https://noctive.jp/article/NTT-nt-0286-en

Kyoto Arashiyama Hanatouro 2019

Taking advantage of the nature, waterfront, bamboo forest and historical cultural assets of the Saga Arashiyama region, walkway totaling approximately 5 km is rendered from the light of open air lanterns, whose shades and shadows imbue Japanese sentiment, and the blossoms of voluminous flower arrangement pieces. The created effect is a pathway that naturally beckons one to walk.

https://noctive.jp/article/NTT-nt-0283-en

Kyoto Higashiyama Hanatouro 2020

A lot of lanterns decorate the 5 km walking path that leads to the foothills of Higashiyama Mountain. From the north, the path goes through Shoren-in Temple and Maruyama Park, and then through Yasaka Shrine to Kiyomizu-dera Temple in the south.Enjoy the striking charms of Kyoto streets. Faint lights that beautify the store fronts of Monzen-machi, soft lights that reflect off the stone pavements, lights swaying amongst the trees, white and earthen walls.
The Ikebana Promenade and the abundant Ikebana arrangements together with the paper lanterns invite the visitor to an enchanting world.

https://noctive.jp/article/NTT-nt-0284-en

Nabana no Sato illumination

This place is a bit off from Osaka / Kyoto, but it's relatively well accessible from Kansai and is a popular illumination.

Nabana no Sato's "Illuminated Travelers 2017 Top 30 Attractions in Japan" is one of the biggest illumination events in Japan.

https://noctive.jp/article/NTT-nt-0274-en



Are there any spots you are interested in? This summary will continue to be updated.
Tags