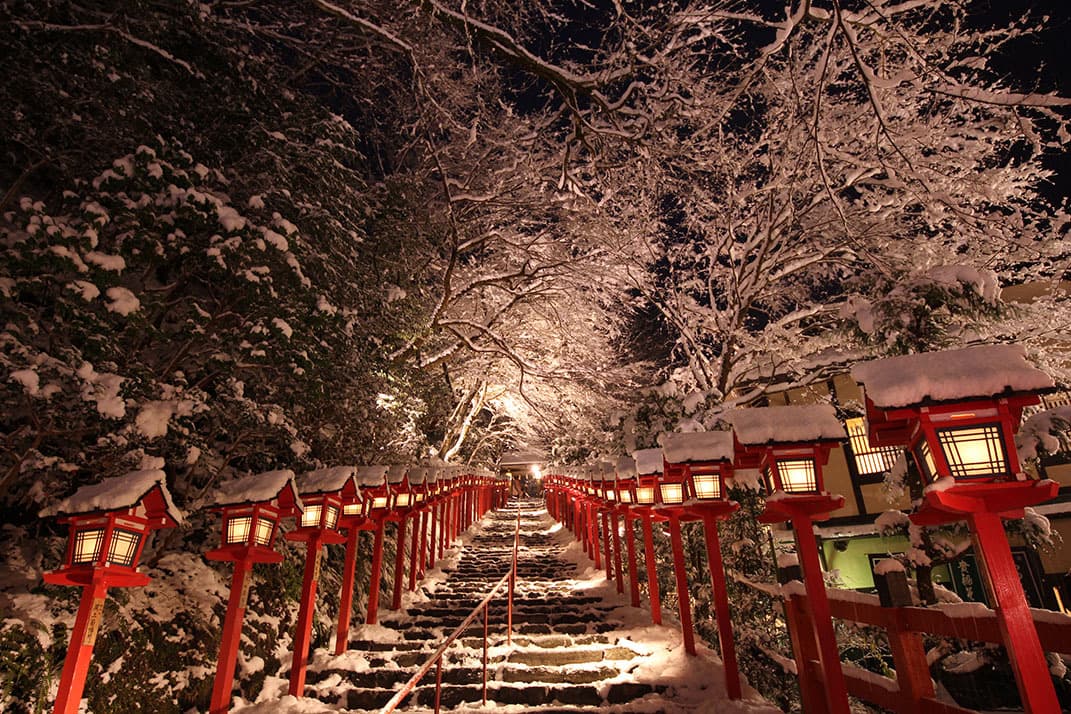 News -
2019-12-13
Light-up Event, Limited to Days with Snow at Kifune Shrine in Kyoto
Activity
A light-up event will be held at popular Kifune Shrine in Kyoto, limited to days with snowfall. White snow and red lanterns create the atmosphere of a Japanese winter. This is an event you can experience only at this time. Be sure to check it out!
■ Potential days of event
January 18 (Saturday), January 25 (Saturday)
February 1 (Saturday), February 8 (Saturday), February 15 (Saturday), February 22 (Saturday), February 29 (Saturday)
Please note the event will not be held on days outside of this schedule, regardless of snow conditions.

Conditions for event: Held only on days with moderate snow accumulation (unspecified)
Venue: Main Hall, Kifune Shrine
Hours of lighting: From twilight to 20:00 (A small shrine office will be set up; may be extended)

*The decision to hold the event will be announced at 3:00 pm on the days in question.
*Announcements will be made under New Information on the official website and through social media, only on the dates of the event. (Please understand that if there is no announcement of new information or posting on social media, the event will not be held.)

Official website
http://kifunejinja.jp/

Facebook
https://www.facebook.com/kifunejinja

Twitter
https://twitter.com/kifunejinja

Instagram
https://www.instagram.com/kifunejinja/

*We are unable to respond individually to inquiries and questions through posts or comments on social media, etc.
Also, we cannot accept inquiries by phone.

The history of Kifune Shrine can be seen here.
http://kifunejinja.jp/history-e.html
We recommend that you take a read before visiting.

On days that the event is held, Kyoto Bus Route 33 will be temporarily operated between Kifuneguchi Station and Kifune.
Please use public transportation to visit the shrine (Eizan Eletric Railway / Kyoto Bus).

Winters in Kyoto are very cold. Please dress warmly when visiting.
Tags