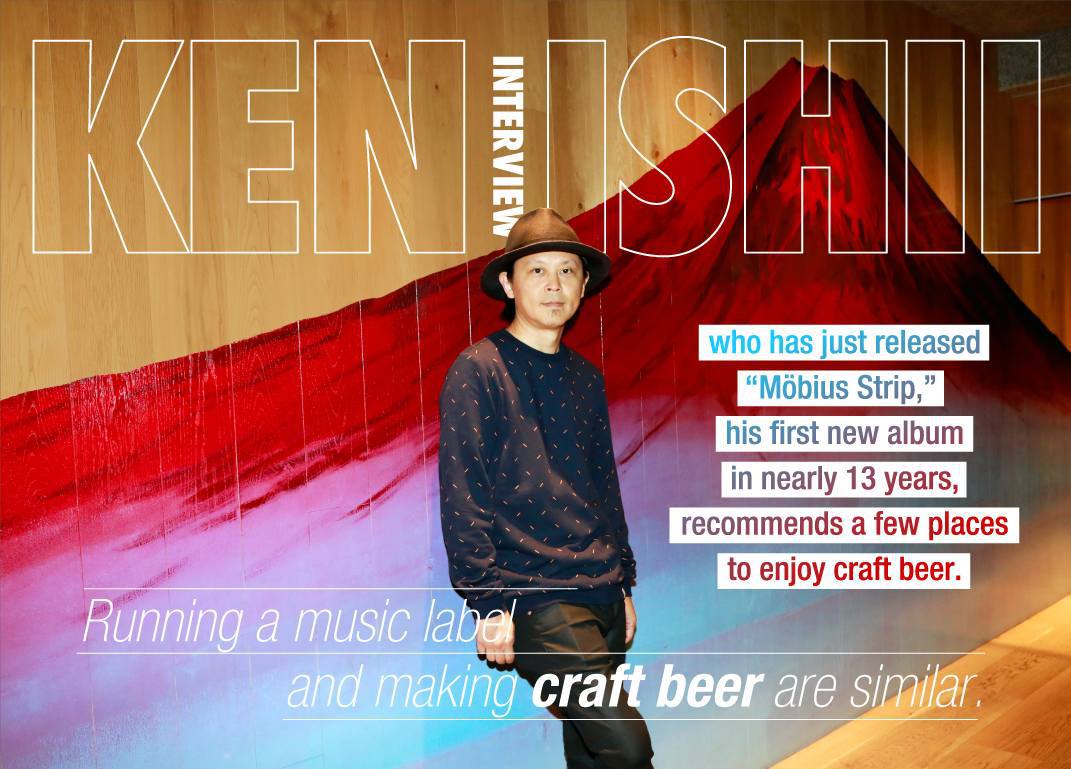 Feature -
2020-01-07
"Running a music label and making craft beer are similar." Ken Ishii, who has just released "Möbius Strip," his first new album in nearly 13 years, recommends a few places to enjoy craft beer.
Music
Ken Ishii is a techno DJ / sound producer who has debuted from the Belgian techno record label R&S Records in 1993 and since acquired the nickname of "the techno god of the East." He has been active in the international scene since the 90s and is still kicking it hard and influencing the music scene around the world today. He has recently released his first new album in almost 13 years titled "Möbius Strip."

The artist that declares he "loves to make music" has shared with us some stories about his newest offering, as well as about craft beer, which is his other true love since his debut. He has even produced his brew of beer called "KIKK IPA 2019." Read on to find out about some bars he recommends for enjoying a tasty mug of craft beer.
- About your new album, "Möbius Strip." It felt like your entire musical career was poured into this album, from when you debuted back in 93 up until today. Meanwhile, this is your first new offering in almost 13 years. Tell us about the production.

Making music is like a hobby for me. So, I have always been making some. But since I hadn't released in such a long time, I was wondering what kind of material the next release should be. I've been releasing singles from labels all around the world but they were mostly dance tracks made for the DJs. For an album, I wanted to make something that I could say "this is me." That was about the closest thing I had to a goal in mind — basically, I just made what I like.


- Is that like just turning your ideas into tracks?

Ken Ishii: You could say that. Sometimes I would just start making music because everyone else in the family went to bed, and other times, I would be playing around with the newest software and plugins, then I stumble across an interesting sound or a phrase and be like, "that's cool.' I've always tried to stay up to date in terms of technology, and it's like the album gradually took form during those activities.



- Do you still like the same sounds as before?

Ken Ishii: In retrospect, I think so. Some people are like "this is my sound" and they keep using it within an inch of its life. I'm not like that, but even when I get a new synthesizer and go through the banks of a zillion different sounds, I end up noticing that I like the same kind of sound after all. To be more specific, I like sounds that are kind of "alive." Instead of the same sound going on uniformly, I like it when there is a bit of change in the tone or a subtle jump in the sound generated by a program. Unpredictable sounds. Those are the kinds that I like.

- I think techno artists that have been around since the 90s are skilled in creating the kind of sounds you just described.

Ken Ishii: Back then, techno was a new genre, and it was far from complete. So, artists had a lot of room to create the genre -- what it becomes. There were names like intelligent techno and IDM (intelligent dance music) when I joined the scene. It was more about the enjoyment of listening than just dancing. 20 years have passed and what people look for in techno has expanded. As a result, I think, elements that are the greatest common divisor survived, and the rest got trimmed off. One common feature of today's techno is that it's suitable for dancing. But what I want to make is not always that, and I want to put in all the elements that are intrinsic to me into a single track.

- Sounds that come out of you naturally.

Ken Ishii: Yeah. I don't want to be goal-oriented.


- Your collaboration with Jeff Mills, Dosem, and Go Hiyama was fascinating.

Ken Ishii: The thing about collaborating is that you get to make things that aren't entirely in you. Jeff collaborates with artists of totally different genres, but it's pretty rare for him to work together with another techno artist. So, I'm happy that I could make that happen.


-Is there a specific reason that you released the album now?

Ken Ishii: There were no plans. It was more like the right time came. Then, if I was going to release something, I wanted the outlet to be good. It is becoming rare for albums to be pushed, and more common to release singles from various labels. As a reaction, artists are starting to think about making really good albums. I wanted to make something that I could say "this is me," and it had to be about impact as much as it was about sound. That's one reason why it took so long.

-It's refreshing to have releases like this in the field of techno.

Ken Ishii: Tracks are bought more and more as a single and their life spans have become short. A hot track can become old in a month. Artists want their tracks to be enjoyed for a little longer. I think by releasing an album, you get your listeners to enjoy the tracks for a long time. More tracks are being made ready-to-use, and that's great, but if you want your music to be timeless, I think people should make more albums.


- Album-oriented production and visual expressions through MVs - releasing in this time's fashion should be inspiring to today's music scene.


Ken Ishii: Maybe I was able to do this because I have been around for a while and I've witnessed those times - when things were done in those ways. This path takes time, and money, though. But if you can pull this off, it can have a bigger impact. Showing who is making the music and why is something that should be done more, rather than a faceless, featureless being just manufacturing music.



- What's the story behind the title, " Möbius Strip"?

Ken Ishii: Just like the mathematical structure, after making the album, I realized that I like music. There is no end to it. New stuff comes out every year and things are updated all the time. Like, sound quality - you'd think it hasn't changed much, but it's quite different in the details. It's quite fascinating to follow those changes. It's like, "I thought I know this..." There is so much to discover and I'm always online searching that kind of information.



- That sounds like something that can go on forever.


Ken Ishii: Things can be quite different, too. So I never get bored and I enjoy it. So it goes on forever - like a Möbius strip.


-How do you want listeners to enjoy this album?


Ken Ishii: These aren't tracks made for DJs. I feel that I've exhausted just about every kind of expression there is in the realm of techno or electronic dance music. So, I'd love it if you could just listen to them. I have also put in even more time in creating other parts of the release, like the artwork, so I would be happy if you could go out and check out a physical copy in your hands. I'm feeling really good having completed this release.


-On the topic of happiness... What drink gives you happiness?

Ken Ishii: Beer. It makes me feel happier. (laugh)

- When did you start loving beer?

Ken Ishii: To tell you the truth, I wasn't much of a drinker back in college. I didn't even like parties. But since the record label that released my first track was in Belgium, I went to Belgium and tried their white beer and was like, "wow, beer is so good!"


-So it was your debut as a beer lover as well (laugh)

Ken Ishii: Brewers from all around the world visit in Belgium to get inspired. That's how good their beer is. I was actually discussing with a publisher in Japan about releasing a book about Belgian beers back in the 90's. After a while, craft beer kind of spread to the world and soon became available to enjoy all around the world. I fly to all kinds of places to DJ, and as I was trying all the different kinds, I found the style that I like - I.P.A. (India Pale Ale). I.P.A. focuses on the hops, and there are so many different characteristics and kinds. These can be combined to make double I.P.A., triple I.P.A, brut I.P.A, etc. and it's kind of similar to music - so many diverse genres.


- And you finally made your I.P.A.?


Ken Ishii: I always had a specific kind of beer in mind. One day, a brewer reached out and said we should do it. The brewery -- called "RISE & WIN BREWING Co." -- is in a town called Kamikatsu in Tokushima prefecture. I went there and mingled and shared my passion for making beer. Then, they were like "let's do it."


- This could be the beginning of something much bigger...


Ken Ishii: Yeah, I hope so. This is like a dream-come-true to me (laugh). Craft beer uses yeast so you really can't tell the outcome until it's done, which is fascinating. I've personally tried brewing a few times, but not many turned out great. Everything seems okay until it's not. And all of that is fun. Getting the help of pros is the sure way to get good results, though.


- Sounds like beer is like an animal. Sort of like music, too? Just like you get different results from the same artist if the equipment or environment is different.


Ken Ishii: I can agree to that. You can start out thinking "I'm going to make this," but end up with something entirely different. That's similar to music (laugh).

-So, KIKK IPA is a success?

Ken Ishii: Of course. I cut no corners this time. The hop you select can make a big difference in the cost, for example, but "RISE & WIN BREWING Co." made it exactly how I asked them to. That was great. And the design... I wanted the label to be unlike anything else out there and spent some time thinking about that. I wanted the taste to be tropical but refreshing, with a bit of bitterness, and a unique kind of spiciness.



-Ken Ishii cuts no corners making music or beer.

Ken Ishii: I caught a cold on the plane to New York and I had a fever over 100°C. I took a bunch of flu medication, did my DJ gig, and looked for a place to buy some beer afterward. I was dizzy when I got to the store but I still bought about 20 bottles. I've been thinking recently... making craft beer is quite similar to making music or running a label. It's really about my taste. You don't have to follow anyone's way and you can just do what you want to do. You also get to think about the artwork, like labels and logos. You know how you bought records just because you liked the jacket? Maybe that kind of thing may happen with craft beer as well.

▷Places to enjoy craft beer, recommended by Ken Ishii

1. Goodbeer Faucets, Shibuya, Tokyo

Adress:Shoto, Shibuya-ku, Tokyo 1-29-1 CROSSROAD 2F
Tel: +81(0)3-3700-5544
OPEN HOURS: Mon-Thur 16:00-24:00, Fri 15:00-25:00, Sat 15:00-24:00, Sun 15:00-23:00, National Holidays: Sun 15:00-24:00, Mon 15:00-23:00
https://shibuya.goodbeerfaucets.jp

Located in Shibuya, a beer bar where you can enjoy nearly 40 kinds of domestic and international craft beers from the tap. "I come here when I suddenly have some free time, or to fill in the gap between appointments. The menu changes all the time -- which I like -- and you can enjoy various types of beer made in Japan, USA, Europe, etc. from the tap. Like I.P.A., freshness is vital for all types of craft beer, so you should try to find somewhere that offers craft beer from the tap."

2. Antenna America Kannnai Store, Kannai, Yokohama

Adress: #6Yoshida Bld 5F, 5-4 Yoshidamachi Naka-ku, Yokohama
Tel: +81(0)45-315-5228
OPEN HOURS: Wed-Fri 15:00-23:00, Sat 11:00-23:00, Sun/Holiday 11:00-22:00 (closed on Monday and Tuesday)
https://www.antenna-america.com/content/store-introduction-kannai/

A bottled-beer shop and tasting room located in Yokohama featuring simple American style finger-foods and a lot of beer. They offer some tasting menus and feature a large monitor for enjoying sports on the screen along with your drink. The place is good for bringing your family as well. "They have a great selection of beer from American breweries. The store is inside a building with a lot of other small shops, and their DIY atmosphere is also pretty neat. It's always busy and many beer-lovers even go there by themselves."

3. BEER CELLAR SAPPORO, Sapporo, Hokkaido

Address: AMS Building 1F, 322-1, South 1 WEST 12, Chuo-ku, Sapporo, Hokkaido
Tel: +81(0)11-211-8564
OPEN HOURS: Wed and Thus 15:00-21:00, Fri 15:00-23:00, Sat 12:00-23:00, Sun/Holiday 11:00-21:00
http://beer-cellar-sapporo.com

"I'm from Sapporo, so I always stop by at this place when I visit my hometown. They have a great selection including beer from Portland. Nothing flashy -- just beer. And I like that." Portland is a sister city of Sapporo and famous for its craft beer. You can enjoy beer from various breweries including some from Oregon, from cans and bottles.

4. RISE & WIN BREWING Co. BBQ & GENERAL STORE, Kamikatsu, Tokushima

Adress:237-2 Hirama, Masaki, Kamikatsu-cho, Katsuura-Gun, Tokushima
Tel: +81(0)885–45-0688
OPEN: Wed-Fri 11:00-17:00, Sat & Sun & Holiday 10:00-18:00, Mon & Tue CLOSED
https://www.kamikatz.jp/ja/toppage.html

RISE & WIN BREWING Co. KAMIKATZ TAP ROOM
Adress: Workers & Co 1F, 1-4-2 Higashi-Azabu, Minato-Ku, Tokyo
Tel: +81(0)3-6411-3800
OPEN: Mon-Fri 12:00-15:00 / 18:00-23:00, Sat 12:00-15:00 / 18:00-23:00 Sun & Holiday CLOSED

https://www.kamikatz.jp/ja/taproom.html

The brewery in the town of Kamikatsu, Tokushima prefecture, that made the Ken Ishii-produced craft beer "KIKK I.P.A." Ken also likes the joint that is right next to the brewery. "The town of Kamikatsu has declared a zero-waste policy and is known as a township with a recycle rate so high that people from all over the world visit to observe their system. The bar itself is made from scrap wood but the atmosphere is great. It's about an hour from Tokushima airport, but I recommend visiting this place." There is also a beer restaurant in Tokyo called "KAMIKATZ Tap Room" that is directly managed by the brewery.


▷Album

KEN ISHII
『Möbius Strip』
Out now!
http://www.umaa.net/KI/


▷Venue

PLUSTOKYO
Address: 12F/RF 1-8-19 Ginza, Chuo-Ku, Tokyo JAPAN
Tel: +81(0)3-3563-3776
https://plustyo.com/about/?lang=en
Tags