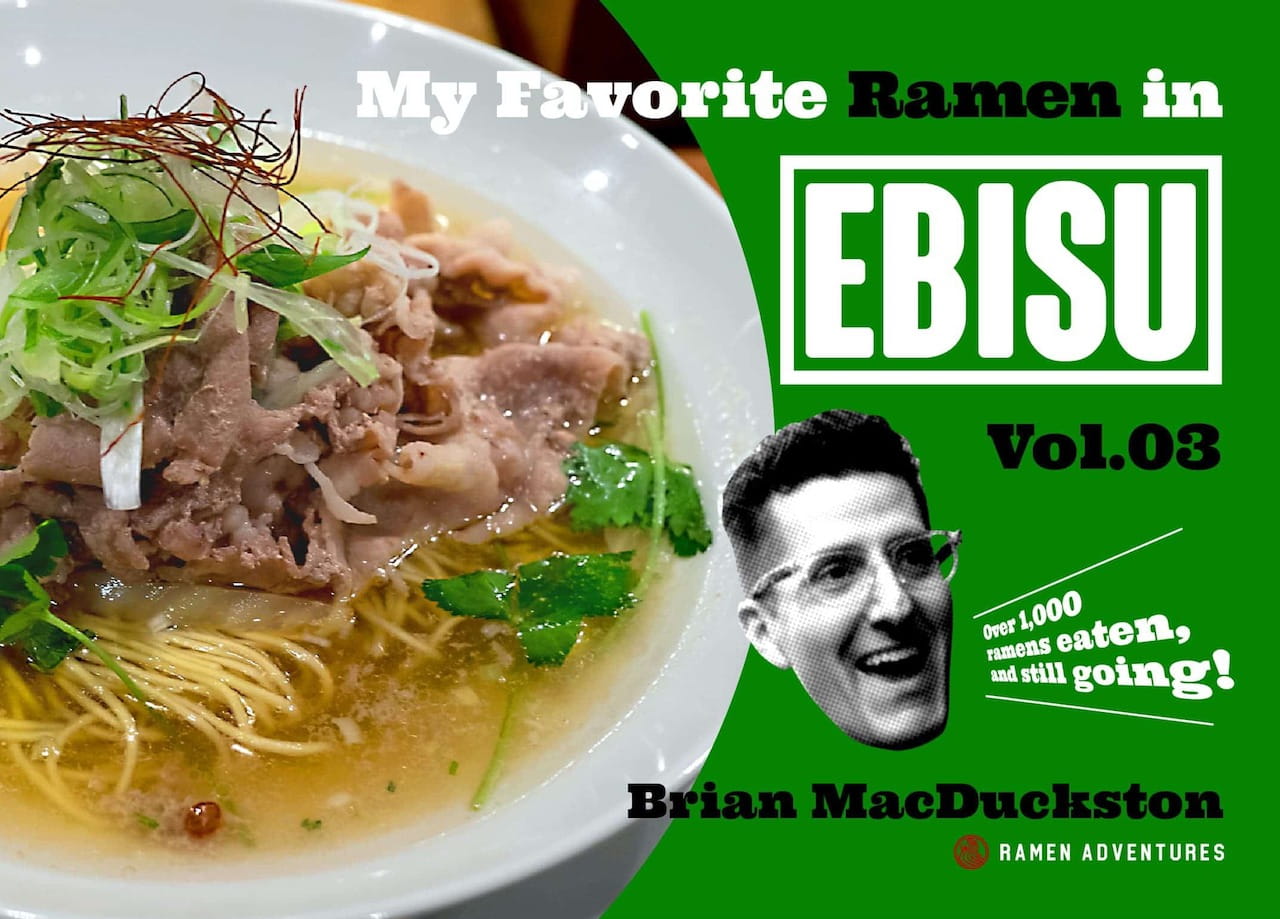 Feature -
2019-12-27
My Favorite Ramen in Ebisu
Food & Drink
Brian MacDuckston of Ramen Adventure brings to you exclusive articles for Noctive. He goes for the BEST ramens out there, and have eaten over 1,000 bows! This time, he will report ramens in Ebisu.
Anyone familiar with Tokyo's nightlife scene knows Ebisu. This trendy neighborhood on Tokyo's west side is only minutes from Shibuya and has a more intimate feeling compared with busier parts of the capital. It is a quick walk to Daikanyama or Nakameguro, making this one of Tokyo's most desirable areas to live in as well. Ebisu has some incredible cocktail bars (check out Hatos Bar, Bar Trench, and Bar Martha), trendy coffee spots, and of course some late-night ramen.
Like most of Tokyo these days, ramen in Ebisu is all over the place in terms of quality and variety. You have the usual chains lining the main road, you have some spots with long lines of tourists, and you have hidden gems in the back alleys.

Suzuran

Suzuran serves up classic chukasoba, Chinese classics like steamed shumai and black vinegar braised pork, and some very high-end limited bowls of noodles. Regular customers swear by either their shabu shabu ramen, chashumen, or wontonmen. The shop uses Japanese pork, with some premium dishes using famed Kurobuta from Kagoshima Prefecture. The soup is deep and flavorful.
If you feel like eating more than just ramen, the shop's stewed kakuni pork belly or homemade shumai are better than many famous Tokyo Chinese restaurants. The side menu is quite deep and written in uncommon Kanji characters, so be sure to double-check what you are ordering.

All of this luxury comes at a price, though. While lunch prices hover at around 1500 yen for a bowl of ramen, dinner tends to cost a bit more and customers are required to buy a drink as well. Expect to spend around 3000 yen. If you order any of their limited seasonal bowls (the ones with no prices on the menu) don't be surprised if the bill comes in over 10,000 yen. That said, their 8000 yen hamaguri ramen with clams from Chiba's Kujukurin (九十九里) is like slurping pure ocean umami. After you finish the noodles, they will take the leftover soup and make rice porridge for you, letting you get every last drop of soup.

Kamuro

Ramen shops that open late tend to lean toward creamier styles of ramen. While tonkotsu pork ramen is the general favorite, shops like Kamuro go for chicken. Kamuro's menu has both clear and creamy soups. Creamy is the way to go. Much of the meat and vegetables used in the ramen here are locally sourced, with fresh vegetables coming from a local farm in Nagano Prefecture.

Go for either the deluxe bowl or the spicy bowl. The spicy style (鶏担湯らぁめん) is topped with what the shop calls a detox spice blend. The mellow creaminess of the soup and the heat are essential after hitting the local bar scene. Start your detox the night before, instead of waiting for the impending hangover. The deluxe toripaitan (特製鶏白湯らぁめん) comes with extra toppings and a bright tomato for a bit of color.
The shop recently cut back their hours, but they are still open until midnight on Fridays and Saturdays.

Tsunagi

Miso ramen, spicy miso ramen, and curry miso ramen are the draws at Tsunagi, a shop that hit the Ebisu scene with much fanfare when they opened in 2013. They start with mature black miso and blend it with six different varieties of miso from Sendai, Japan. The result is intense and flavorful, with a mellow aftertaste. Noodles are thick and hearty, a perfect match for the soup.
Go for the special bowl (つなスペ) to get some extra pork, nori seaweed, and an egg. The three massive slices of chashu practically cover the bowl. It is a thing of beauty.
Tsunagi keeps customers coming back with their limited monthly menu. Past bowls have included a clam and duck salt ramen and a beef fat soupless mazesoba. Some particularly voracious ramen fans will try a limited bowl followed by classic miso. Just be sure to finish what you order.

Tsukumo

You might not think you want cheese on your ramen, but after drinking or clubbing until 4:00 am you might think differently. Tsukomo is, lucky for you, open until 5:00 am. You could easily get a bowl just in time for your first train home.
While other ramen shops offer cheese as a condiment, it is usually just a store-bought container of cheap processed cheese. Tsukomo's cheese is anything but. They use a special six-month-old cheese from Tokachi in Hokkaido. This mild cheese is named Golden Gouda and no other ramen shop uses it. Though a bowl of their cheese ramen looks to be covered in a gut-busting mountain of it, the cheese is quite light and quickly melts into the tonkotsu soup. Flavor the bowl with any of the tabletop condiments, or go for their second most popular menu item, the tomato cheese ramen.

The shop also has great gyoza, and if you haven't had enough cheese, a fried cheese onigiri is a solid snack.
The shop also has a drink menu, making it a good spot for one last beer of the night.

Oozeki

Oozeki is a chukasoba shop that has been ranked as one of the best 100 in Japan multiple years in a row.
Their niboshi ramen (にぼしそば) uses a blend of dried sardines from around Japan. This bowl tends to be a bit more intense than their regular chukasoba, but the slightly bitter, slightly smoky taste is a Tokyo classic. Whether you go with the niboshi, the chukasoba, or their creamy chicken paitan ramen, be sure to top the bowl with either wontons, extra chashu, or both.

This shop isn't open too late, making it a great place to stop before your nightlife begins. Many ramen fans will have a bowl here, bar hop until late, and finish with a heavier bowl somewhere else.
Tags