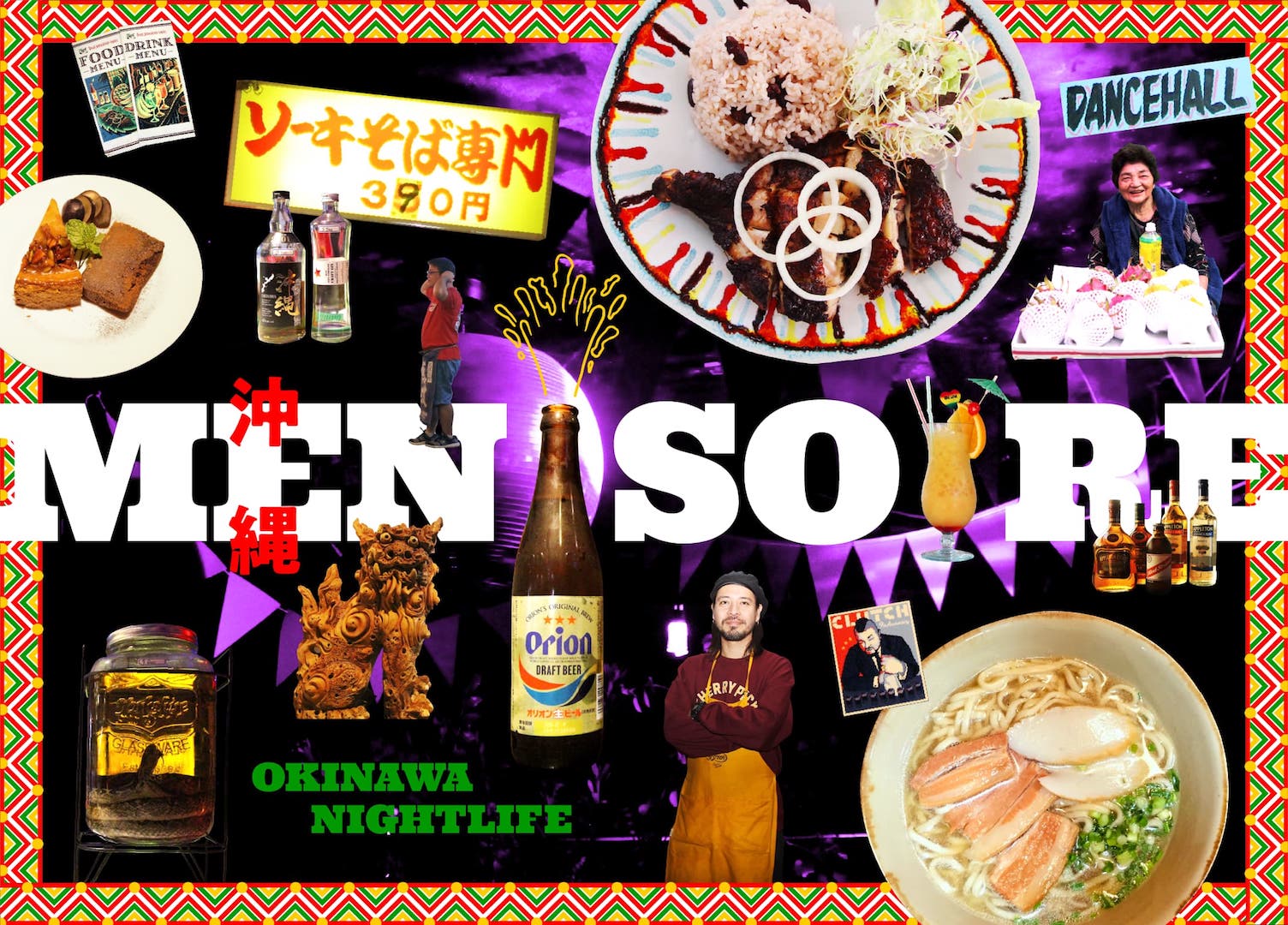 Feature -
2020-01-12
MEN SO RE! OKINAWA NIGHTLIFE
Culture
Located at the south-western tip of Japan, Okinawa, once known as the independent kingdom "Ryukyu Kingdom," is an island with a unique and exotic cultural history in terms of language, architecture, and even art. The climate is humid subtropical ― it's warm all year round ― and is one of Japan's favorite travel destinations.
One fascinating aspect of the island is the beautiful blue sea that surrounds it. Okinawa is a popular destination for divers and snorkelers thanks to the abundance of beautifully colored fish and coral reefs. The local food ― also popular ― features unique cooking methods using fish caught near Okinawa, pig and chicken meat raised on the island, and other vegetables and fruit that are local to Okinawa. Okinawa became one of the major battlefields during the Second World War, and the largest US base in Japan today is located on the island. Thus, another characteristic feature of the island is the subtly American atmosphere that you can find here and there.


For the nightlife in Okinawa, we'd like to give you a tour of "Kokusai dori," the main street of Naha City, the largest city and capital of Okinawa prefecture. There are many restaurants and bars located in this brilliant business district, many of which are open until late at night. The following is a list of just a few of the cool clubs and bars where you can enjoy the deep local music scene, restaurants that feature traditional Okinawa music, and some other nightspots that feature music in one way or another.
▶Good Music Establishments near Kokusai-dori Street

Kokusai-dori, Naha

The largest business district of Okinawa that stays vibrant until late.

Kokusai-dori is the name of the main street in Naha, the largest city and capital of Okinawa prefecture. The street has been remarkably reconstructed from the burnt fields after the war and is sometimes called the "miracle mile." It also features several souvenir shops, restaurants, and hotels, and many more local gems can be found along the streets that branch from the main street. Many restaurants stay open until 11 pm, and several stay open until later, including the Yatai-mura and small bars. Just 13 minutes from the Naha Airport on the monorail, this is the goto street to have a good night out in Okinawa.

■CLUB CLUTCH

A taste of the Okinawa street culture from hip hop to house.

CLUB CLUTCH is a local club in its 11th year that features mainly hip hop parties but also drum & bass, techno, and house. The club features local DJs as well as popular DJs from other cities in Japan and DJs from overseas and is a popular spot for music-lovers and party-goers alike. BEN, the owner, was once an active MC who currently runs a tattoo studio and leads the street culture in Okinawa. His recommended drink is the "habu-shu," a drink prepared by pickling a poisonous snake called "habu" in an Okinawan distilled liquor called "awamori." Enjoyed in shots ― like tequila ― the drink will make you warm from inside and give you a distinctly Okinawan buzz. If you get hunger pangs, you can enjoy beef bowls, curry, or Okinawa noodles at Donbei, located just two buildings away.

CLUB CLUTCH
Address: Taiei Bld B1F, 1-1-60 Asato, Naha City, Okinawa
Tel: +81(0)98-867-0355
Open Hours: 22:00-Mid Night(Ladies ¥500 before 12am / Every Friday)
Closed: Mon-Wed
Payment: Cash Only
http://www.club-clutch.com

■NEKKE2(Okinawa Nekketsu Shakouba)

A long-established underground club where the core music-lovers gather.

Two genuine surfers that were born and raised in Okinawa soon fell in love with house and techno in the 90s. The club is in its 17th year and is the only club that features underground music. The club operates as a bar on weekdays and holds parties of various genres, including house, electro, and hip-hop on the weekends. The crowd consists of music lovers and party-goers. It is located on the Kokusai-dori street, but there is no sign in front of the entrance that leads to the underground ― literally ― club. "If we were a restaurant, we would not be not casual dining. We would be more of a four-course meal type of place," explains the owner. This is the place to go if you want to take your time to enjoy the music and the night scene.

NEKKE2
Address: Elegance Bld B1F, 1-3-53 Makishi, Naha City, Okinawa
Tel: nothing
Open Hours: 23:00-Mid Night
Closed: Sun
Payment: Cash Only
https://www.facebook.com/nekke2syakoujou/
https://twitter.com/nekke2mibo?lang=ja

■NORACRO

A public standing bar that is open until 5 am.

A local bar opened in 1999 in the owner's hometown, moved to a location near one end of the Kokusai-dori in May 2019. The new location is a recreation of a public stand bar. Visitors are locals working in the music industry, creators, and other office workers that work nearby. The interior is stylish, and the relaxing atmosphere is gaining popularity. They, too, recommend the habu liquor, as well as a locally crafted gin distilled by Ishikawa Brewery. Snacks and light meals are served, as well as homemade-style cakes. DJs perform on the weekends, but the place is open until 5 am every day.

NORACRO
Address: 1-2-18 Matsuo,Naha City, Okinawa
Tel: +81(0)98-943-2441
Open Hours: Every Day 23:00-5:00
Payment: Cash / Credit Card
https://www.facebook.com/Bar-ノラクロ-107299593125090/

■Records & Music Bar - ON

An Okinawa night-hub - a DJ lounge with good music.

Just minutes away from the busy district of Kokusa-dori, the Record & Music Bar - ON is a DJ lounge on the 4th floor of a triangular building near the "Yui monorail" Miebashi station. Both sides of the stylish and triangular space are windows, and there are chairs and tables so you can relax and enjoy. Active DJs and musicians work at the lounge, and the current store manager, Mr. Washizu, is a popular bass music DJ and is currently performing all over Japan with his modular synth-based live act. Because of this, the crowd is a mixture of locals and visitors from other parts of Japan. "I would be happy if people used this place as a hub, before or after going to a club," explains Washizu. There is typically a modest cover charge of 500 yen (depending on the event), and drinks are mostly reasonable at around 500 or 600 yen. Think of it as an information counter for the night scene of Okinawa.

Records & Music Bar - ON
Address: So Makishi Bld. 4F, 1-20-13 Makishi, Naha City, Okinawa
Tel: +81(0)70-6524-3498
Open Hours: 22:00-Mid Night(イベントによる)
Closed: Mon, Wed
Payment: Cash Only
http://on-okinawa.info

■13 TRECE.

Midnight pitstop bar and hotdogs loved by homies.

Right at the intersection of Kokusai-dori and Asatogawa river, there is a US west-coast style bar and hotdog eatery that is open all night long. Chiefly a hang-out destination for the locals, this is the hotdog joint that is always there. The "Sai-on Dog" comprising of a juicy piece of frankfurter is a recreation of the hot dog that the store manager Yo had when he visited Los Angeles. "Sai-on" is the name of a great person that once lived in Okinawa. Yo wishes to spread the new Okinawa culture from this area in the vicinity of the Sai-on Bridge. The DJ bar and international cuisine "MAFALi" located on the 2nd floor of the hotdog shop and "Club Clutch" in walking distance are just a few recommended spots nearby.

13 TRECE.
Address: 1-1-3 Yasato, Naha City, Okinawa
Tel: +81(0)98-800-1245
Open Hours: Every Day 12:00-5:00
Payment: Cash Only
https://www.facebook.com/13trece20150704/

■Tubarama

Eat, drink, dance. Enjoy Okinawa soul music and the island's local cuisine.

Tubarama refers to Okinawan folk songs that are also called "the island's songs." They are traditional songs that have been around for ages ― soul music for the islanders ― and feature a unique singing technique and rhythm. There are also new styles of Tubarama that have evolved into pop music and are known as the music that represents Okinawa. There are several places where you can enjoy these island songs while you dine along the Kokusai-dori. This restaurant, Tubarama, stands out because of its interior that recreates the mood of old houses and streets of Okinawa and gives you the sensation of a time slip. In the Japanese style parlor on the second floor, they run three stages of live island song shows daily during the dinner hours. There is a live charge of 500 yen. Enjoy some island music and try the Kachashi dance to get the full Okinawa experience.

Tubarama
Address: 2-7-25, Makishi, Naha City, Okinawa
Tel: +81(0)98-862-3124
Open Hours: Every Day 11:00-24:00
Payment: Cash / Credit Card
https://tb.jcc-okinawa.net
https://sites.google.com/view/okinawaentertainment/

■FLEX Bar & Grill

Best Jamaican food in Okinawa that you can enjoy on the beachside.

A 20-minute drive from Naha City, this Jamaican restaurant is located at an oceanside where you can enjoy majestic sunsets. The owner, Egami, studied music, cooking, and Jamaican culture in Jamaica. Even the Jamaican-Americans residing at the US base agree that this popular place is authentic. The smoked jerk chicken seasoned with the owner's original seasoning blend, the Jamaican curry featuring plenty of tropical fruits, and the original cocktails made from Caribbean liquors are just a few of their recommendations. The largely DIY interior featuring hand-crafted furniture and ornaments brought back from Jamaica only adds to the greatness. And of course, their tracklist is filled with lovers' rock and roots reggae. Good for a night out in Okinawa, and you can also enjoy lunch on Saturdays and Sundays.

FLEX Bar & Grill
Address: 2-20-5, Kitaya, Kitaya Cho, Chutoubu, Okinawa
Tel: +81(0)98-926-0470
Open Hours: Weekday 17:00-24:00, Sat & Sun 12:00-24:00
Payment: Cash / Credit Card
https://tb.jcc-okinawa.net

▷When you get the munchies…

Okinawan party people go for a slice of steak after partying all night.

In Tokyo, it is common for people to crave a bowl of ramen after partying hard. In a similar scenario, I have been told, the people of Okinawa want to go for some steak. This makes more sense when you find out that steaks in Okinawa are usually very lean with little or no fat, so it's easy on your digestive system, and some people even believe it helps you recover quickly from hangovers. "Southern Steak" is open until 7 am, so do try topping off your night experience with a slice of steak.

THOUSAND STEAK
Address: 1-7-11, Kitaya, Kitaya Cho, Chutoubu, Okinawa
Tel: +81(0)98-861-9420
Open Hours: Weekday 19:00-7:00
Closed:Thur
Payment: Cash Only

The gentle embrace of soup. How about some midnight Okinawa noodles?

Okinawa soba (noodles) have been enjoyed by the people of Okinawa from the Ryukyu era. The noodles are made from wheat and taste similar to udon. The broth is usually made using dried bonito, and the soup contains a few additional ingredients like sliced pork belly, local fish cake, and scallions. The local ginger and pepper-based seasoning will give you an extra punch if you'd like. You can easily find a place that is open all night, so do stop by if you find one.

DON TEI MAKISHI
Address: 2-1-6 Makishi, Naha City Okinawa
Open Hours: 24hours
Payment: Cash Only

SUBAYAA
Address: 1-6-8 Matsuyama, Naha City Okinawa
Open Hours: 22:00-5:00
Payment: Cash Only

NAKAMURA-YA YATAI SOBA EKI MAE
Address: 388 Asato, Naha City Okinawa
Open Hours: 24 hours
Payment: Cash Only

Photo & Text:Kana Yoshioka
Coordinate:Kunio Maeda
Tags