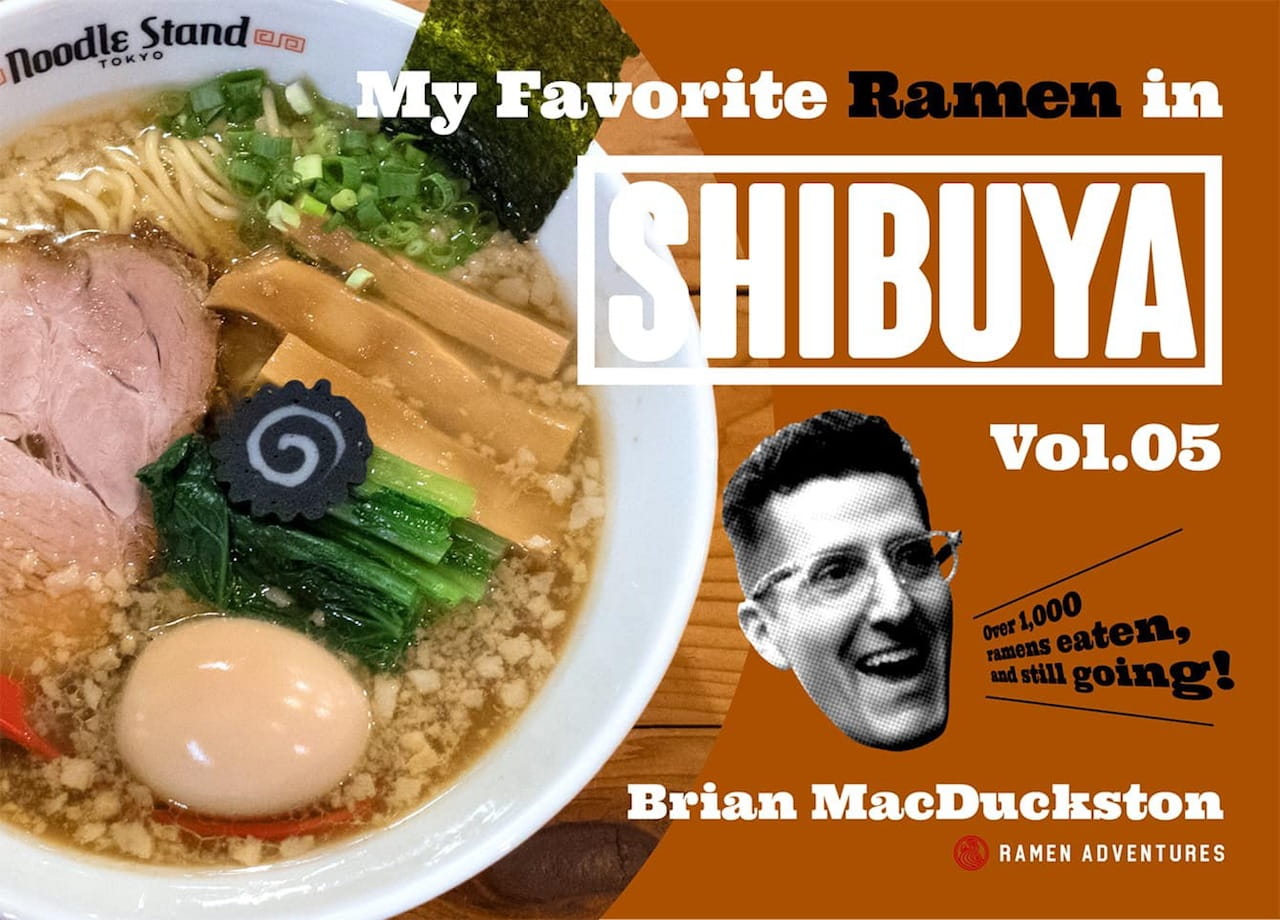 Feature -
2020-01-24
My Favorite Ramen in Shibuya
Food & Drink
Brian MacDuckston of Ramen Adventure brings to you exclusive articles for Noctive. He goes for the BEST ramens out there, and have eaten over 1,000 bows! This time, he will report ramens in Shibuya.
Shibuya isn't the hotbed of ramen that other areas on Tokyo's west side are, but that shouldn't prevent a noodle lover from seeking out some great bowls while they are here. Chances are this busy area is on the itinerary anyways. Shibuya has always been a top destination in Tokyo for tourists from around the world. Recently, the area around the station has been built up faster than any other major station, with new office skyscrapers like Hikarie, Shibuya Scramble, and Shibuya Stream offering up floors and floors of office space and dozens of dining choices for all those hungry workers. Many popular ramen shop chains have outlets here, but the food court nature keeps real ramen fans heading back to their tried and true favorites.
Meet your friends at the famous Hachiko statue, cross the famous scramble, and get your ramen on.

Hayashi (らーめん はやし)

No ramen guide of Shibuya would be complete without a mention of Hayashi. The shop only opens for a few hours a day at lunch, making this a decent choice for a late morning bowl after a long night. Arrive well before they open to ensure a spot; Hayashi is never without a line and the shop is run by an elderly couple, meaning service could be slow.

Hayashi serves what is best described as golden soup. The shop blends creamy tonkotsu soup with an umami-rich fish dashi and finishes it with a rich shoyu tare seasoning. A hint of yuzu citrus ties the entire bowl together. There are few shops like this in Japan, and nothing like it exists anywhere else in the world.

Noodle Stand Tokyo

A common walking route in Shibuya would be to head from Shibuya north to Harajuku. This walk can take minutes or hours, depending on how easily you are distracted by shopping at Omotesando's street fashion boutiques or if you end up taking a long break in Yoyogi Park. All roads seem to lead to Harajuku. If you end up near Harajuku Station, Noodle Stand Tokyo is a ramen shop that can accommodate anyone.
Ramen at Noodle Stand comes in a variety of flavors. The classic shoyu and shio are made with chicken and vegetables sourced locally. One thing that this shop prides themselves on it making a bowl of "ethical" ramen. This means the bowls are made with sustainability in mind.
Noodle Stand's soupless gyu-nikomi mazesoba takes thick noodles and tops them with beef stewed in soy sauce and red wine. Topped with an onsen egg or tartar sauce and plenty of grated cheese, this one is an uncommon and decadent bowl.

Vegans can find one of Tokyo's few meatless bowls at Noodle Stand Tokyo with their coconut miso ramen. Umami vegetables round out the soup with a bit of lime giving an aromatic kick. There is almost always a vegan dining here; Tokyo is a tough place for people who don't eat meat or fish.
Noodle Stand Tokyo has been recommended by a few famous YouTubers, both Japanese and English speaking, so expect to see some fans there following in their idol's footsteps.

Nagi (ラーメン凪 豚王渋谷店)

World-famous Nagi's original shop in Shibuya started a revolution in the ramen scene. While their bitter, smoky niboshi ramen took the Japanese ramen world by storm, it was their tonkotsu ramen that expanded to overseas shops first around Asia and now into America. They have a few shops in Shibuya, with this particular one still serving their version of tonkotsu ramen.

What sets Nagi apart from other tonkotsu ramen shops is their use of different "flavor enhancing" toppings. Depending on your mood, go for red, black, or green. Red is, as expected, topped with a spicy ball of ground pork. As it melts into the soup, the shop's hot chili oil creates a hot, but still creamy, red soup. Black is garlicky and colored with black squid ink. Be sure to grab a free paper apron to avoid staining whatever clothes you are wearing. Green is the most unusual. Italian-style basil and cheese gives this one a pesto feel.

If these new styles don't appeal to you, Nagi also has a standard, very delicious bowl.

Kiraku (中華麺店 喜楽)

Dogenzaka, lovingly referred to as love hotel hill, is the center of Shibuya's nightlife. Nightclubs and bars line the streets, and as the name suggests, affordable short-time hotels are a local feature. It's a fun part of town to say the least. The fun isn't reserved to adult-only though, and Dogenzaka has a handful of great hole-in-the-wall restaurants.

Kiraku has been serving old-school style chukasoba since 2004. Sit down at the seven seat counter and order some wontonmen, ramen topped with wontons. You could sit upstairs at a table, but you lose a bit of the vibe that way.

Chukasoba here is a classic, affordable ramen made from a light chicken broth flavored with soy sauce. As it's a busy part of Shibuya, you should order, eat, and get out as quick as possible.

Nukaji (麺屋ぬかじ)

Nukaji, just a few minutes from Shibuya's famous Center Gai shopping street, keeps things simple while going the extra mile for the hungry (and thirsty) visitor. Tonkotsu-gyokai tsukemen is the shop's most popular item, a blend of thick pork and fish. The noodles are thick and silky, a perfect match for the rich soup. A spicy version adds a bit of heat, though it's nothing too intense.
Along with excellent ramen and tsukemen, Nukaji has a handful of Japanese craft beer bottles in stock. Go for a crisp IPA from Shiga Kogen or a dark porter from Osaka's Minoh brewery. The chill vibe is a perfect match for a nice brew.
Tags