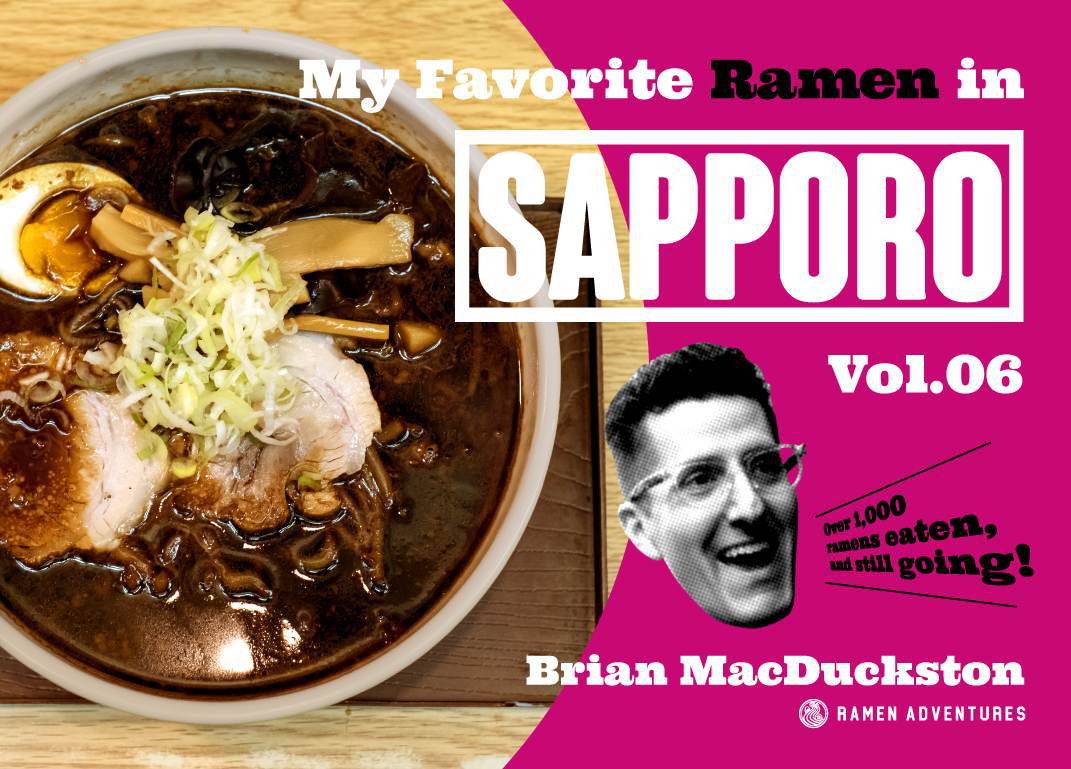 Feature -
2020-01-30
My Favorite Ramen in Sapporo
Food & Drink
Brian MacDuckston of Ramen Adventure brings to you exclusive articles for Noctive. He goes for the BEST ramens out there, and have eaten over 1,000 bows! This time, he will report ramens in Sapporo.
Whether you visit Sapporo, the main city of Japan's northern Hokkaido island in the winter or the summer, there is always something going on. Winter in Hokkaido, of course, is known for some epic snow sports. Most people fly into and out of Sapporo's New Chitose Airport, making a day or two in the city a good choice. The end of January sees the famous Sapporo Snow Festival, with ice sculptures adorning most of the city's central park. It's a must-hit festival for many.

Summer in Hokkaido means a respite from the heat in the rest of Japan. Temperatures are a few degrees cooler and the humidity is much less than somewhere like Tokyo. It is so nice that the Tokyo 2020 Olympic Committee moved a few of the outdoor running events from Tokyo to Sapporo. Beautiful natural scenes neighbor Sapporo. Taking a slightly longer trip from the city can put you in some of Japan's untouched wilderness.

Food in Hokkaido is some of the best. The island is known for seafood, dairy, fresh vegetables, and of course ramen. Though Sapporo is mostly thought of as a miso ramen city, other styles have taken root, giving ramen lovers almost as much variety as other big cities in Japan.

Yukikaze (麺屋 雪風)

Walking into Yukikaze's head shop in Suuskino, after the wait in line, you are greeted with hundreds of autographed plaques. This is a favorite of locals, tourists, and celebrities from around Japan. From professional athletes to TV talents to adult video stars, it seems like everyone who's everyone has been here.

Yukikaze's miso ramen is a bit rougher and funkier than other miso shops. They blend three different misos into the soup and top it all with some Hokkaido potato crisps for a bit of added texture.

Some people like to order the no-toppings bowl for a more focused bowl of ramen. Soup and noodles and nothing else. Keep in mind, though, that you'll be going without their thick cut fatty pork belly chashu if you go this route.

Isono Kazuo (いそのかづお)

Late-night Susukino ramen is easy to find. Isono Kazuo, a favorite among ramen lovers worldwide, is a bit of a challenge. It's located inside a random building. The shop only has seven seats. The line can be insane, often more than an hour to get a bowl. Luckily, they are open until six in the morning, meaning you can time it to avoid the rush when they open at ten.

Regardless of the time you visit, you should try their signature Sapporo Black ramen. The soup is a clear broth made from chicken, pork, and konbu seaweed. The black comes from rich tamari soy sauce used to stew garlic and onions for a big impact. The menu apologies, but they can't serve this one without garlic.

Regulars often enjoy the shop's shio or miso ramen, as well as curry rice sides. It is common in Hokkaido for a shop to specialize in one style, but offer much more menu options to keep people coming back.

Menkoi (めんこい茉季詩夢)

Butter as a ramen topping is a common occurrence in Hokkaido. The north of Japan is known for its dairy, and cold winters mean a hearty bowl of noodles is preferred. While most shops offer butter topping as an afterthought, Menkoi's signature bowl features it. Butter shio ramen. It's colorful and filling. You won't find any miso here, just a bowl of great thick chicken soup with salt.

While the shio ramen doesn't have the funky impact of miso ramen, it is smooth and warming. Many customers opt for a half-size bowl and a side of the shop's homemade curry rice for a more substantial meal.

Fujiya Noodle (ふじ屋NOODLE)

There are a few ramen yokocho in Sapporo. Yokocho, roughly translating to an alleyway, are cramped streets, often inside of a building that is packed with restaurants. Yokochos exist all over Japan and are a great place to sample different food in a lively setting. They also tend to be a bit touristy. While many of the ramen shops in yokochos in Sapporo trade quality for convenience, one shop stands out. Fujiya's miso ramen is solid.

Go for the miso ramen with a side of gyoza. The noodles are 100% Hokkaido flour. They're cut thick to match the creamy chicken niboshi soup base. Flavored with golden miso, this bowl is creamy miso at it's best.

The line at Fujiya is unpredictable, but if you go late (they are open until 3:00 am) you should have no problem scoring a seat for some authentic Sapporo-style miso ramen.

Japanese Ramen Noodle Lab Q

Noodle Lab Q is a unique one. Refined shoyu ramen is about as far from heavy miso ramen as you can get, but Noodle Lab Q goes there. The menu tends to change frequently, with various light niboshi styles using soy sauce or salt as a flavoring as the norm. The noodles are made in house to match the broth. Toppings include tender slow-cooked chashu and handmade wontons. The shoyu seasoning combines around eight different soy sauces. The shop is relatively new but has already become one of the most popular ramen spots in central Sapporo.

Not only is the ramen refined and elegant, but the shop's interior is also quite nice as well. Seasonal flower arrangements are on display.

If it feels more like a trendy yakitori restaurant that serves choice Japanese sake and natural wines, that is because Noodle Lab Q becomes Yakitori Q in the evenings and serves choice Japanese sake and natural wines. Pair their signature uni-topped grilled rice ball (called yaki unigiri) with a glass of Sebastien Riffault Sancerre wine from France, or their seasonal vegetables wrapped in pork belly with a glass of sake from Yorokobi Gaijin. It's definitely not ramen, but Yakitori Q is a gem.
Tags