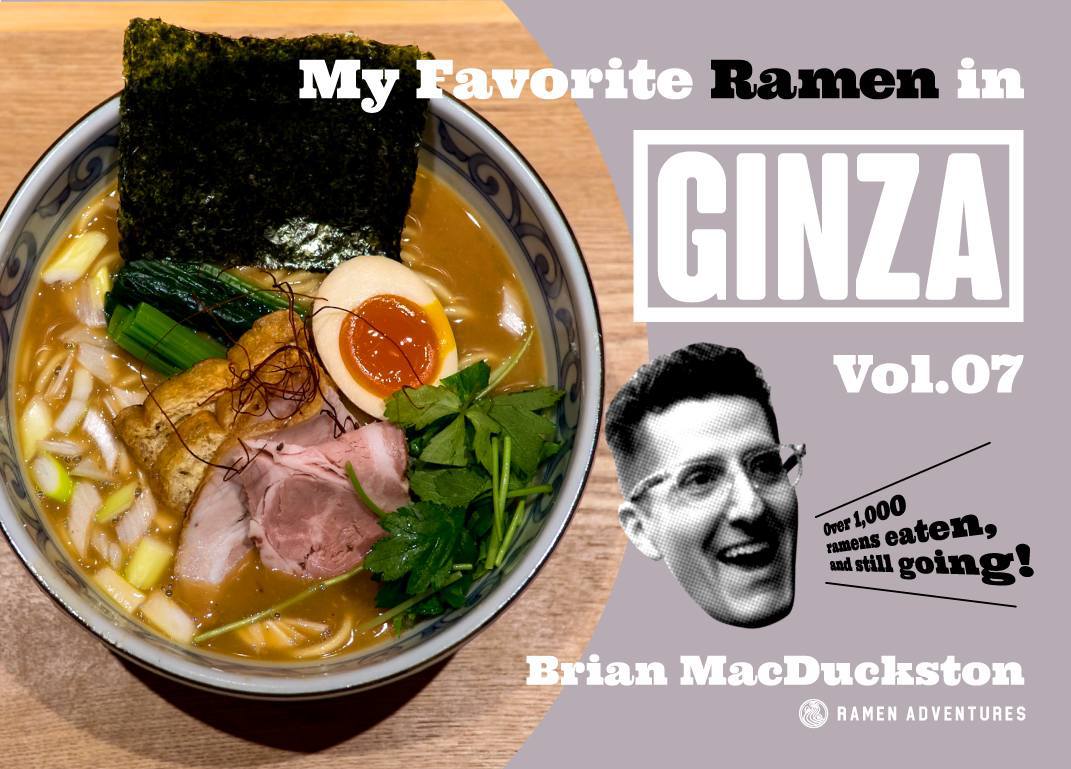 Feature -
2020-02-22
My Favorite Ramen in Ginza
Food & Drink
Brian MacDuckston of Ramen Adventure brings to you exclusive articles for Noctive. He goes for the BEST ramens out there, and have eaten over 1,000 bows! This time, he will report ramens in Ginza.
Ginza's image has always been unique. High-end department stores, luxury jewelers, and many restaurants with three Michelin stars make this the rich part of Tokyo. It can also be a fun part of Tokyo, during the day and during the night. Weekends are especially nice when they close off the main road to motor vehicles, creating a massive promenade for shoppers. Ginza nights are completely different stories; Ginza is home to the more exclusive hostess bars and drinking spots of Tokyo. CEOs spend hundreds of thousands of yen entertaining guests here, evident by the line of chauffeured Rolls Royces and Mercedes waiting in the small streets.

With all the chances to spend money in Ginza, it is nice to know that the ramen remains affordable and tasty. The recent rise in ramen shops in Ginza hasn't gone unnoticed though, so expect waits at these shops, especially if you go on weekends or holidays.

Ginza Hachigo (銀座 八五)

The newest hit on the Ginza ramen scene is Hachigo. The ramen here is gourmet and refined, with a sticker price that is less than 90% of the competition. They keep prices down by making a broth that is seasoned only with salt, while normally ramen is seasoned with tare, an often expensive reduction of high-priced umami-rich ingredients. Though they omit this ingredient, the ramen is far from bland. What they omit in the tare they make up for in the soup.

Hachigo makes a golden broth from Nagoya chickens, duck, and ham. This is given more layers of flavor from dried shitake mushroom, dried tomato, and kelp. The master here worked as head chef of a high-end hotel in Kyoto for 36 years before leaving to make ramen at the age of 55. During his time there he developed not only an expertise in cuisine but a deep knowledge of hospitality. This level of hospitality followed him, and customers are treated to a relaxing, fine-dining experience after waiting in line at Hachigo.

The shop's name refers to Mt. Fuji. This iconic mountain is both simple and challenging. If you have ever visited it, you'll know that the hiking trail is divided into ten stations. Anyone can drive their car to the fifth (五) station, but it takes dedication and power to reach the summit (八). Keep in mind that the soup often runs out before the shop closes.

Kazami (銀座 風見)

Kazami uses a unique ingredient in their ramen from the production of Japanese sake. Sake kasu, also known as sake lees, is the byproduct of making Japan's most celebrated beverage, nihonshu. As yeast turns sugars into alcohol, kasu is left over. It's removed from the drink because of the funky flavor, but has a place in cuisine. Sake kasu is often used to pickled vegetables, or add some extra umami to roasted fish or chicken.

Sake kasu is similar to miso in flavor. Both are made through the process of fermentation. It's a bit funky, has a nice umami undertone, and intensifies when slurped with noodles. Four kinds of soy sauce are used for the seasoning, and tabletop spices are at your disposal. Eat some of the noodles, and then hit it with spicy yuzukosho, ginger, and aromatic sansho peppercorns. Sake kasu is much sweeter than miso. Sweet, salty, funky, and spicy are flavors that don't often come together like this.

Kazami is next door to another famous ramen shop with a similar name, Kagari, as many tourists mistake one for the other.

Mugitooribu (むぎとオリーブ)

Ginza's first famous new-wave style ramen was Mugitooribu. The name means wheat and olive, a reference to the wheat in the noodles and the olive oil condiment used to give the ramen an extra bit of luxury. Mugitooribu's signature ramen is their triple soba. One part chicken broth, one part Japanese dashi broth, and one part clam broth. This one has deep layers that match perfectly with the noodles imported from Kyoto.

For customers who don't like seafood, they offer a chicken only version, and for customers who really love clam, you can order the clam ramen. If you want to skip the soup altogether, their mazesoba, thick noodles served without soup, is a great way to enjoy those special noodles.

Mugitooribu is located just behind the new Ginza Six department store, on a street with six or seven other popular ramen shops.

Shibire Noodles Rosokuya (蝋燭屋)

The year 2017 saw a boom of spicy ramen spots open around Tokyo. Rosokuya was on the forefront, with their intense mabo-ramen (麻婆麺) being a huge draw. Ramen noodles are topped with a helping of mabodofu, spicy Szechuan-style tofu with red chile for heat and numbing peppercorns to really give your taste buds a kick.
At Rosokuya, you can choose your level of heat. Be careful, as even the medium level of spice is quite intense. The numbing Szechuan peppercorn can be quite an experience, both bitter and physically numbing. If you aren't a fan of the stuff, it's best to go for a low level of heat.

Manpuku (中華そば 萬福)

Manpuku is one of the oldest ramen shops in Ginza, dating back to 1926. The ramen here is your typical old-school style chukasoba. A light soup flavored with soy sauce. Though ramen in Tokyo comes in all different flavors these days, this original style is still just as comforting as ever. Be sure to get the wontonmen, the noodles are topped with plump wontons.
Tags