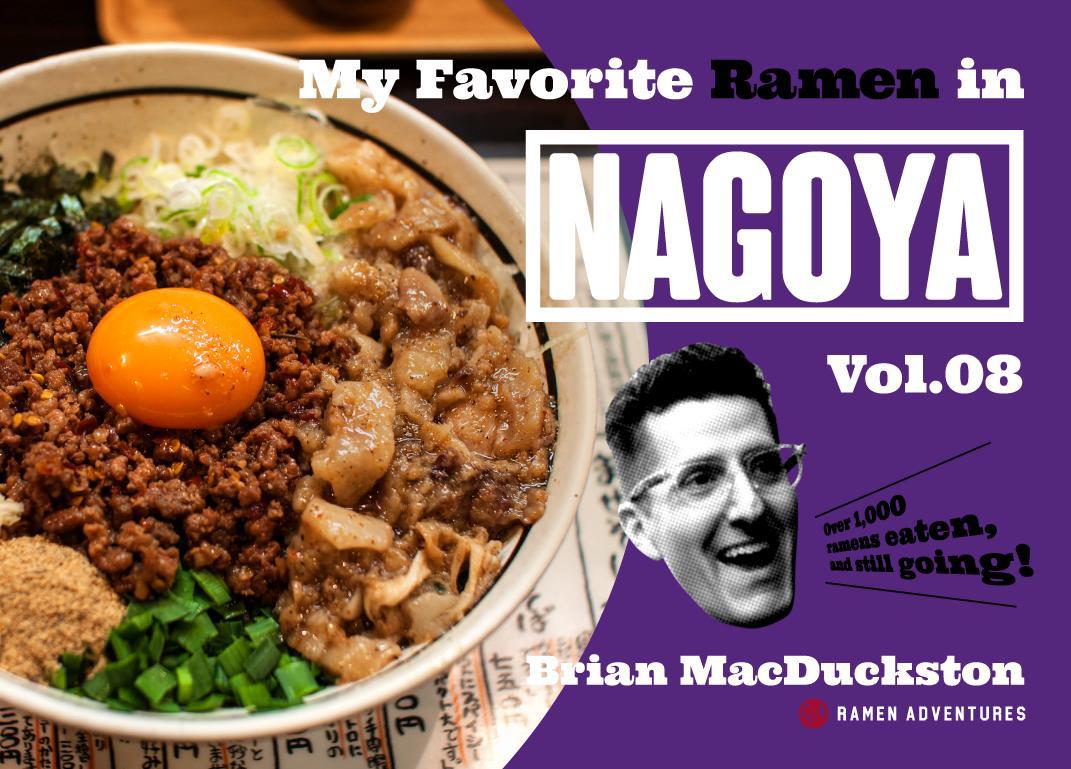 Feature -
2020-02-27
My Favorite Ramen in Nagoya
Food & Drink
Brian MacDuckston of Ramen Adventure brings to you exclusive articles for Noctive. He goes for the BEST ramens out there, and have eaten over 1,000 bows! This time, he will report ramens in Nagoya.
Despite Nagoya being Japan's third-largest city, it is surprisingly one of the country's least visited by tourists. Many people simply don't know anything about Nagoya, let alone surrounding Aichi Prefecture. And though Nagoya doesn't have the temples of nearby Kyoto, the natural beauty of nearby Takayama, or the convenience of no-so-nearby Tokyo, there is a thriving food scene.

Food in Nagoya leans towards working-class eats. Deep-fried pork katsu smothered in a sweet miso sauce. Misonikomi, a kind of miso-flavored udon soup. Tebasaki chicken wings are on every corner. Walk into any cafe at 7:00 am and ask for a "morning" and you'll get some tasty toast with your cup of coffee. It's comfort food heaven in the middle of Japan.

Ramen in Nagoya is a mixed bag. The city is most known for their Taiwan-style ramen, a style which recently inspired a soupless mazesoba of the same name. Plenty of simple shoyu ramen, a few new-wave gourmet, and some completely random shops round out the mix. Though many shops are difficult to make it to because of strange hours and Nagoya's less-than-perfect public transit system, that shouldn't discourage anyone from spending some time crushing ramen in the middle of Japan.

Josui (徳川町 如水)

Clean shio ramen served in a light and airy shop in their signature white bowls. This bowl is unmistakable to ramen fans from around the country. Though Nagoya is known for heavy, fried foods, the ramen at Josui pushes away from that image towards the light and healthy.
Josui makes a unique, clean bowl of shio ramen. The completely preservative-free broth is flavored with natural sea salt from Okinawa. The broth features local chicken from Aichi and high-quality katsuo from Kagoshima. Other premium ingredients are niboshi from Toyama and kombu seaweed from Hokkaido. In all, there are around 30 ingredients in this complex soup.

Menya Hanabi (麺屋はなび 高畑本店)

Menya Hanabi, with a couple of branches around Nagoya, one in Tokyo, and even one overseas in Los Angeles has become a mainstay of the mazesoba scene. Mazesoba is a soupless style of ramen, and as the name suggests, you need to maze, or mix, the whole thing up before eating. Be sure you snap your obligatory photo before you mix, this bowl is quite beautiful at first and becomes a hot mess (though a delicious hot mess) when mixed together.

Hanabi does a Taiwain-style mazesoba, meaning a bit of green onion, a bit of fat, and a large serving of spicy ground pork. The color combination is unmistakable in this style and has made its way onto the menu of many other ramen shops around Japan. Mix the whole thing up with vigor; mixing ramen noodles will activate the gluten in the flour to give the noodles more of a chewy texture. After a minute or so of mixing, taste the noodles as they are. The next step is to add hot chili oil and vinegar to the mix. Stir everything up again and eat some more. When the noodles are gone, grab a small serving of rice, mix it in the left-over sauce, and finish the entire thing.

Keep in mind that the line can be quite insane at Hanabi, especially at their main shop near Arako Station. If waiting isn't your thing, you can always try one of their branches, though the original shop's vibe isn't to be missed.

Koyoken (好陽軒)

Fans of menma should flock to Koyoken for their take ramen. Take is short for takenoko, bamboo shoots, also known as menma. Most ramen shops in Japan buy their menma from a supplier, as prep for these things is both time consuming and quite stinky. Menma is fermented and dried. The reconstitution process would make a restaurant smell downright uric, a cross between onsen hot springs and cat pee. The water is constantly changed out to get rid of the smell, and the menma become tender and flavorful. This can take hours or even days. Koyoken does all this themselves.

The take ramen comes covered in their thick-cut menma. You probably won't even see the noodles underneath. Of course, you can order a normal bowl that comes with less of the stuff. The soup is a standard chuka-style flavored with soy sauce. It is quite comforting and worth the trek to this part of town.

Menya Tamagusuku (麺屋玉ぐすく)

The area around Imaike Station is a bit of a party. Standing bars on the ground floor of buildings welcome random people walking in, while the massage parlors and clubs of questionable origin above are a bit more secretive. There is a rough feeling to the neighborhood, in a good way. It should come as no surprise that there is a punk-themed ramen shop that specializes in Okinawan noodles.

Tamagusuku is named after a castle in the south of Okinawa purported to be built by Amamikyu, the creation goddess of the Ryukyuan religion. The castle itself, a pre-14th century building, lies in ruins and might be forgotten by the general population if it weren't for Menya Tamagusuku taking on the name.

As expected, the special here is sokisoba, an Okinawan style of ramen that isn't really considered ramen at all. The broth is light and tastes of the sea. The noodles are more akin to udon. In stark contrast to the lightness of the soup, sokisoba is served with a piece of soki, pork rib stewed in soy sauce and Awamori, Okinawa's high proof grain alcohol.

Another popular menu item is the taco mazesoba, a soupless noodle dish topped with taco meat, diced tomato, lettuce, and cheese. It is junk food that goes well with a glass of strong Awamori. Constant punk music on the speakers enhances the whole experience.

Misen (中国台湾料理 味仙)

Few ramen shops can boast having invented a style of ramen. Even fewer non-ramen shops can make that claim. Misen serves an array of Chinese dishes, from stir-fried eggplant to mabodofu. Like most restaurants, their staff eats something less glamorous. Sometime in the 80s, a customer saw the staff eating a simple noodle dish; spicy broth and noodles, topped with cuts of nira garlic chives and a touch of spicy ground pork. Essentially leftovers in a bowl. The customer wanted to try it, and they became an instant fan. Word of this new spicy ramen dish spread and Taiwan Ramen became a huge hit. Taiwan Ramen has almost nothing to do with Taiwan, just the distant connection with Chinese food.

Ramen at Misen looks just like it did 30 years ago. It's a simple, inexpensive bowl. Many people share a bowl of it, filling up on the rest of Misen's menu.

Misen has dozens of shops around Nagoya, but you should really go to the original one in Imaike. It is open late, making it a perfect after-drinking bowl.
Tags