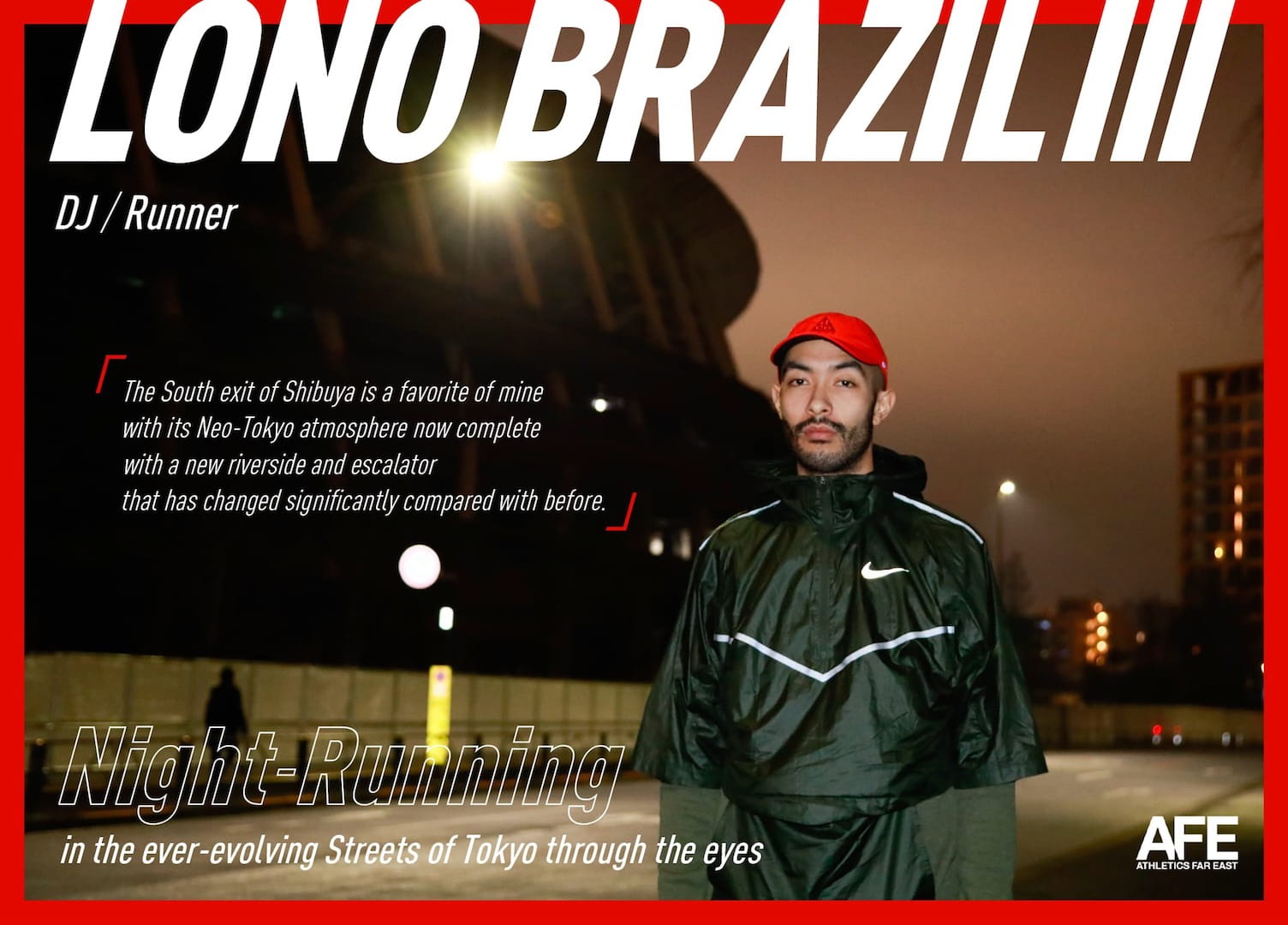 Feature -
2020-03-05
Night-Running in the ever-evolving Streets of Tokyo through the eyes of DJ / Runner LONO BRAZIL III
Activity
For those who are passionate about running, there is great joy to feel as part of the city itself while running in a foreign country.

LONO BRAZIL III was born in New York, raised in Tokyo, Chicago, and LA, and is a runner who has fully embraced the running lifestyle as part of his daily life. When in New York, he was a member of "RASACLUB" where people run at night while bar-hopping at the same time. Now in Tokyo, he is the store manager of UNION TOKYO, a popular apparel select shop, while also being an expert runner of NIKE Japan.

Today NOCTIVE will be talking with LONO BRAZIL III to learn about running as a Street Culture of Japan.
- Where in Tokyo do you run these days?

Mostly I run outside of West Tokyo in preparation for the Tokyo Marathon 2020. As it is held in East Tokyo, I like to run in places such as Asakusa, Kiyosumi-Shirakawa, from Ginza to Toyosu and over the Rainbow Bridge to Odaiba. The night views around Toyosu and Odaiba are absolutely beautiful at night!
When I am not training, I run close to where I live in Harajuku such as Shibuya, Shinjuku, and Ebisu. In addition, a cool group I am a member of is the AFE or Athletic Far East Club where we run a five kilometer course from Shibuya to Ikejiriohashi along the 246 road.

- What do you like about running in Tokyo at night?

Compared with other countries, Tokyo is a city that is constantly changing with old buildings going down and new ones going up super quickly. Then as a runner, there is always a new view to look forward to when running every week. The area between Shibuya station and Ebisu station is especially changing a lot these days so I fancy a run there quite often.

The South exit of Shibuya is a favorite of mine with its Neo-Tokyo atmosphere now complete with a new riverside and escalator that has changed significantly compared with before.

While sometimes I do feel a little sad when a building I know has been taken down but at the same time it is always interesting to see the new one go up too. I always notice these things while running throughout Tokyo.


- Also as the Tokyo Olympics are coming up soon, buildings are being built so quickly every week around the stadium and Shibuya itself that it is hard to keep up with what's going on.

Probably Tokyo is the only place in the world that changes so quickly like that. A new part of Tokyo I am also looking forward to myself is a new building that is currently under construction at Shibuya's Miyashita Park where you can run on top of the building!

- What do you think about the night views from Odaiba?

Towards the end of last year, I ran a course from Ikejiriohashi, through the Olympic Village located in Harumi, and ending up at Shin-Toyosu where the sky is open with only a few tall buildings. From there, you can see some of the most beautiful night-views Tokyo has to offer.

For those who are thinking of running this course, I recommend running through Meguro where there is a pathway under the train tracks at only 130cm high - requiring the runner to bend down to get through. That tunnel will then lead directly to the Rainbow Bridge and bring you directly to the ocean on the other side!


- You also run around the Asakusa area right?

I usually start from Hibiya when I choose to run the Asakusa course where I can run around the famous Imperial Palace with lots of stations for runners along the way. Other times, I take the train directly to Asakusa and run back home from there.

- As you also often DJ in the past three years, what do you think about the Tokyo night scene?

I definitely think it is going in the right direction with different venues gaining momentum as more and more foreigners are joining different events these days.
Personally, I like the atmosphere where foreigners party together with Japanese people - which allows for a variety of different clubs and events to run all over Tokyo!


- What are some of your expectations for Japan's nightlife scene?

One thing I noticed is that there are not a lot of street-level bars in Japan. Even if I go from Harajuku to Shibuya where people from all over come to drink, there are not many selections to choose from that I can easily stop by and go for a drink.
In America, the street-level bars are also known as DIVE BARS where one can easily stop by and "Bar-Hop" different bars quickly on a typical night out.
I did that so much while as a member of RASACLUB in New York. Maybe that was only possible in New York as people even recommended me where to run from the bar I was drinking at.

I especially want to see more street-level bars to go up so that people can go for a drink easily before going clubbing between 9:00pm to 12:00am.


As a DJ, you make mixes especially for runners so I hope more and more people will run while listening to it.

This is the first running mix I made just for running. When I DJ now, I like to keep the same feeling as when I am running and the songs played reflect that.
I run at my best when listening to music so I made a 50 minute compilation mix and hope everyone can check it out during your next run!

LONO BRAZIL III DJ MIX for Running
https://www.mixcloud.com/lono-brazil-iii/provider-vol1-mix-by-lb3/

▷AFE(Athletic Far East Club)

The AFE or Atheltic Far East Club is the running crew LONO BRAZIL III is a member of. Every Wednesday night they run a 5-kilometer course from Ikejiriohashi to Shibuya. For those who are interested please send them a DM on Instagram to confirm the starting location and details of the event!

Instagram afe tokyo
https://www.instagram.com/afe_tokyo/?hl=ja


Photo:Reiji Yamazaki
Text:Kana Yoshioka
Tags