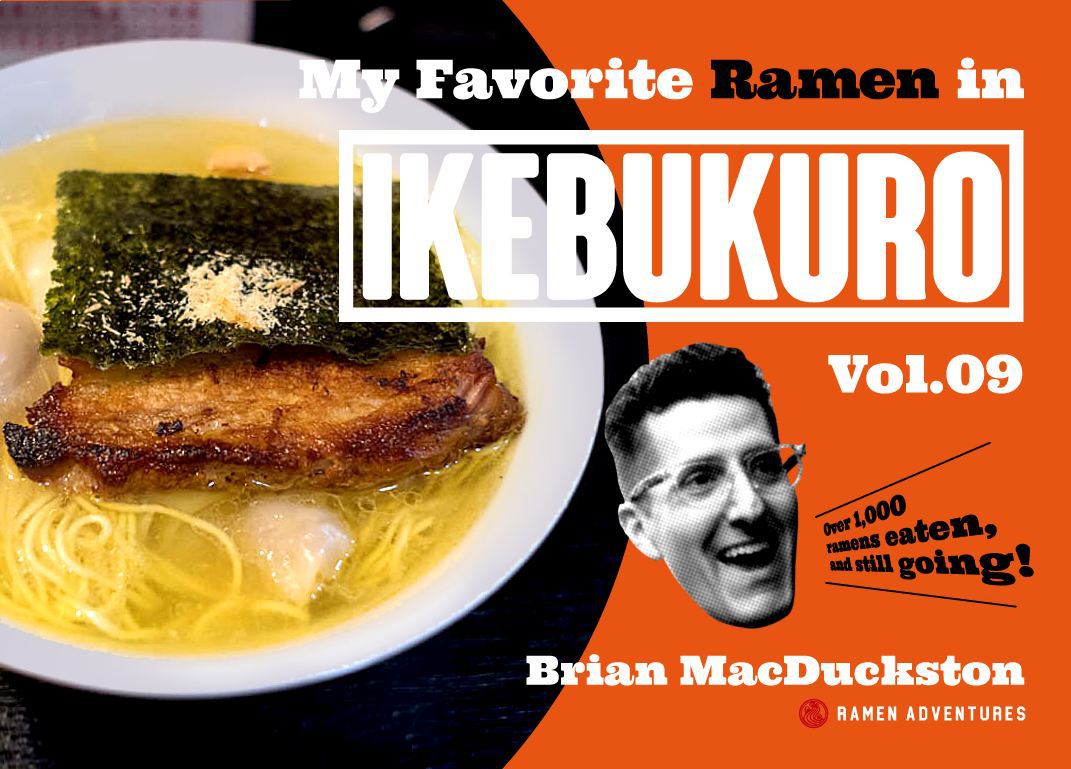 Feature -
2020-03-24
My Favorite Ramen in Ikebukuro
Food & Drink
Brian MacDuckston of Ramen Adventure brings to you exclusive articles for Noctive. He goes for the BEST ramens out there, and have eaten over 1,000 bows! This time, he will report ramens in Ikebukuro.
Ikebukuro is an interesting melting pot of Kanto culture. Though it is considered part of central Tokyo, it is also the gateway to Saitama Prefecture to the north. The Tobu Toju Line connects Ikebukuro with Kawagoe and the JR Line with Omiya, both major bed towns that filter into Tokyo each day. This means more Saitama natives pass through Ikebukuro than many other parts of Tokyo. It also means that you can find everything you need here, from massive department stores, to trendy nightclubs, to tasty ramen shops.

Saitama gets a bad rap as Tokyo's less-cool neighbor. This rough-around-the-edges image shines when it comes to the ramen. Saitama follows no rules, and their ramen ranges from simple, refined styles to junky bowls full of garlic and fat. This bleeds over into Ikebukuro, meaning this part of Tokyo has enough great ramen shops to keep anyone, Tokyo urbanite or Saitama Yankee, satisfied. Punk meets city slicker, you can expect anything from green noodles to Indian spices to Hawaiian fare. Of course, you get your standard gourmet bowls as well.

Rockando (麺屋 六感堂)

Rockando shot to ramen fame with their unique shio ramen. While the soup is your standard, high-quality fare, it is their noodles that truly stand out. Made in house with Euglenids, they are a subtle shade of green. Euglenids are single-celled living organisms similar to algae. While you almost never see them in noodles, you might find them in healthy smoothies; Euglenids are considered a superfood, full in vitamins.

Expanding on the healthy theme, Rockando uses high-quality ingredients from Japan, like katsuo fish flakes and konbu seaweed. Their soy sauce is sourced from Shodoshima, an island famous for brewing soy sauce the traditional way.
If you are intrigued by the green noodles, take note that the shop's theme is green, from the sign to the walls to the water cups.

Spice Ramen Shaka (スパイスらぁめん 釈迦)

Indian ramen? Is that even a thing? It is at Spice Ramen Shaka.

Spice Ramen Shaka is part of the MENSHO group of ramen shops. Each new shop has a completely different theme, with Shaka taking inspiration from traditional Indian curry dishes. Choose Northern Indian ramen for a more mild taste; this bowl is inspired by butter chicken. The Southern Indian 天空 (heaven) is a bit more on the spicy side.

For a real treat, try the Indian Meals Tsukemen. Homemade tsukemen noodles are served with two kinds of curry dipping sauces and sides of Indian pickles. It's even topped with a fried papadum cracker.

Hulu-lu (麺屋 Hulu-lu)

Hawaii in Tokyo? Anyone who lives in Japan knows that people can be downright obsessed with America's 50th state. Visit Honolulu airport and you may feel like you never left your Japanese home. Visit Hulu-lu in Ikebukuro and you might feel like you never left Hawaii.

So what's so Hawaiian about Hulu-lu anyways? The owner loves the Aloha spirit, and wanted to make a shop that is friendly and relaxing to go to. The ramen is purely Japanese, using fresh ingredients for a non-MSG broth. Thin, firm noodles are made in house to match the light soup. Maybe it is the decor, but somehow this ramen feels like it would be great next to a beach watching the sun set over the Pacific ocean.

Be sure to try the shop's spam musubi, a Hawaiian-Japanese hybrid rice ball and a bottle of Hawaiian craft beer if you want to complete the experience. Mahalo.

Kuwabara (塩そば専門店 桑ばら)

The full name of this shop is Shio Soba Senmonten Kuwabara, meaning they specialize in only shio ramen. The beautiful broth is topped with a massive slice of grilled pork chashu. The soup is bright yellow and a bit stronger than most othe shio ramen, which tends towards the lighter side of things. If you really love their pork, you can order it is a side dish as well.

This part of Ikebukuro, around Sunshine City, is considered a bit of a ramen battle zone. You can find a dozen or so shops quite easily, but Kuwabara looks a bit low key. Look for the Yakult Swallows signs; Kuwabara is a strong supporter of Tokyo's second most popular baseball team.

Takana (志奈そば 田なか)

Though Shinasoba Tanaka is technically closer to Otsuka Station, one could easily walk there from anywhere in Ikebukuro. It's not a bad walk, through the retro streets of this part of Tokyo.

The owner, Mr. Tanaka himself, is a surfer from Chiba Prefecture. This love of the ocean comes through in the ramen. Tanaka, the shop, specializes in niboshi ramen. Dried sardines give the ramen some intense umami flavors. Although the light bowl is wonderful, the mega-thick bowl made with both mackerel and sardine (重濃鯵ニボそば) is quite decadent. Each bowl requires around 50 fish to make. It's also boiled with more konbu seaweed than most other shops use, creating a more viscous broth. Definitely not one to try unprepared.

Be warned, Otsuka is a shady part of town that might not be the best place to come with your family. If a street tout invites you into a strange building, you are on your own. Best to stick with the tramen.
Tags