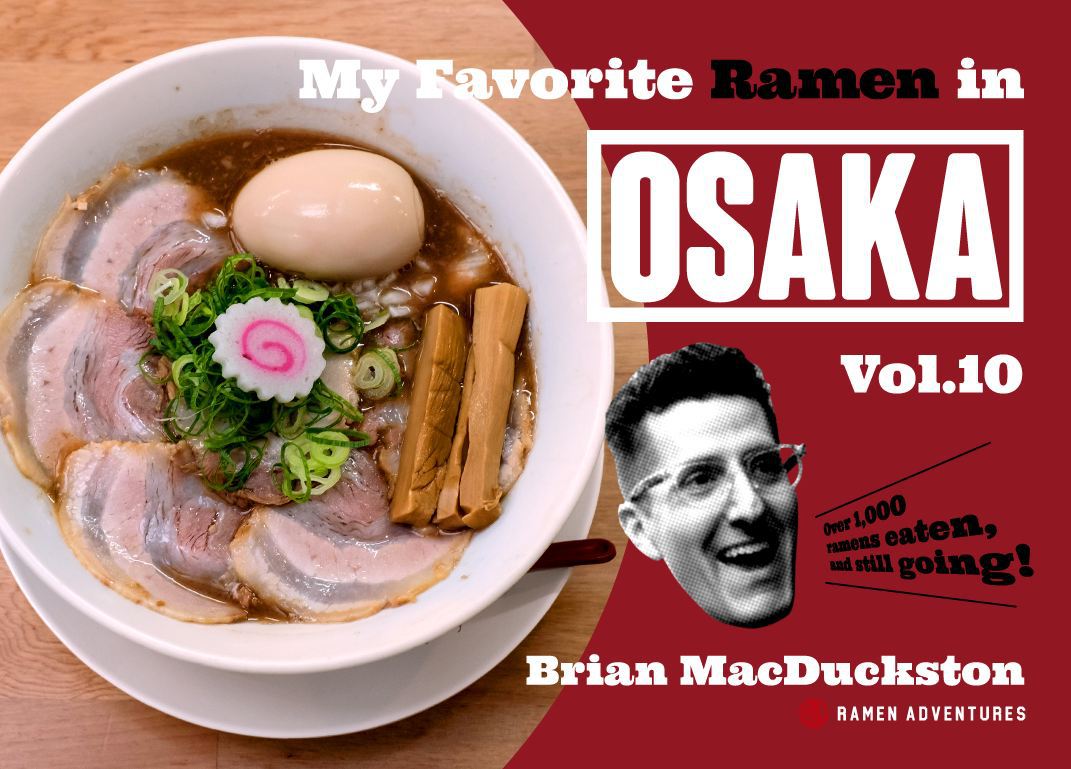 Feature -
2020-03-25
My Favorite Ramen in Osaka
Food & Drink
Brian MacDuckston of Ramen Adventure brings to you exclusive articles for Noctive. He goes for the BEST ramens out there, and have eaten over 1,000 bows! This time, he will report ramens in Osaka.
Osaka can be divided into many areas. In the south, you have historically important areas like Sakai, where swordsmiths of old now make some of the planet's most sought after chefs knives. In the east, past Osaka Castle, you have the low lying mountains that mark the edge of Nara Prefecture. In the west, you can find the port area with Universal Studios Japan, one of the countries best aquariums, and passage by ship to many other parts of Japan. In the north, the Shinkansen Station links Osaka with Tokyo and beyond. Though the city has all these things, most people stick to two distinct areas, Umeda and Namba.

Umeda is the northernmost part of central Osaka. The station is on the famous Osaka Loop Line, meaning millions of people pass through here every day to get to and from work. Most tourists also end up in Umeda. At the very least they use it as a transfer station to get to Namba or beyond. With all this traffic, it is no surprise that the Umeda area has thousands of restaurants, from Michelin starred gourmet to casual ramen shops. Much of the area is open all night, and with Osaka being relatively easy to get around, a late-night taxi isn't out of the question to or from Umeda.

Osaka, in general, is a hotbed of ramen activity. Historically, they were known for takaida-style made with dark soy sauce, however, in recent years you can find as much variety in Osaka as you can in Toyko. Osaka is considered more fun and friendly than Tokyo, so expect some pleasant surprises.

Uroko (らーめん鱗 西中島店)

Uroko has gained fame since opening in 2014 to rave reviews. Since then, they have opened a total of five shops around Osaka, and one in Kyoto. Their signature shio ramen was a fresh take on soy heavy bowls in Osaka and people loved this light, umami-rich ramen.

The light soup is counterbalanced by the toppings. Thick pork back fat and dried bonito fish flakes give flavor and textures, melting into the soup as you slurp noodles. It's a stylish bowl with some serious backbone.

While the shop, in 2014, was often sold out of soup and open strange hours, they have since streamlined their operations and should be open and ready to serve you for lunch or dinner.

Human Beings Everyone Noodles (人類みな麺類)

The shop's Japanese name includes the word Jinrui, which means mankind, hence the rather interesting English name for this shop. This is the first shop in the UNCHI group, which includes shops named The Old Man's Best Swing (くそオヤジ最後のひとふり) and The Most Deserted Ramen Bar in the World (世界一暇なラーメン屋). Strange names to say the least.

The ramen at Jinrui comes in three flavors, genten (original), micro, and macro. The original is a dried fish soy sauce blend. Micro is straight soy sauce and the Macro uses shellfish for deeper umami. You will also be given a choice of thick or thin chashu and thick or thin menma. For first-timers, go for the genten with thick pork and thick menma. The soup is slightly on the sweet side, a good match for the shop's homemade noodles.

Jinrui get's massive lines, and many people will try and visit before they take a bullet train from Shin-Osaka Station back to their home in other parts of Japan.

Osaka Mentetsu (大阪麺哲)

Mentetsu, on the east side of Umeda Station, strives to serve what they call a true Osaka flavor. Kyoto-style chukasoba is given extra umami with konbu-rich dashi. It's a classic bowl of comfort food ramen.

But Mentetsu has a secret. If you order your ramen yama-style (山), it comes covered with grated Japanese yam and raw egg yolk. The noodles and soup are underneath, though the whole thing looks more like some kind of health food than ramen. That is partly true, as grated Japanese yam, called tororo, is full of vitamins and healthy fiber. It pairs wonderfully with dashi.

A small bowl of tororo-covered rice is often served at the end of gourmet-level course meals in Japan. Just be aware that grated Japanese yam is quite slimy in texture, something many foreign travelers to Japan aren't so interested in.

Menya 7.5 Hz+ (麺屋7.5Hz+ 梅田店)

One style of ramen that Osaka can call their own is Takaida-style. This one is made with thick, straight noodles, a chicken and konbu broth, and dark tamari shoyu. You'll often find rough-cut green onion on top. It's a style that harkens back to the 60s when ramen shops around the Takaida bus stop served this style to the locals.

Although the head shop of Menya 7.5 Hz+ has since closed down, this branch in a narrow basement shopping street is something you'll rarely find outside of Osaka. Osaka is a mess of shopping, both above and underground. Shops selling $10,000 fur coats to old ladies can be next to cheap drug stores and local ramen shops. It is a wonderful thing, and one of the reasons that the Osaka vibe is so different from other parts of Japan.

Butanohoshi (ぶたのほし)

Osaka's newest gem of a shop isn't in Osaka at all. Amagasaki is just across the border into Hyogo Prefecture. This shouldn't distract ramen fans from taking the short train raid into new territory, though. Butanohoshi is downright incredible.

Literally Pork Star, Butanohoshi serves up a mean bowl of tonkotsu ramen. The soup is made from nothing but pork bones and water. The master is constantly breaking up raw bones and adding them to the different pots on boil. He does this with ease, but his techniques of keeping soups topped up with fresh bones are uncommon in the ramen world where soup is made, strained, and served. Ramen is usually more than two ingredients as well. This surprisingly simple list of ingredients results in a thick, meaty broth.

Go for the Tonkotsu Special bowl. It comes with paper-thin slices of chashu that melt into the soup.
Tags