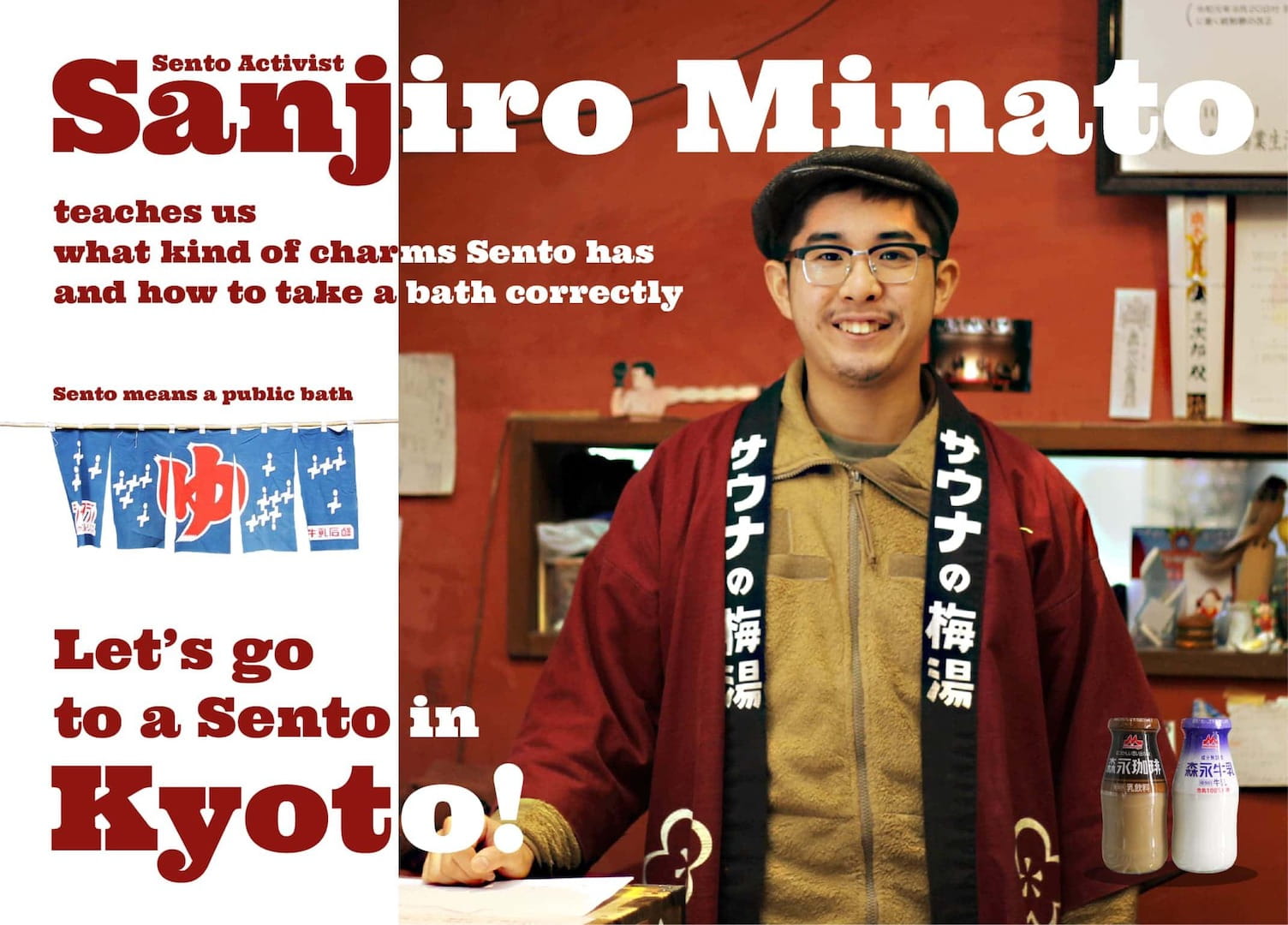 Feature -
2020-03-27
Let's go to a Sento(a public bath) in Kyoto! Sento Activist, Sanjiro Minato teaches us what kind of charms Sento has and how to take a bath correctly
Activity
Japanese people love taking a bath and have many unique traditions found nowhere else in the world. Even the interior design of a typical Japanese house is fitted with the bathtub next to the shower for people to enter the bathtub after cleaning themselves first.

There is even a common song that goes "I'm taking a bath and it feels so good!" which shows just how much Japanese people love to take baths.

The history of the Sento or public bath started around 400 years ago in the Edo-era. The sento culture itself kept gaining popularity with over 22,000 Sentos all around Japan in the 1960s. In big cities such as Tokyo, Kyoto, and Osaka where living areas were relatively small, there would be 1 to 2 sentos in a typical station as a popular place for relaxation and refreshment.
As the standard and quality of baths in regular homes became higher, the number of traditional Sento locations have decreased in recent times. However, for those who love taking a bath it still remains an irreplaceable part of Japanese culture.
Today we sit down with Sento activist Sanjiro Minato who is the owner of "UMEYU", a traditional Sento in Kyoto, and talk about how the uniqueness of Japan's sento and how it connects with the local culture and people itself - in addition how to correctly use a Japanese Sento when you visit!

--What is "Sento" for you?

Sento is a tradition that is deeply rooted in Japanese people in modern day and also back in our history too. While people are still familiar with Sentos in general, the number of locations still in operation are decreasing annually. As a result, I want to see this culture stay alive for our future generations.


-- What are some of your childhood memories of going to a Sento?

Actually I did not have any childhood memories of going to Sentos because I was from Shizuoka; we just took baths in our homes. I first started going to the Sento near my house after moving to Kyoto. I was amazed there were so many Sento in Kyoto and near my area itself too.

--What made you become the owner of "UMEYU" when the number of Sento is decreasing nation-wide?

It was my first year working at a company when the owners of UMEYU decided to close the business. I felt that the corporate job was not right for me at the time so I felt it was a great idea to do business in an industry in which I personally enjoyed. While there were many Sento enthusiasts hosting events there was nobody who was actively doing something to keep Sentos running such as becoming owners themselves when one was about to close.


-- How would you like Foreign tourists to enjoy Sento?

We don't identify Sento guests based on whether they are Japanese or Foreigners. It is a local community-based environment so as long as all who want to enjoy Sento understand that and follow local rules there will be no problem.

--Absolutely, the Sento is a locally based community and not a tourist attraction. However, there are even some Japanese people who do not know all the rules as they do not go to Sento often right?


Definitely, the rules of Sento are difficult even for Japanese people who are just visiting the city. It is the management's job to create an atmosphere where rules are easy to understand and it is easy for people to keep the rules. Sometimes the regulars are the one who lead the specific rules of a Sento community so it is hard to determine if that is the best way to introduce first-timers to the Sento culture itself.


-- Please teach us the manners and rules of going to Sento.

First and foremost, one needs to have the feeling of "おじゃまします" or excusing me for disturbing you in all aspects of enjoying a traditional Japanese Sento. While there might be a language barrier please don't hesitate to ask staff as regulars might suddenly get mad.

For example, while it is ok to bring your own bath towels into the Sento, but Japanese people do not bring that into the washing area. Instead, we use a Japanese style towel or a small rectangular towel to dry off excess water when moving from the washing area to the bath. I always show foreigners how to use the Japanese style towel with brochures when they visit my Sento.

-- Have there been any instances where you felt that the Japanese Sento is a unique culture for visiting foreigners?

While there are a lot of foreign visitors in Kyoto coming to Sento, French customers specifically become regulars often. I don't know the exact reason but they are quite open-minded and also have great interest in the Sento Culture.

I remember one time Boy Scouts from Brazil visited Kyoto and came to UMEYU two days in a row. From my experience with Brazilian people, they did not like to be seen naked. Even though the scout leader explained the rules of the Sento, there were still many scouts who were hesitant to be naked in a public space on the first day. However, on the second day, many got used to it and started enjoying Sento just like Japanese people!



-- Would you say that learning about a country's bath culture is a great way to learn about that country itself?

I definitely think you can learn a lot about Japanese people and Japanese culture from Sento. Something completely normal to Japanese people might be very unique to our foreign guests. Since they have already traveled all the way to Japan, I would like foreign tourists to experience this culture while they are here!

It is definitely a shame that the number of Sento is decreasing but I believe there are ways for the Sento still in operation to survive.

-- As a core part of a Japanese community, the Sento represents a culture that should be kept going forward.

Definitely. As the Sento was like the Sauna back in the Edo-era, I'm surprised people started making money with it. For example, if you have a natural hot spring, you only need to dig for it once. For Sento business, you have to spend time and money to continue to make hot water everyday.
I believe that it has a connection with the spirit of Japanese people in keeping traditions alive for people who have a need for Sento in their local communities.


-- I think so too! The best thing about Sento is the feeling of refreshment after you take a bath.

I completely agree, that is the best part of Sento.
It varies by area, but it is about 450~480 yen for a two hour stay there for up to 2 hours!
I encourage everyone to try a real Japanese Sento during your next visit!

▷How to take a bath about SENTO

(Manners when you use Sento)
・Please rinse your body with water first when you go inside the washing area.
・Please wash your body with soap before taking a bath.
・Please tie up long hair.
・Please take off makeup before entering.
・Please rinse your sweat after you come out from Sauna and take a water bath.

(How to keep the inside of the Bathtub clean〉
・Keep your towel out of the tub.
・Don't wash your body in the tub.
・Don't put soap in the tub.
・Don't dive into the tub.
・Keep your hair out of the tub.
・Please wash your body before taking a bath.

▷ Sento in Kyoto operated by Sanjiro Minami

UMEYU

UMEYU is in Gojo, Kyoto which is close to Kyoto station and Gion. It is now operated by Sanjiro Minato from its previous owners.

The Sento itself is located in a wooden building next to the Takase river with a neon sign board lighting it up at night. There is an abundance of different baths such as the temperature, natural ground water, jet bath, electric bath, and sauna.

Minato recommends the electric bath which gives you pleasant electric shocks to smooth muscle tensions. On the second floor, there is a resting area and a tattoo studio "Kitsuneya".

In addition, there are music events and Rakugo (traditional comic storytelling) events allowing for the next generation Sento mixed with traditional Japanese atmosphere.

■UMEYU
Address:175 Iwataki, Shimogyo Ku, Kyoto City, Kyoto Japan
Tel:81(0)80-2523-0626
Open Hours: 2:00~23:30, Sat & Sun 6:00~12:00(Morning Bath), Thur Closed
Fee:Adult 450Yen, Middle School Students 150Yen, Child 60Yen

Genyu

Genyu is a Sento outside Kyoto city with a nostalgic building of 90 years loved by locals.You can see Sento art with mosaic tiles which is unique to Sento in Kyoto.

There are variations of baths that heat natural ground water by woods such as deep baths, shallow baths, jet baths, and saunas.

You can rest on a Tatami floor in a Japanese style room used by the Sento owner.

There are stores operated by young people who enjoy subculture on the second floor and a cafe is about to open.

■Genyu
Address:580-6 Kamimachi, Shimogyo Ku, Kyoto City, Kyoto Japan
Tel:81(0)75-461-2322
Open Hours: 2:00~25:00, Tue Closed
Fee:Adult 450Yen, Middle School Students 150Yen, Child 60Yen

▷The specialities of Kyoto's Sento

Sento in Kyoto are usually inside old wooden buildings with art such as Mt. Fuji inside the bath area. There are also various different arts made by tiles throughout different Sento in Kyoto.

Kyoto has a unique Sento such as one with a big fish tank, and glass-made bird cage next to the bathroom - in addition, there are outside baths, electric baths, and even Sento that only the Geisha use!
Please experience the relaxation at its finest Sento in Kyoto.


KYOTO SENTO
https://1010.kyoto/?lang=en


Photo&Text:Kana Yoshioka
Tags