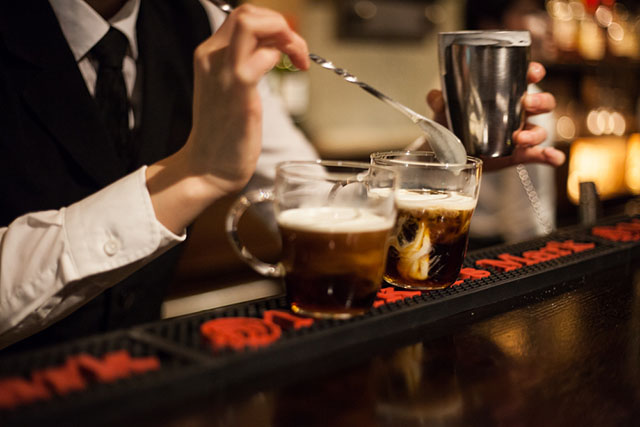 Topics -
2018-07-24
Nightlife in Nagoya
Food & Drink
As one of Japan's largest cities and the birthplace of pachinko there's no doubt that the streets of Nagoya are still bustling after the sun goes down. While nightlife is often done in the form of work parties at an izakaya or solo arcade visits, Nagoya is also home to its fair share of Western style drinking holes which attract the more sociable imbibers both locals and visitors.
Princess Street

If you're not sure where to get started, make a beeline for Princess Street. The illuminated arches that line the street are a promising sign you've made it to the heart of Nagoya's night scene. As well as having no shortage of game centres, karaoke bars, and restaurants the whole area, known as Sumiyoshi, is a hub for Nagoya's youths who can be found hopping between the trendy bars on any day of the week.

Silk Road Suntory Jigger Bar

Arriving into the Sumiyoshi area, Silk Road Suntory Jigger Bar is one to look out for, tucked down an alleyway off Princess Street. This whiskey bar oozes cool from the word go as you enter through rotating doors to a long wooden bar counter that separates its brooding customers from the arched shelves which exhibit an impressive array of whiskeys and other spirits. While relaxing among locals you can sip your whiskey on the rocks or dare to venture out into unknown cocktail territory with a whiskey highball or a black pepper liqueur.

Irish Pub Celts

While the people of Nagoya aren't known for their congeniality, as seems to be the case worldwide, the city's Irish pubs attract a friendly crowd. Irish Pub Celts, just a five-minute walk from Nagoya Station, offers a spacious and laidback pub that's good for getting the night started. The large selection of beers on tap go well with the tastyーalthough admittedly unauthenticーWestern snacks which can all be purchased at reduced rates if you make it for happy hour between 5 and 7pm.

CRITICAL HIT gaming bar

Undoubtedly one of the quirkiest of Nagoya's barsーand a personal favourite among the themed barsーis CRITICAL HIT. This bar owned by lifetime gamer Alex Fraioli combines drinking and English conversation exchange with some good old retro gaming. With 30-year-old game consoles available at each table, you can choose out of hundreds of 80s and 90s games to play at your table, drink in hand.

American Dining Bar BJ

The eastern side of Nagoya is home to the downtown district of Sakae. While shoppers dominate the area during the day, at night the seemingly infinite number of restaurants and bars fill up with a lively atmosphere. In spite of its questionable name and the large concentration of snack bars in the area, Bar BJ has an easy, laid back atmosphere that usually picks up as the night goes on as the bartenders start their cocktail flair show and the pole dancing begins.

Shooters Sports Bar and Grill

In the central Naka Ward of Nagoya, a stone's throw from Princess Street, Shooters Sports Bar and Grill is the place for creature comforts. Attracting a predominantly international crowd, all the super friendly staff speak English while the menu offers a break from rice and noodles including American style, Italian, and Tex-Mex. Play a game of pool among sociable locals from near and far.
Tags