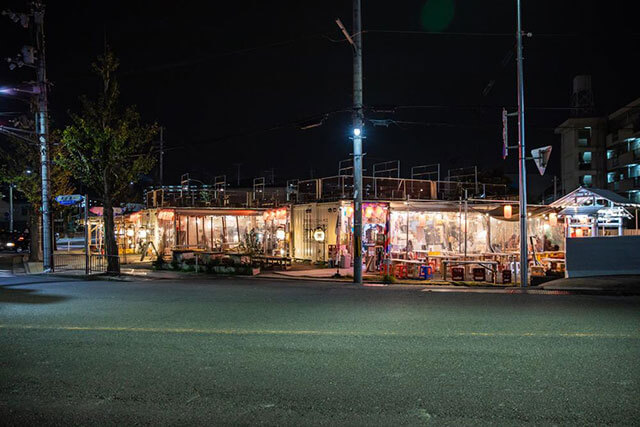 Topics -
2019-02-21
Cyberpunk yatai: Neo Sujin Container Community Space
Area Guide
If William Gibson curated yatai stalls, this is what it might look like: shipping containers, naked bulbs strung overhead, coils of wire, makeshift tables, the sound of meat sizzling, the buzz of traffic… This is Neo Sujin. Clustered in what looks like an empty lot, five minutes from Kyoto Station, headed toward the Kamo River, the collection of food stands has the atmosphere of a Kyoto beer hall with an Akira esthetic.
If cyberpunk fiction is not the correct point of reference, then perhaps the postwar yatai that flourished in the interregnum between armistice and the neoliberal tidying-up that swept away the last vestiges of Showa messiness. Collections of yatai like Neo Sujin are an old idea, really, a throwback to an urban environment only preserved now in Fukuoka and perhaps a few shabby stretches of Tokyo and Osaka (thinking here of places like Harmonica Alley in Kichijoji, admittedly not quite the same thing).

Neo Sujin is something different from the yatai stalls in Fukuoka, or the nostalgic alleys of the big cities—more than a tourist attraction and certainly not a museum piece—it's a good idea, something missing from the landscape of big cities in Japan: informal, charming, and communal. On a chill Kyoto night, nestled behind plastic tarps with a beer and some warm food, you have to hope this is the start of a revival of the yatai culture.

People begin to gather after work, with most of the yatai opening around 5pm. A bonfire burns in the center of the space, with a ring of beer crates and cheap stools that look like they were borrowed from a Vientiane riverside bar. For those not drawn to Kiyamachi Dori and Pontocho with their evening crowds, table charges and set menus, Neo Sujin is a clear alternative. There are plenty of worthy spots cropping up in those neighborhoods, but Neo Sujin is certainly a different vibe.

The collection of vendors reflects the character of Kyoto, one foot in the past but open to new ideas, with teppanyaki and beef katsu served alongside pad thai, craft beer and burgers. Soak up the atmosphere with a draft beer, a few sticks of yakitori and a bowl of oden, or, if the mood strikes you, get the burger or fried chicken from 58 Doorstep and pair it with a craft beer from a local brewery. Although it hasn't been open very long, Neo Sujin's management has done a fine job of assembling a worthwhile collection of yatai.

Salumeria is particularly notable, a spinoff of a Michelin Guide-annointed Bib Gourmand grilled sausage spot in the city. If you don't have the opportunity to check out brick-and-mortar location across the Kamo River from Jingu-Marutamachi Station, roughly the same menu, including the shop's gelato, is available here. The smell of cured pork fat spitting across charcoal fills the air of Neo Sujin. Sausages are made in-house by Salumeria and they have the best wine list you'll find at any yatai in the world.

The location, in a nondescript neighborhood east of Kyoto Station Shiokoji Dori, is another flavor of the ancient capital, still free of the peak tourism crowds that have been inflicted on Kyoto, and with Soviet-style danchi and apartment blocks instead of cute lanes. This is a chance, for the time being, to see a different side of Kyoto. It's the perfect launchpad to a night out at lesser-known spots in the city, the kind of places far from Pontocho and the Lollapalooza '96-caliber crowds at the temples—the miniscule restaurants, craft beer bars, live houses and cocktail spots that many miss when they visit the city.
Tags